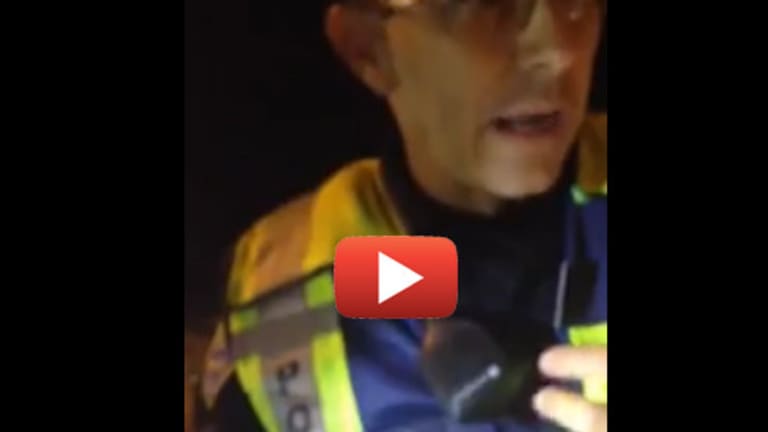 Police Escort Breastfeeding Woman Out of Concert, Threaten her with Arrest
"We're not going to give you our names and badge numbers unless you give us your ID and we document it with CPS"
Matt Agorist
July 11, 2014
In Nanny State America if you bring your child to a country music concert, you will be threatened with arrest for child endangerment.
Megan Christopherson was at a Brad Paisley concert at the Sleep Train Amphitheater in San Diego, CA with her two children.
They were excited that this time they got to go in the front area next to the stage, referred to as the pit.
Mrs. Christopherson, like millions of other mothers do at concerts all over the world, brought her baby to the show.
During the show, Mrs. Christopherson's baby became hungry, so she started breast feeding.
That is when, Christopherson says, she was approached by security guards, under suspicion that she was drinking, which seems like quite the ridiculous assertion after seeing how articulate she is later in the video.
The guards demanded that Christopherson stop nursing her child because she was making other guests uncomfortable.
She was told by the guards to "do it somewhere else or don't do it," and at this point, Christopherson says, they began to take photographs of her.
Approximately an hour later, the Chula Vista Police Department shows up. They state that they have already called the DA, and that they will arrest her for "possible child endangerment" if she refuses to leave the "pit."
This was Brad Paisley, not Lamb of God or Lil Wayne....Brad Paisley.
The officers clearly lie to Christopherson about her potentially endangering her child.
The Free Thought Project could not find any law pertaining to ear protection nor child endangerment for bringing infants music events in California.
The Sleep Train Amphitheatre's own website actually encourages that families bring their children under 2 into the shows by allowing them free entry.
Children under two years of age are free on lap. Two years and older need a ticket.
If these cops were truly worried about the safety of this baby they would NOT have listened to the security guards' complaints of breast feeding and left this mother alone.
When Christopherson began to ask questions she was then threatened with a Child Protective Services investigation by the police.
"We're not going to give you our names and numbers unless you give us your ID and we document it with CPS," said nanny state officer number 1.
Police then begin to escort Christopherson out of the concert.
The Free Thought Project would like commend Mrs. Christopherson on her superior ability to articulate her position while simultaneously flexing her rights.
The entire scenario was a ridiculous overstepping of personal boundaries by the Chula Vista police. Hopefully, now that it has been exposed on the internet it will help to prevent any further ludicrousness by these nanny staters.
Hashtag: #mswrightsway