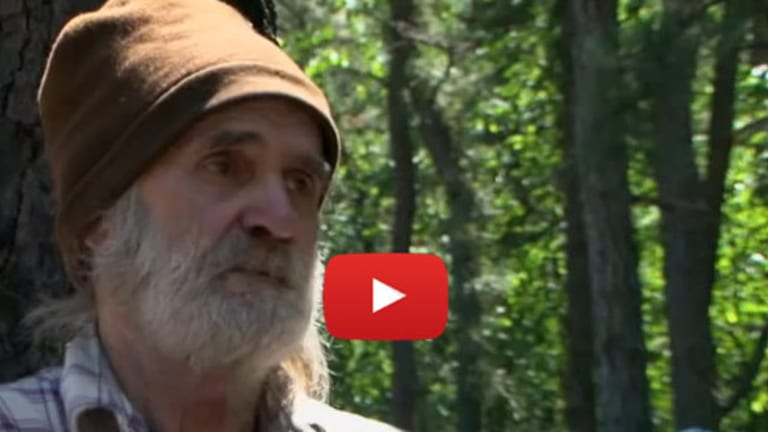 Police Evict Homeless Man From His Forest Home, His Last Request is to Watch Them Demolish It
Matt Agorist
August 8, 2014
Beat downs and arrests by police are, unfortunately, becoming a larger and larger part of the homeless culture.
Whether the dehumanization is to make way for the up and coming comic book festival or just a run of the mill sadistic police gang murder, homeless folks in the US are finding themselves in an increasingly hostile police state.
Cops in Saginaw, Michigan, who shot and killed homeless Saginaw resident Milton Hall, in firing squad fashion, during a confrontation in a shopping plaza parking lot were told this year that they won't be facing any charges. Who cares about one dead homeless guy, right?
Not only are police attacking the homeless, but they are also attacking people for helping the homeless.
In a disgusting display of totalitarianism, Daytona Police descended upon a group of Good Samaritans who were feeding homeless people in a public park last May. They were told that if they tried to come back in the park, they would be arrested.
With an increase in unemployment and skyrocketing foreclosures stoking homelessness in the US, the government is making it harder than ever to be homeless.
Legislative measures that criminalize the terrible situation of being down on your luck are steadily increasing in the US.
As the laws to make homelessness illegal are increasing.
Police now act as Roman foot soldiers, pillaging the poor; as was the case with this homeless man who was recently evicted by police from his home in the woods.
He had one last request for the police as they were laying waste to all he possessed. He asked if he could stay there to watch his home be demolished and they agreed to it.
A truly saddening display unfolds as this homeless man watches as his house is crushed by a bulldozer.
If you'd like to get involved and take action to help homeless people in need, you can do so here.
https://www.indiegogo.com/projects/destiny-s-bridge-a-home-for-the-homeless