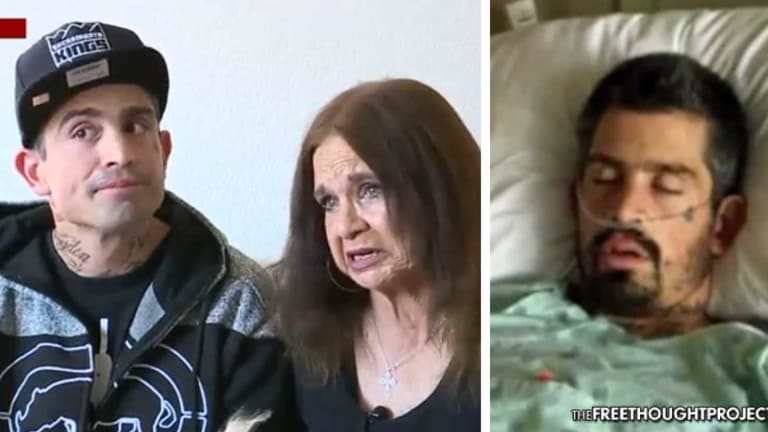 Cops Give Man Brain Damage, Then Violently Arrest Him Again, Days After He Filed A Lawsuit
A California mother says police brutally arrested her son just days after he filed a lawsuit against Sacramento Police for giving him permanent brain damage.
Sacramento, CA — Days after David Hernandez filed a civil rights lawsuit against the Sacramento Police Department for excessive use of force, which left him mentally disabled, his mother says police have violently arrested him again. His mom says the arrest, coincidentally, comes days after he filed his lawsuit.
Hernandez was left with permanent brain damage following his March 6th arrest at the Midtown Medical Center where he ran from police. Law enforcement had been called to investigate a man who was reportedly threatening a passersby. Neither Hernandez nor his mother Debbie dispute the fact he's been a methamphetamine addict since his teenage years. He's also been in and out of jail for drug-related charges but was only criminally liable for vandalism on one instance. Debbie reflected on the incident from March:
They were terrible. They were just awful to him. All they had to do was hand-cuff him. He didn't even do anything wrong. He was sitting on a curb
After police finally caught up with Hernandez at the Midtown Medical Center, the family alleges they beat him with batons, tased him, and smothered him for so long he suffered permanent brain damage. The extent of his injuries was discussed in a news story which aired on Fox 40.
He ran into the medical facility for help. They pulled a gun on him and he got scared, you know? He wasn't threatening anybody...he'll never be the same again...he says he wishes they would've just killed him.
Days after the story's airing, in what seems to some as retaliation for speaking out, Hernandez was arrested again. This time, Debbie Hernandez questioned why they were arresting a mentally disabled man. She says one police officer pulled a gun on her and pointed it at her head.
And they told my son to get out of the car, but he had his seat belt on so they drug him out of the car...I said, 'Wait a minute, he's disabled. Please wait,'...And the cop told me to put my hands up and I did, but he pointed the gun at my head like that and I was like, 'Really? Is this necessary?'
She says the police once again have arrested her now disabled son violently, for the second time. She says she tried to explain that fact to the six arresting officers that her son is brain damaged and is unable to run. She told Fox 40:
John can't run, doesn't know how. Not anymore. He used to be a really good runner, but John had to learn how to walk and talk all over again.
Predictably, the police are defending their actions, saying Hernandez' history of fleeing and evading arrest made it necessary to use extra caution and more manpower. Lt. Tony Matuska of the Tracy Police Department told reporters:
In a situation where we have a person that is likely to run, we have a responsibility to not only establish containment around the residence, but also have sufficient officers to search a residence and affect an arrest inside.
Debbie Hernandez called this latest violent arrest, "very, very, coincidental," and laments the fact she now has to wait for him to get out of jail or prison to continue his physical therapy. "I was just getting him to where I could get him out again to physical therapy and that's really going to be a setback for him," the heartbroken mother told the press.