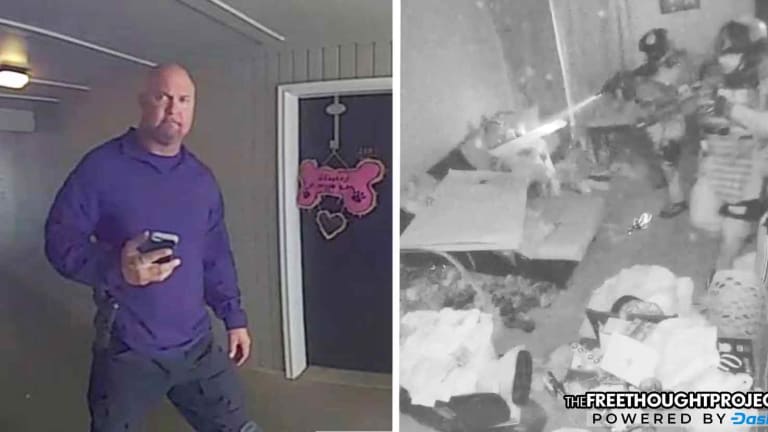 EXCLUSIVE: Man Catches Cops on Video Framing Him To Justify Blowing Up His Door and Raiding Home
A barber claims his home was raided by police after they accepted a false testimony from a confidential informant with a long arrest record.
Little Rock, AR – A barber was asleep on the couch in his apartment when a SWAT team blew the front door off of its hinges with such force that it flew across the room and landed on top of him. The officers stormed his apartment, arrested him, and then later informed him that he had been accused of selling $100 worth of cocaine to a confidential informant.
In an exclusive interview with The Free Thought Project, Roderick Talley said he has video evidence that the informant—who he claimed has a long arrest record—lied about the sale. The fake drug buy led to a very real search warrant, and when the SWAT team did not find cocaine in Talley's apartment, they claimed to have found cannabis instead.
Armed with footage of the fake cocaine purchase, Talley and his attorney requested a probable cause hearing. Prosecutors promptly dropped all charges against Talley who is now calling out Little Rock Police for using unreliable, and even criminal "informants" as probable cause to obtain what he believes are illegal search warrants, which have led to more than 50 unconstitutional searches, seizures, and illegal charges against a mainly minority community.
Talley told TFTP that he initially installed a doorbell camera because he has been a victim of burglary multiple times. He also installed a surveillance system inside his apartment. When the supposed cocaine sale took place, Talley was at the barber shop cutting hair. He and his friend watched what police later said was a $100 cocaine sale happen on live video. The recording was broadcast live to his smart phone and also stored on a cloud-based hard drive. He said he and his co-worker watched from the barber shop as the so-called informant came to the door. No one was home at the time. They wondered who he was, what he was doing, and why he was there. From there, the police department took the sworn testimony of a known criminal and used it to obtain a search warrant, signed by a judge, and later executed by SWAT team members.
The fake cocaine purchase was caught on a doorbell camera showing no one even came to the door to speak to the informant, let alone sell him cocaine. A day later, the surveillance camera captured a member of the Narcotics Street Team taking pictures of Talley's front door.
Below is the video of the alleged cocaine purchase, which took place on Aug. 3, 2017, according to a testimony from the confidential informant, Kenneth Ray Robinson, pictured in the video.
Posted by Roderick Talley on Friday, June 1, 2018
Here is a video of one of the members of the Narcotics Street Team members caught on camera on Aug. 4, 2017, taking pictures of the door he would soon blow off of its hinges.
Posted by Roderick Talley on Friday, June 1, 2018
Also below is a still shot image of the undercover police officer (identity unknown) in front of Talley's door. One can clearly see his face and his gun, along with his cell phone in hand.
https://www.facebook.com/photo.php?fbid=10211267026247632&set=pcb.10211266991326759&type=3&theater
A few days later, at least eight militarized police officers blew Talley's door off of its hinges and invaded his home with their AR-15s pointed at his head. From the video, no mention of a search warrant can be heard, making the penetration a "no-knock" raid.
As TFTP has reported on numerous occasions, such warrants have led to the deaths of an untold number of police officers and unsuspecting civilians, and the incidents often end in citizens being changed for crimes they did not commit, and then later having the charges dropped after the traumatic event of having their home raided by police.
If Talley had reached for a gun to defend his home from the armed intruders, there is little doubt that the SWAT team members would have opened fire on him immediately. Fortunately, Talley recorded the entire incident, and he told TFTP he believes the video is proof that the SWAT team was caught redhanded attempting to frame an innocent hard-working American for selling cocaine when no such activity was occurring at his residence.
Posted by Roderick Talley on Friday, June 1, 2018
Talley said he comes from a good family, and his family members serve on the city board in Hope, Arkansas. His grandmother is a retired school teacher, and his mother, who suffered from cancer since he was a child, passed away in 2011. His father teaches Health and PE classes in Griffin, Georgia, Talley's hometown. He said he works full time as a barber, volunteers by cutting hair for the homeless, and has never used or been around cocaine.
When asked why he believes he was targeted by police, Talley said he thinks it was a result of interactions he had with Officer Harris, who works as a "courtesy officer" for the apartment complex while off duty. There was a package of barber supplies stolen from his doorstep, and an interaction between Talley and another individual involved in a dispute. Each time he filed a police report, which he believes led both the apartment complex and the police department to want him out. He says now he will never call 911 again.
"Man, I was afraid for my life!" Talley said, noting that all he could see was smoke and lights. The SWAT team searched his home with a K9, counted over $1,000 in cash, took pictures of a scale he had, and located a few 3 grams of cannabis he said he didn't even know he had.
Following the destructive invasion of privacy, Talley was kicked out of his apartment complex. He has since filed a federal Civil Rights lawsuit against the City of Little Rock, Detectives Mark Ison, and Rob Bell, and officer Gladina Harris.
Talley told TFTP that he is fighting back because the task force that raided his home has done the same thing to at least 50 other citizens. He said it has to stop, and he is standing up even though he has been told by several people that the police are "gunning" for him, and he fears he could be abused or framed for a crime as a result. He has since fled the state, in fear of not only the police but the network of informants the police use who may want to retaliate against him physically.
https://www.facebook.com/photo.php?fbid=10211267097209406&set=pcb.10211266991326759&type=3&theater