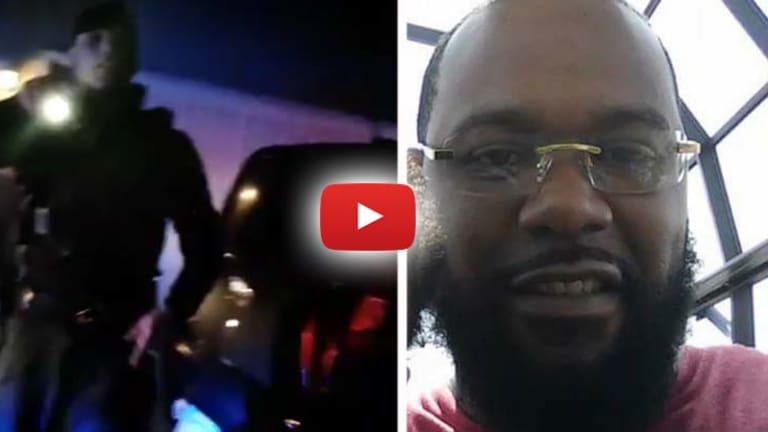 Horrifying Video Shows Cops Sic K9 on Innocent Man While Filming Them
An Ohio man was attacked by a police K9 as he filmed officers making an arrest. The resultant video is horrifying and infuriating.
Akron, OH — Filming the police is entirely legal, in every state. However, all too often, we will see police officers overstep their authority and arrest, attack, and assault innocent people for the constitutionally protected act of documenting their behavior in public. Although the Free Thought Project has covered many such cases in the past, we've never seen police release a K9 on a person filming — until now.
Ohio state troopers were at the home of Dannie Oliver Monday night, to arrest his cousin. Upset at the way police treated him, as he was entirely innocent, Oliver took to Facebook live to document the actions of the police.
While it was unclear as to why his cousin was being arrested, it appeared that he had just pulled up to Oliver's home and was followed there by police. As his cousin is getting taken away, he asked Oliver to call his mother to tell her about the arrest. He then asks Oliver to get his driver's license for him and turn off his car that was still running with the door open.
As Oliver attempts to reach into his cousin's car — while filming — the cop goes on a power trip.
"Listen, get out of the car!" the cop yelled.
"I'm trying to get his ID for him," Oliver responded.
"I don't care, get inside your house," the trooper said as he physically accosted Oliver for no reason.
"Hey, hold up, you ain't gotta grab me, dog," Oliver said.
"You're about to go to jail! It's called obstruction of official business!" barks the cop.
"But you just heard him ask me to get it, so why didn't you tell me not to get it?" Oliver asked.
After being roughed up by the cop, Oliver begins walking back to his house, at which time the cops apparently had enough of being filmed. So, they released the K9 on this innocent man.
The attack was streamed live to Oliver's friends and family on Facebook as they watched in horror.
"The fucking dog is attacking me!" Oliver yelled. "Aghh, aghh, my leg! My fucking leg! Get the dog!"
"Stop fighting my dog!" one of the cops yelled — as if Oliver could somehow remain entirely still as he's being torn apart by a police dog.
"I'm not fighting your dog!" Oliver responded. "He got my fucking leg! He biting my leg off!"
"I was going in the house, so why you released the dog on me?" Oliver asked, to which he received no response.
In the middle of Oliver's strife, the cops begin cuffing him, "My leg is fucking killing me!"
"Man, you really had to release the dog on me? You've seen me going to my door."
The video then turns off. It is unclear as to what happened next. However, Oliver hasn't made any updates to his Facebook page since making the video Monday night.
The Supreme Court ruled in Graham v. Connor that excessive force must be analyzed under the Fourth Amendments' objective reasonableness test. The application of this test requires an analysis of the totality of the circumstances, including these factors to determine if the seizure is reasonable:
1. The severity of the crime at issue;
2. Whether the suspect poses an immediate threat to the safety of law enforcement officers or others;
3. And whether the suspect is actively resisting arrest or attempting to evade arrest by flight
The reasonableness of an officer's use of force must be judged from the perspective of a reasonable officer on scene, rather than with the 20/20 vision of hindsight.
When applying these factors to Oliver's case, these cops had absolutely no reason to release the K9 on him. He had not committed a crime, he posed no threat to the officers, and he was complying with their arbitrary orders.
The police deployment of the K9 in this instance is nothing short of criminal and these officers need to be held accountable.
The Free Thought Project reached out to the Ohio State Highway patrol in regards to this matter, but we've yet to receive a response.
[author title="" image="https://tftpstagingstg.wpengine.com/wp-content/uploads/2016/03/magorist-e1456948757204.jpg"]Matt Agorist is an honorably discharged veteran of the USMC and former intelligence operator directly tasked by the NSA. This prior experience gives him unique insight into the world of government corruption and the American police state. Agorist has been an independent journalist for over a decade and has been featured on mainstream networks around the world. Follow @MattAgorist on Twitter and now on Steemit[/author]