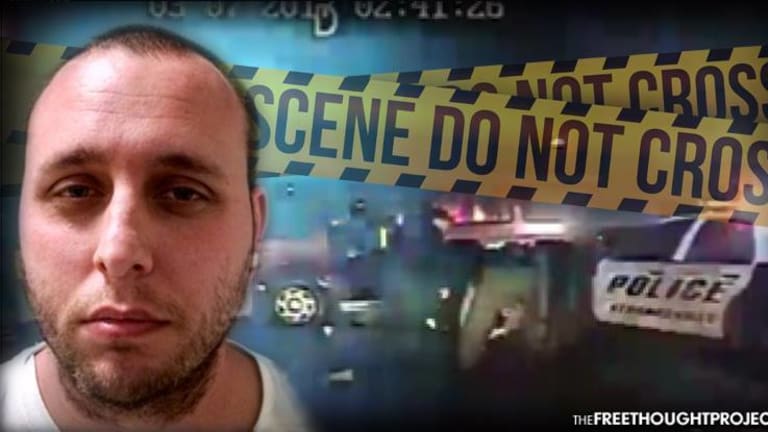 Video: Police Kill Man In Front of His Family Within 2 Seconds of Opening His Door
Strongville, Ohio corner and kill an unarmed man, all because he wouldn't stop for police.
Strongsville, OH — Roy Evans Jr. was assassinated in his vehicle in Strongsville, Ohio, in front of his girlfriend and his children. The family was returning home from a carpeting job they were working, when police attempted to pull over Evans' van for a minor traffic violation.
Evans shouldn't have done it, but according to his girlfriend, Amanda Pauley, he was afraid of going back to jail and didn't stop for police. Police say he sped away at a high rate of speed, but it's unclear how fast his 15 passenger van could possibly have been going. Nevertheless, the police deployed spike strips, disabled the vehicle, and trapped the van, keeping it from advancing.
That's when the police, in effect operating as would-be assassins, exited their own vehicles, guns drawn, and yelling commands. Evans can be seen trying to slowly back up his vehicle to presumably pull around the officers' cruisers, and potentially get away. That's when the police ended Evans' life. Two shots were fired center mass into his chest, probably killing him instantly. The rest of the family, fortunately , were uninjured.
Police dragged Evans' lifeless body to the ground, laid him face down, and then handcuffed his lifeless body. He wasn't armed. No weapon was found in the vehicle. And according to reports, he was only reaching to light up a cigarette when police opened fire.
The children, who were shell-shocked from seeing the hit men kill their dad, began to wail, scream, and cry aloud. It's unclear which officer fired the fatal bullets, but one officer attempted to steer the children's attention away from their murdered father's body. He told the kids, "Don't look at it," as if the human being whose life was just struck down was some sort of lifeless carcass and not a human life.
Evans' son screamed in disbelief, questioning the officer's actions, "That's my dad, dog...That's my dad!...What the fuck is wrong with you?...Why the fuck would you shoot him like that?"
According to PINAC:
Jill Del Greco, the Ohio Attorney General's Office spokeswoman confirmed no weapons were found on Evans, but hinted officers will use the defense that Evans might have used his van as a weapon in order to clear the officers for hastily shooting an unarmed man in front of his entire family. 'We are still investigating to determine whether or not the van itself was used as a weapon,' she said. Strongsville police declined to comment and have yet to identify the officer who fired the fatal shots.
Those details will eventually emerge, along with any body camera footage taken by the officers. There will be an investigation, internally of course, which will likely conclude the officer's had a reasonable belief Mr. Evans was attempting to flee, potentially using his vehicle as a weapon, and injuring officers who will undoubtedly claim they were "in fear for their lives" and none of the officers will see any jail time for shooting an unarmed man, father, worker, and boyfriend in front of his family. Something is seriously wrong with our culture when officers can act with reckless abandon and experience no legal ramifications.
As Matt Agorist of The Free Thought Project explained in our first article covering this story:
This case comes on the heels of officer Derrick Stafford's trial starting this week for a hauntingly similar stop that was also caught on video. Stafford and another officer, Norris Greenhouse Jr. opened fire on an unarmed father, Christopher Few. However, in that case, the father lived and the 6-year-old boy inside the vehicle, Jeremy Mardis did not.
Police officers fearing for their lives over unarmed people in vehicles is an all too common and tragic reality. Sadly, these children will now all grow up with the memory of their daddy being blown away in front of them by a person, who they are told, 'protects society.'
Many, if not most, police departments are moving away from active pursuits to a "restrictive pursuit policy". Knowing that most suspects flee from police without being guilty of committing any felonies, it's much cheaper and safer for police not to give chase. Lengthy and expensive court cases cost the taxpayer millions of dollars in settlement fees. Police cruisers are also expensive. There may be very little doubt, had Strongsville Police not given chase, not only would their vehicles not have been damaged, but Mr. Evans would still be laying carpet with his family. Something's got to give.