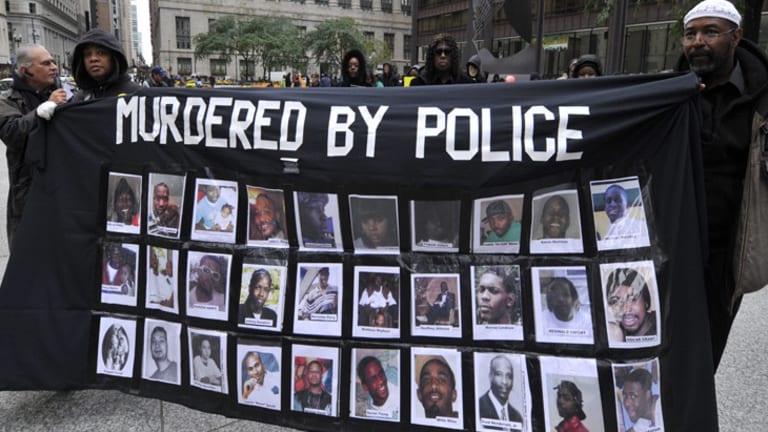 Police In US Killed Over A Dozen People In Week Leading Up To Ferguson Verdict
Every single day there are cases in the news showing police officers abusing their power. On a daily basis people are bullied, assaulted, robbed and many times unfortunately killed by police.
The case of Michael Brown and Darren Wilson has stood out in the news recently, but police in America have been systemically taking and destroying the lives of non-violent people for decades. In fact, many of the other cases where police murders occur, the evidence is far more clear cut, and less controversial than seen with Ferguson.
For example, in the week leading up to the Darren Wilson verdict, over a dozen different people throughout the United States were killed by police. Aljazeera published a report this week, documenting a number of the people who were shot by police from Monday, November 17 to Sunday, November 23. Since there are no official statistics for police shootings, this was all independently conducted research, meaning that there are likely many other cases that have slipped through the cracks.
"Officers assaulted and killed by citizens — well they're very eager to collect and report that data, but they don't report the other side of the equation," Samuel Walker, a professor of criminal justice at the University of Nebraska and author of In Defense of American Liberties, told Al Jazeera.
This report indicated that a minimum of 12 people were shot and killed by police within this time-frame.
The victims of these shootings included 12-year-old Tamir E. Rice, who was shot by police for playing with a fake gun in a park. That same week in New York City, a police officer accidentally shot 28-year-old Akai Gurley, a man who the police department later admitted was completely innocent, and just happened to be in the wrong place at the wrong time. The report also included other police murders in California, Arizona, Florida, New Jersey and Utah.
According to D. Brian Burghart, founder of Fatal Encounters, a project which hopes to build a complete and searchable database of police killings, there are roughly 1500 police killings every year, although the official number admitted by police is somewhere around 500. Burghart also said that there were at least 9,000 police murders between the years of 2000 to 2014.
John Vibes is an author, researcher and investigative journalist who takes a special interest in the counter culture and the drug war. In addition to his writing and activist work he is also the owner of a successful music promotion company. In 2013, he became one of the organizers of the Free Your Mind Conference, which features top caliber speakers and whistle-blowers from all over the world. You can contact him and stay connected to his work at his Facebook page. You can find his 65 chapter Book entitled "Alchemy of the Timeless Renaissance" at bookpatch.com.