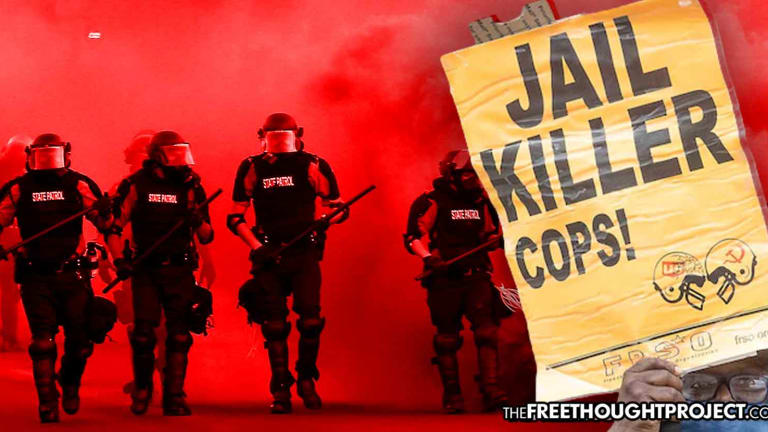 Most Cops Never Fire Their Guns But Those Who Do Have Multiple Victims and Keep Their Jobs
A shocking number of cops are responsible for a large percentage of police killings in America. They repeatedly kill citizens and never face consequences.
At any given time in the land of the free, there are, on average, around 700,000 sworn full time officers. In the United States, among regular citizens, the overall homicide rate is 4.9 per 100,000. But for cops, who killed 1,100 people last year, it's over 30 times higher as the police-against-citizen kill rate is more than 150 per 100,000. We are only halfway through the fourth month in 2021 and police have already killed over 300 people.
To give these numbers some context, the trial for Derek Chauvin lasted from March 29 to April 20 — 22 days. As this cop stood trial for 22 days for killing George Floyd, dozens of other cops killed more than 60 people. In fact, there have only been 3 days in 2021, in which cops managed to not kill anyone. This is a major problem.
Why is it that cops in America kill more people than any other western country?
According to research by the National Police Foundation, 1,006 police shootings were examined at 47 departments over two years. According to the research, 80 percent of the officers who shot people had never fired their weapons before. But this is where their data ended and no one examined the 20 percent of officers who have shot people multiple times.
The Free Thought Project has reported on countless killer cops before, many of them with several notches in their belts for killing the citizens they are sworn to protect. One of those cops is Modesto police officer Joseph Lamantia, a 12-year veteran of the force, who has shot five people, killing four of them. His most recent victim was Trevor Seever, 29, who Lamantia shot in the back on December 29, 2020.
Seever was unarmed and posed no threat when Lamantia killed him. Video showed that Seever was on his knees and had his hands in the air when he was executed by Lamantia.
When a cop shoots five people, killing four of them in just a 12 year period, this should set off a red flag. But it simply hasn't. In fact, Lamanita kept his job and wasn't held accountable for months after he executed Seever, in spite of the video being widely reported on in January.
Not only do killer cops face very little consequence, they are actually celebrated by fellow officers. According to a shocking investigation by Open Vallejo, for years, a secretive clique inside the Vallejo Police Department has commemorated fatal shootings with beers, backyard barbecues, and by bending the points of their badges each time they kill in the line of duty.
When SWAT team commander with two master's degrees, Captain John Whitney exposed the 14 cops who were celebrated for killing citizens in the department, instead of being honored, he was forced out of the job.
Seattle police officer Christopher Myers, 54, has been with the department for decades. Over the years he's amassed numerous awards including officer of the year and a medal of honor. He's also shot 4 people in the last 11 years, killing 3 of them. Again, no red flags.
A report by NBC, which focuses on repeat killer cops, interviewed Andre Taylor, an activist who founded the nonprofit Not This Time! after his brother was killed by a Seattle police officer in 2016.
Taylor explained how the "culture of policing" rewards officers like Myers who may be quick to fire their weapons in what they see as dangerous scenarios. "Therein lies the problem," he said.
"When you consistently see officers from around the U.S. use deadly force and there are no consequences," Taylor added, "it emboldens you to have power without restraint — especially if you're policing communities of color."
Even Derek Chauvin — before he murdered George Floyd — had shot a man in 2008. That man, Ira Toles, was unarmed.
According to the report by NBC:
NBC News requested a decade of records from a dozen law enforcement agencies across the United States with higher than average rates of police killings, according to Mapping Police Violence, an analysis project based on public databases, obituaries and other sources. Records obtained from eight of these departments through public record requests and official databases show more than 150 officers who fired weapons in two or more intentional shootings across eight cities: Columbus, Ohio; Dallas; Mesa, Arizona; Oklahoma City; Orlando, Florida; Seattle; Spokane, Washington; and Stockton, California.
The data show that in three cities — Mesa, Stockton and Spokane — these officers were linked to more than half of the police shootings from 2008 to 2018. In Mesa, just five officers fired their guns in 23 incidents over that period. In Columbus, officers with multiple shootings fired in 74 encounters during the same period — the most of the eight cities. In Seattle, officers who fired more than once were involved in nearly a third of police shootings from 2014 to 2021.

The shootings left more than 100 people dead across the eight cities.
This data is certainly concerning and equally as perplexing. Experts disagree on the cause and reason for repeat killer cops. For starters, if a cop kills multiple people, there is no check in place to have the officer evaluated so very little data has ever been collected.
Philip Stinson, a former police officer and an expert on law enforcement misconduct at Bowling Green State University in Ohio, told NBC these numbers are "troubling" and though he said more research needs to be conducted, the "mere counting of officers in multiple jurisdictions who have been involved in multiple shootings" needs to "be added to the discussion about police reforms — about what's wrong with policing and what's right with policing."
Naturally, the police apologist crowd disagrees and chocks up the repeat killer cops to their dangerous jobs.
"Some police officers simply find themselves in more than one situation during their careers where suspects try to kill them or another innocent," David Klinger, a criminologist at the University of Missouri St. Louis and the author of "Into the Kill Zone: A Cop's Eye View of Deadly Force," told NBC.
But he completely ignores the reason cops are in these situations in the first place. Many of these situations are due to the war on drugs. It is estimated that cops carry out roughly 60,000-70,000 no-knock raids every single year and the majority of these raids are looking for marijuana.
As TFTP reported this week, it appears there are few deterrents, if any, that stop cops from killing an average of 3 citizens every day. So, other actions must be taken to stop the hemorrhaging.
A system which monitors and evaluates cops who use deadly force must be implemented. How many of these serial killers are merely psychopaths who became cops just to kill people?
What's more, ending the drug war, ending predatory policing and revenue collection, and ending the persecution of victimless crimes all attack the tools which cops use to kill people with impunity. If we can eliminate the situations in which police feel the need to kill, less people will be killed. The time to act is now.