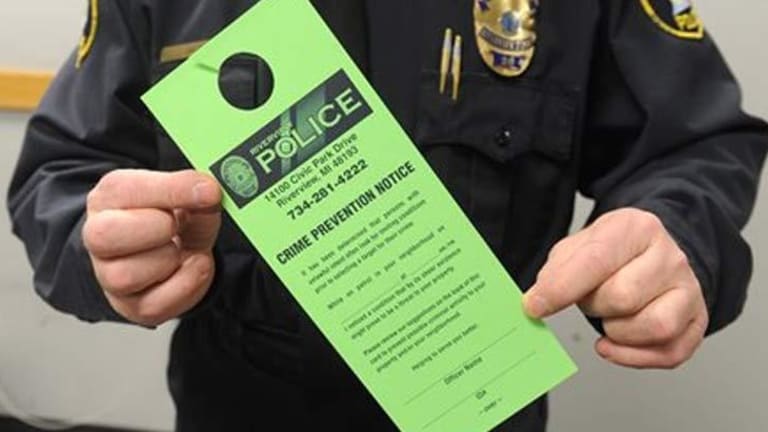 Police Implement Program to Snoop Around Private Property, Leaving Notices "To Keep You Safe"
Unfortunately, most residents seem to be embracing the idea of police snooping around their homes. What would you do if you saw this flyer hanging on your door?

Riverview, Michigan - What if you got a formal letter notifying you that the police had been snooping around your property?
Last week, we reported that police across the country were writing people tickets for allowing their cars to warm up in the morning. What was equally alarming about that story was the fact that police were casually rummaging through unattended vehicles, supposedly for the car owner's safety.
Now, this week, a story comes from the Detroit area where police are leaving notices for people who leave their doors unlocked. The notices are not fines or citations but "friendly" reminders that you should keep your things safe.
However, many people are concerned that this is a privacy violation. They are rightfully worried that it could lead to other unrelated arrests or fines if an officer happens to come across something.
In the Riverview area, police are checking car doors, garages, and unattended valuables and then leaving notes for the owners. Some people are relieved that the police are out there keeping an eye on things while others are alarmed and rather creeped out.
"Residents like to know that we are doing our job and care so much. They like to know that the streets are safer. We are not going around checking into windows or jiggling handles on doors. We are not violating any rights" Lt. Joseph Jakubus of the Riverview Police Department told reporters.
However, legal experts point to the delicate situation that is created when police snoop around an innocent person's property without their knowledge or permission.
"Police or anybody can look inside of a car if it's out in public. There is no law against that. It can pose a problem if the police are intentionally walking up to a person's private property and looking to see if a car door is unlocked or going up to someone's door leaving a tag," civil rights attorney Deborah Gordon said.
Gordon pointed out that police would need to prove that there was illegal activity taking place in order to search private property.
Some residents are concerned that the giant neon green flyers may tip off thieves about unlocked cars.
"If someone is out of town and one of these notices is on a door for a few days, it's possible a burglar may take notice and try to gain access to a house. Making an appointment with a resident or making sure the resident is home before checking a property seems like it would be a much safer and better way," Resident Donald Mason said.
The Riverview community is the only city in Michigan that has this type of policy.
The support for being snooped on by police in the video below is particularly disturbing.
John Vibes is an author, researcher and investigative journalist who takes a special interest in the counter culture and the drug war. In addition to his writing and activist work he is also the owner of a successful music promotion company. In 2013, he became one of the organizers of the Free Your Mind Conference, which features top caliber speakers and whistle-blowers from all over the world. You can contact him and stay connected to his work at his Facebook page. You can find his 65 chapter Book entitled "Alchemy of the Timeless Renaissance" at bookpatch.com.