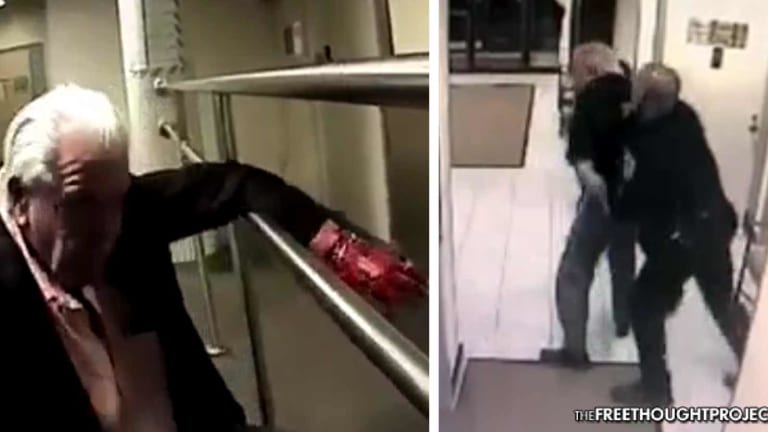 WATCH: Cops Attack Innocent 72yo Man, Leave Him Bleeding Out—For Breaking Up a Fight
A 72-year-old man is suing police after their rough treatment left him battered and bloodied following an arrest for his attempt to stop a domestic dispute.
White Plains, NY – Critics are saying police have reached a new behavioral low with the way they dealt with a 72-year-old man who is now suing the White Plains Police Department for unnecessary and excessive force, and has the injuries to prove it.
Charles Pateman was trying to intervene in a domestic dispute between his fiance' and her daughter. The residential surveillance camera shows the elderly man attempting to get into the elevator to go up to his apartment when police grabbed the well-known businessman and developer, slamming him into the wall and then the floor. After several moments of rough handling, they then placed him in handcuffs.
The officers involved demanded Pateman "stand up or we'll drag you out," a command which arguably could be difficult for a person over the age of 70 to comply with.
After he got to his feet, and was taken to the squad car, Mr. Pateman asked the arresting officer to loosen his handcuffs. The reasonable request was answered rather sarcastically as the officer replied, "they're not built for comfort, sir."
Even though Pateman politely asked repeatedly for the officers to loosen his cuffs, they refused. The mild-mannered businessman was reportedly respectful throughout the arrest but even asking nicely wasn't enough to get the officers to release the compression on the cuffs.
As a result, the elderly man's wrists began to bleed, saturating his clothes with blood, his lawyer said recounting the arrest. Randolph McLaughlin Esq. of Newman Ferrara LLP is representing Pateman in a federal civil rights lawsuit against the police department and the city. He addressed reporters saying:
"The officers viciously and brutally slammed him against the wall and then handcuffed him in such a tight fashion that when you see the video, you'll see pools of blood dripping around his hands. His clothes were filled with blood."
McLaughlin criticized the officers' handling of his client. "They were cavalier. They were brutal and they were indifferent to this man's medical needs," he charged.
"Twelve times throughout the incident, I asked them to loosen the cuffs," Pateman said. "I could feel the blood running down my hands. It was unbelievable to me."
Pateman also said he had to wait several hours before receiving medical attention, and he defended his actions on that fateful night. He said:
"I'm 72, two officers with guns? I'm a threat to them? Please! You know...just unbelievable...I'm a very respectful man, have been my entire life...I've been a supporter of police my entire life and never had any problems whatsoever...Born and raised in Westchester County."
Pateman said he fears that if he doesn't speak up and speak out the police will continue hurting the elderly. "If this could happen to me it could happen to anyone and obviously the White Plains police are not trained appropriately or this would not happen," he said.
The well-known real estate developer described how traumatic his rough handling and injuries have been to his emotional state of mind. "This has been a very traumatic event in my life, something I could not believe could happen," he said.
As The Free Thought Project has reported, interactions with the elderly must be taken very seriously. Senior citizens are even more susceptible to suffering from both fractures and broken bones—injuries that could greatly impact their quality of life.
A California woman suffered a broken hip when a police officer ignored her demands for a search warrant before forcibly entering her home and knocking the woman to the floor. The injury led to her physical demise. Even though she won a nearly million-dollar lawsuit—paid for by taxpayers—she died before she was ever able to spend a dime.
Predictably, the White Plains leadership, instead of issuing an apology, vowed to vehemently defend the charges of police brutality. Karen Pasquale, Senior Advisor to the White Plains Mayor, issued the following statement:
"In matters of litigation it is our policy to not comment while litigation is pending. We have not yet received the papers in the lawsuit, but we are aware of the case and intend to vigorously defend it in court."
An apology could possibly avoid litigation and a costly settlement with the city that will potentially cost taxpayers millions. But that will probably never happen, leaving many scratching their heads in disbelief as it remains to be seen whether the officers who arrested Charles Pateman will be held accountable for their actions.