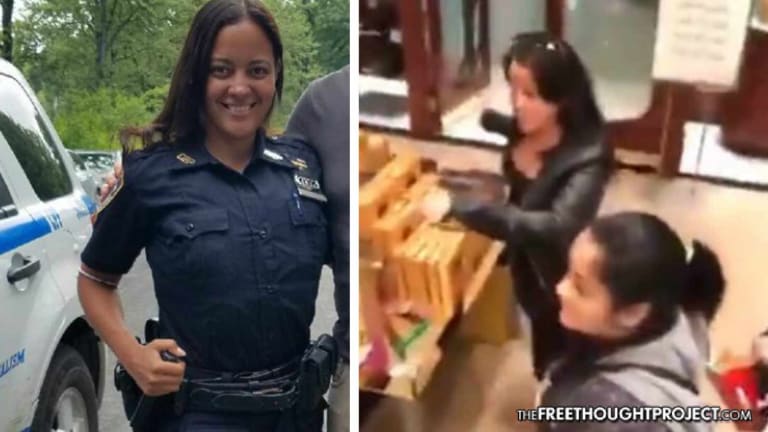 WATCH: 'Chocolate & Blood All Over': Cop Breaks Into Godiva Store & Gets Violent
An off-duty police officer was arrested after she forced her way into a locked Godiva shop and then harassed employees who told her the business was closed.
New York, NY — A New York City police officer is in hot water, or hot chocolate, after she was arrested at the Godiva chocolatier shop in Stamford. Amanda Villafane, 30, is now facing suspension after she was arrested following a fight she apparently picked with Godiva employees after they confronted her for entering their place of business by forcing the door open.
The crew was preparing to close the store down when Villafane, her mother, and her friend Christopher Salvadore all came inside. Their presence was unwanted as the store was closing, but Villafane copped an attitude—all pun intended—and began to yell at employees.
The video, which has now gone viral, was shot by Ralph Jimenez, 18, a brother of one of the store employees. The employees attempted to reason with Villafane, a probations officer with the NYPD, by telling her that she should have known the store was closed by the amount of force needed to open the door.
In the recording, Villafane can be seen using condescending word choices and being aggressive in her manner. She repeatedly called an employee "sweetheart" and insisted the door was not closed when they entered. Then, she removed her jacket and began to threaten an employee with a physical beat down.
"I will knock you the fuck out!" Villafane said.
She continued to scream her threats, while Jimenez attempted to record. His efforts to document the entire scene were hampered when Villafane's friend, Salvadore, forced him backward and allegedly punched him in the face.
Police were called to the scene and instead of covering for one of their own, which often happens as The Free Thought Project has reported, they promptly arrested Villafane and charged her with resisting arrest, threatening, criminal trespass, criminal mischief and disorderly conduct. Salvadore was also charged with assault, criminal mischief, criminal trespass and disorderly conduct. Both were released after signing promises they would appear in court.
Stamford Police Sergeant Robert Shawinsky said Villafane was so angry that officers at the scene had to take her to the ground and put handcuffs on her.
"They Found Chocolate and Blood All Over The Floor," Shawinsky said.
While many defenders and apologists for police would contend police officers are human like the rest of us and susceptible to the same outbursts of anger and violence as others with the same human condition, the facts are that police are typically treated as a protected class of citizens.
In fact, in Arizona, and other states across the United States, hitting an off-duty police officer carries stiffer penalties than, for example, a simple fight between citizens. Governor Doug Ducey (R-AZ) signed the "Blue Lives Matter" bill into law in April of this year, making it a felony to hit an off-duty police officer.
Putting the Godiva incident into perspective, if there had not been a recording of the incident, when police arrived to find Villafane engaged in a fight, the employee could have been charged instead of the irate, out-of-control officer, who was apparently triggered by the fact that she was denied chocolate. The ordeal serves to illustrate the importance of filming all violent encounters, and especially all encounters with police officers.
Blue Lives Matter laws, while presumably well-intentioned, have created a special legal status and class for citizens who are often already plagued with accusations of abusing their authority, bullying, harassing citizens, and violently infringing on citizens' civil rights.
A New York City police spokesperson reportedly told the Stamford Advocate that Villafane will be suspended as a result of the off-duty crime. But, as TFTP has faithfully reported, this simply means she will be given a few days off WITH PAY, so she may ultimately get rewarded for her bad behavior.