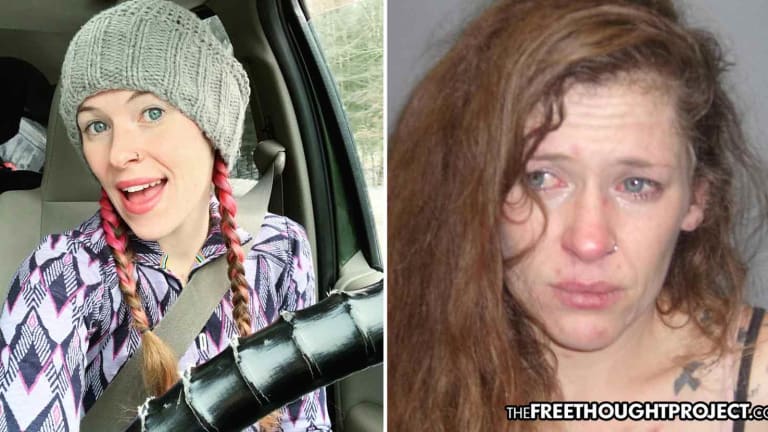 Woman Suffers 4 Broken Ribs During Dispute With Cop Husband, Police Arrest HER, Take Her Kids
A woman has become a fugitive as her police officer husband is alleged to have beat her and abused his power to get her arrested on multiple false charges.
Rollinsford, NH — If you read the headlines out of Rollinsford, New Hampshire this week, you will see that a "Domestic violence suspect" is being sought by police after fleeing from a stop. You will see the mugshot of Sarah Letendre, 34, and likely think that it is an open and shut case of a woman beating up on her vulnerable husband and then running from cops. Here at TFTP, however, we like to look a little further than the headlines and seek out the entire story. In Letendre's case, it appears that what we are being told by police may not be true.
It is a fact in America that men experience domestic violence at an alarming rate that is estimated to be far higher than what is reported because of the social stigma regarding their perceived lack of machismo and other denigrations of their masculinity when they become victims. However, not many of those men who experience domestic violence are MMA fighters or police officers. But in Letendre's case, her husband is both.
On Tuesday, Letendre made a disturbing post on Facebook. It read as follows: "My husband, who is a Dover police officer and former MMA fighter, broke 4 of my ribs on Saturday...I was arrested."
It is a fact that she was arrested and, according to Chief Robert Ducharme of the Rollinsford Police Department, she was charged with domestic violence simple assault, obstructing report of crime and resisting arrest.
That was on Friday and she immediately made bail. On Saturday, Letendre was accused of violating a protective order for allegedly contacting her husband and a Rollinsford officer pulled her over and attempted to arrest her for it. Likely not wanting to be locked up for a crime she did not commit, Letendre fled the stop and she escaped. She is now wanted on more charges, consisting of reckless conduct, violation of a protective order, resisting arrest, disobeying a police officer and breach of bail conditions.
As TFTP has consistently reported, police officers in the United States have an exceedingly higher rate of domestic violence than any other occupation. The average rate of domestic violence among most families in America is around 10%. As the National Center for Women and Policing points out, two studies have found thatat least 40% of police officer families experience domestic violence. That is a four-fold increase.
This number is likely far higher because women, as could be the case in Letendre's nightmare, are unable to report it because the departments circle the wagons and protect the abusive officer.
Though the Rollinsford police department did not confirm her broken ribs, according to Foster's Daily Democrat, who obtained Letendre's discharge papers, she indeed suffered fractures to "multiple ribs."
While the police and media are claiming Letendre is a fugitive from the law, according to her sister, Letendre is being wrongfully persecuted. Jessica Newman, Letendre's sister, said that Letendre's husband — who is a Dover police officer and MMA fighter — "abused his power as a police officer in order to have her charged with assault in that incident, and he has used his influence the get the Rollinsford NH police department (where they live) to bring a whole host of charges against her."
In a now-viral GoFundMe campaign, Newman says that Letendre's husband is using his power to paint his wife as the aggressor. This is in spite of the fact that he is the cop, MMA fighter, and according to their Facebook photo, at least twice her size.
"He is attempting to make her look like the aggressor in order to hide his current and past abuse," she said, adding. "he has also threatened that he will make it so she can never see her two kids again."
For now, if everything Newman and Letendre say is true, it looks like the police are winning. People are trying to change that.
To garner support for Letendre, her friends and family have organized a #justiceforsarah movement and there are at least two protests in the works this week.
A "Justice For Sarah Letendre" event is being planned for Saturday at Henry Law Park in Dover from 4 to 6 p.m.
According to Seacoastonline, the event's hosts describe Sarah Letendre as "a kind, proud, passionate and loving woman and mother of two beautiful babies."
"This protest is taking place to raise awareness about not only Sarah's situation but the situations that take place all over the country," according to the Facebook post, made by Marcie Hardy and Jess Newman, Sarah Letendre's sister.
"The purpose of these protests is to demand that all officers involved are suspended without pay or fired, arrested and charged," they said on the post. "We demand that the chiefs of both departments step down immediately."
As of Thursday evening, Letendre is still a "fugitive from justice" according to the cops. Hopefully, the facts of this case come out before something really bad happens. If you would like to help Sarah, please consider donating to her GoFundMe campaign here.
If you or someone you know is a victim of domestic violence, you can seek help at the National Domestic Violence Hotline website or by calling 1-800-799-7233.