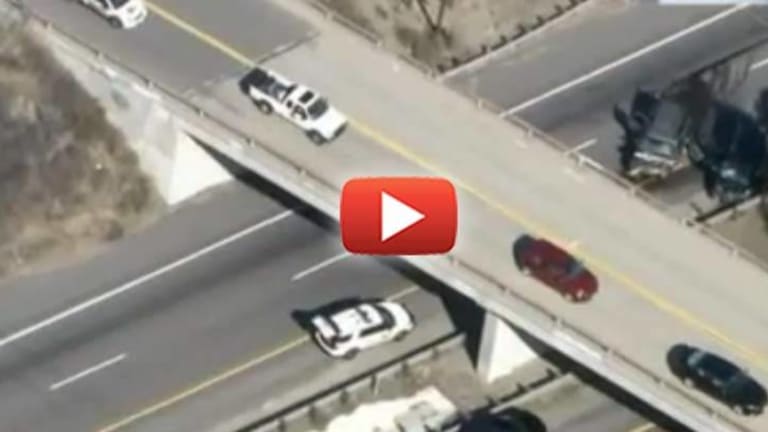 Cops Shoot at a Fleeing Vehicle in Traffic from a Helicopter, Causing Head-On Collision
A California high speed chase ending in a police officer shooting suspect from a helicopter highlights how dangerous high speed police chases really are for innocent bystanders.
San Bernardino, CA -- Officers from the San Bernardino County Sheriff's Department fired shots from a helicopter, shooting down at a fleeing suspect on a busy highway Friday afternoon. The suspect was involved in a high-speed chase with officers after he allegedly broke into a house and stole a car.
The incident created massive backups on the northbound lane of the 215 Freeway and held traffic up for hours. During the chase, the highway was obviously filled with cars as well, and police took a huge chance firing at the vehicle. Luckily, there were no innocent bystanders that were hit by any bullets, but when the suspect was struck by one of the bullets it caused a car accident which injured three other people.
When the driver was hit he jumped out of the vehicle, and it continued to travel down the road until it smashed into another car with three innocent people inside.
When asked how often police shoot at suspects from helicopters sheriff's Deputy Deon Filer said, "It doesn't happen every day, for certain, but our deputies are trained to fire from the helicopter."
A shocking report out of USA Today, shows just how dangerous being an innocent bystander can be when there is a police chase going on.
On average, according to the report, one person every day is killed during a high-speed chase.
To put this into perspective, that's larger than the number of people killed by floods, tornadoes, lightning and hurricanes — combined.
Contrary to popular thinking, high-speed chases aren't only dangerous for those involved. Innocent bystanders are all too often the victims of these reckless pursuits.
According to the report, more than 5,000 bystanders and passengers have been killed in police car chases since 1979. Tens of thousands more were injured as officers repeatedly pursued drivers at high speeds and in hazardous conditions.
Aside from the 5,000 completely innocent lives lost, an additional 6,300 fleeing 'suspects' were also killed, bringing the total to 11,506 dead since 1979. Even this shockingly large number is likely an understatement, according to the report. The Department of Transportation's National Highway Traffic Safety Administration (NHTSA) uses police reports to determine if a crash is chase related, and many of the reports do not disclose that a chase had occurred at all.
John Vibes is an author, researcher and investigative journalist who takes a special interest in the counter-culture and the drug war. In addition to his writing and activist work, he organizes a number of large events including the Free Your Mind Conference, which features top caliber speakers and whistle-blowers from all over the world. You can contact him and stay connected to his work at his Facebook page. You can find his 65 chapter Book entitled "Alchemy of the Timeless Renaissance" at bookpatch.com.