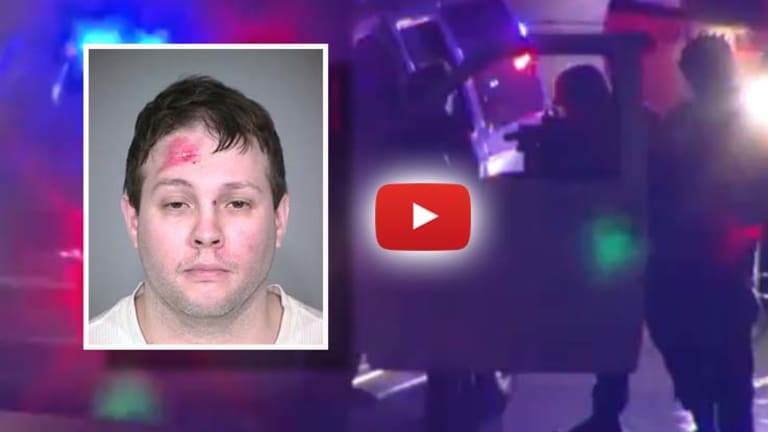 Indianapolis Police Officer Shot -- His Attacker Was a 'Hero' Cop
An Indianapolis police officer shot his fellow officer for investigating him on suspicions of domestic violence.
Indianapolis, IN -- An 18-year veteran of the Indianapolis police department, with a less than stellar past, has been arrested and charged with attempted murder for shooting a fellow cop.
IMPD officer Adrian Aurs shot a fellow cop on Friday and then fled to Cincinnati, where he was arrested after a standoff with SWAT.
The incident began around 8 p.m. Friday when officers responded to a call from Aurs' estranged wife about domestic violence, according to Sgt. Kendale Admas of the IMPD.
After the initial visit from officers, a special investigations unit detective was sent to do follow-up work at the scene because it involved the wife of a police officer, according to the report.
The SIU is tasked with investigating criminal complaints or allegations involved police officers.
While the detective was at the scene at around 10:30 p.m., Aurs "re-emerged and engaged in gunfire," Adams said. One of the bullets struck the detective in the elbow and another possibly in his side.
The detective fired back, however, he missed and Aurs fled in his personal car. According to the report, Aurs opened fired inside the apartment, in front of his estranged wife and children.
Once police discovered Aurs was traveling to Cincinnati, he was stopped by officers there. However, he initiated a standoff. After an hour with no shots fired, Aurs was taken in, "without incident," by Cincinnati Police Department officers, said IMPD Major Rich Riddle.
"Our detectives are on their way to Cincinnati to continue their investigations," Riddle said early Saturday morning. "(Aurs) will be facing criminal charges here in Indianapolis once our investigation completes."
When looking into Aurs, the Free Thought Project discovered that he has a highly checkered past.
In 2008, Aurs and several other IMPD officers were hailed as heroes when they pulled a woman from a burning car just moments before it exploded. The officers were given an award for their actions, however, when looking further back into Aurs' past, it was clear that he shouldn't have been an officer.
In 2003, he was involved in an incident in which a suspect was shot in the head and killed. Two years later, Aurs pleaded guilty to a charge of drunken driving after rear-ending another car on I-65.
For his actions, he was only given a paid vacation and allowed to remain on the force.
Years later, he would be involved in yet another drinking and driving incident -- this time, a fatal one.
In 2012, Aurs' vehicle struck a Lincoln MKZ driven by Williams Wilkins, 78, of Greenwood. The impact killed Wilkins instantly. When police gave Aurs a blood alcohol test, it showed that he had a BAC of 0.052 -- below the legal limit.
Instead of charging Aurs with the death of Wilkins, prosecutors wrote it off as an "unfortunate accident."
As of Saturday morning, Aurs was in custody in Cincinnati and facing extradition back to Indianapolis on a charge of attempted murder. An IMPD spokesman said Aurs is now suspended, pending his termination.
[author title="" image="https://tftpstagingstg.wpengine.com/wp-content/uploads/2016/03/magorist-e1456948757204.jpg"]Matt Agorist is an honorably discharged veteran of the USMC and former intelligence operator directly tasked by the NSA. This prior experience gives him unique insight into the world of government corruption and the American police state. Agorist has been an independent journalist for over a decade and has been featured on mainstream networks around the world. Follow @MattAgorist[/author]