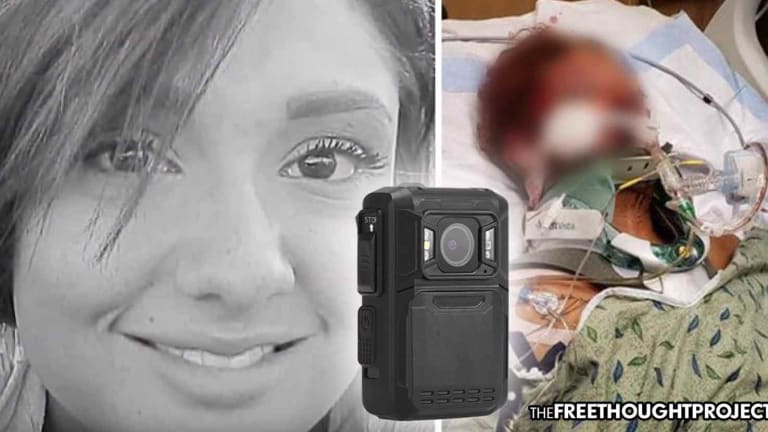 Cop Accused of Raping Woman Thrown from Police Car, Turned Off Body Cam at Time of Alleged Assault
A cop accused of raping a woman who died after being hurled from a police vehicle turned his body camera off during the time the alleged assault happened.
Safford, AZ — A bombshell revelation has come to light this month in the case of Jorden Simms who died in police custody after being hurled from the back seat of a police cruiser while handcuffed, shackled, and belt-chained. The officer who stands accused of raping Simms admitted to turning off his body camera at the time of the alleged assault. Now, the claims of a cover up by the victim's family hold even more water.
As KVOA reports, the case started with a shoplifting call. Documents from the Safford Police Department obtained by 12 News say Simms had been previously arrested for shoplifting. However, when Safford Police officer Jeremiah French arrived, there was no evidence of shoplifting. French arrested Simms anyway, based on a warrant from a neighboring county.
The warrant was reportedly over failure to appear for a drug charge. After her arrest, according to the documents, Simms complained of stomach pain and was taken to the hospital. Despite the hospital visit lasting nearly two hours, French made little mention of it in his report.
According to the report, French met with staff, Simms refused medication, and was then released back into his custody. However, a few days later, Simms told authorities something far more sinister happened at the hospital — French raped her.
An easy way to prove French's innocence in the matter would be to review his body camera footage from his interaction with Simms, so investigators went straight to it. However, during the time Simms told police she was left alone with French, the cop turned off his body camera.
French would tell investigators that he turned the camera off while in the hospital, allegedly because the hospital had concerns over patient privacy. However, there was no mention of hospital staff telling French to turn off the camera in the report. Nurses only reported that Simms was at the hospital for two hours with French.
As TFTP reported in January, Simms mother, Deborah Sanchez began speaking out, telling anyone who will listen that she doesn't believe the official story from police on how her daughter died in police custody. Sanchez claims police silenced her daughter to keep her from ousting officers who raped and attacked her.
"They silenced my daughter, they wanted to make sure she never came forward," Sanchez said.
Days before police claim Simms broke free from her handcuffs, chain-belt and shackles and jumped out of the backseat of a moving police cruiser, as mentioned above, Simms claimed French raped her.
"I know 100% she was telling the truth," Sanchez said of her daughter. "When you speak to someone who has been violated, trust me, broken is all in their voice."
Now, Sanchez is fighting to find out the truth of what really happened to her daughter on that fateful day.
As TFTP reported at the time, the Graham County Sheriff's Office had one job to do: transport Simms from their county to Mt. Graham Regional Hospital and then back to jail. But instead of arriving safely at the hospital, Simms allegedly removed her handcuffs, opened the door to the police Ford Explorer and jumped out of the vehicle while it was going down the road.
The impact left Simms with closed head injuries to her brain, leaving her brain dead. She later died.
"She was a ray of sunshine when she wanted to be...Her life meant something," Simms' aunt said. "We want to know how this happened. We want to know what she suffered prior to this event...It's been incredibly challenging. We are just waiting for the process to get started. We want answers, we know that something is not right with the whole scenario. Jorden was in the grips of addiction, but under that addiction was a kind, loving, funny woman."
Addiction or no drug problem at all, what Simms alleged before her death has the family as well as media asking questions.
Arizona's Department of Highway Safety (DPS) is now investigating not only how a handcuffed, shackled, and escorted inmate could slip out of her shackles and jump to her death from a moving police vehicle, but also the inmate's claim officer French raped her. According to ABC 15:
DPS officials tell ABC15 that at the request of the sheriffs' office, detectives from the Special Investigations Unit are looking into allegations of sexual assault and the in-custody death of Simms.
Simms also alleged while she was in jail, a female officer sexually assaulted her with an unknown object. According to numerous reports, Simms reported her alleged sexual assaults to the Graham County Sheriff's Office and both were supposedly investigated by trained forensics nurses. As 12 News reports, after the initial examination and rape kit, police claim a medical professional told them to go to another hospital because they lacked a piece of equipment. Simms would never make it to the next hospital.
On December 24, GCSO said Simms returned to the Graham County jail and on that night, she made a report alleging she had been sexually assaulted by a Graham County Detention Officer when she was initially brought back in the building that morning.

On December 26, Simms was transported to an advocacy center located in Sierra Vista for a specialized examination, GCSO said. A deputy and detention sergeant drove Simms in a Ford Explorer patrol vehicle.

According to GCSO, after the initial exam at the advocacy center, a medical professional said Simms' required equipment that wasn't available there. She was then transported to Mt. Graham Regional Hospital, but before arriving, GCSO said Simms opened the rear driver's side door and "exited the vehicle."
The Sheriff's Office issued the following statement about Simms' allegations once the department became aware of the sexual assault allegations:
It was arranged to have Jorden Simms transported to an advocacy center in Sierra Vista for a specialized examination. The transport was done by a deputy and detention sergeant from the Graham County Sheriff's Office. The initial exam was completed and based on a recommendation by a medical professional at the Center, that would require utilizing equipment not available at the advocacy center, arrangements were made to send Jorden Simms to Mt. Graham Regional Hospital before returning to the Graham County Adult Detention Facility.
On the way to the hospital Simms managed to to carry out an act that would impress even the great Harry Houdini, broke free from multiple point restraints, and jumped out of the SUV according to police.
Sanchez said her daughter's brain was "crushed" and she also suffered a broken arm, broken leg, and numerous other injuries before passing away in the hospital.
At a vigil for her daughter in January, Sanchez said there was still blood on the roadside where her daughter died.
"Seeing the blood still on the road and knowing that she was just right down the road from the hospital, there was no reason my daughter had to die."
Adding to the suspicious nature of Simms' death is the fact that the results of the rape kit have yet to be made public despite the exam taking place two months ago.
"Give me the damn truth because my daughter deserves it," Sanchez said. "I want justice. I don't give a crap about anything else, I want justice for my daughter."