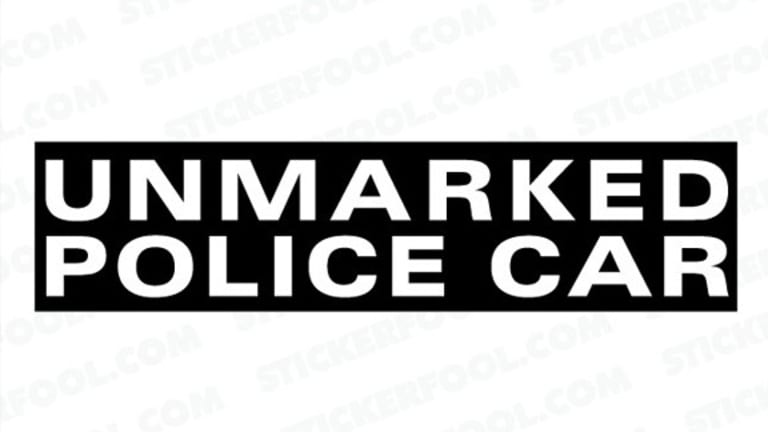 Woman Pulled Over for Bumper Sticker Sues Police
John Vibes
July 2, 2014
Two police officers from Indianapolis are being sued for pulling over a car and forcing the owner to remove a bumper sticker from their vehicle. The officers saw a woman traveling in a minivan with an ironic bumper sticker that said "unmarked police car".  They then pulled over 56 year old Pamela Konchinsky and accused her of impersonating a police officer.
Days later Konchinsky called the ACLU and told them about her situation.
A lawyer from the ACLU told reporters that the officer asked her "Is this your vehicle?" and asked for her license and registration, and then said "with that bumper sticker, someone could think you're impersonating a police officer.'"
Not only did the police make her physically remove her bumper sticker, but they also held her up and made her late for work. Konchinsky is a mother of two who works 3 jobs to support her family, and that day the police tarnished her attendance at one of those jobs.
As a result of the lateness, loss of wages, and harassment, she is filing a lawsuit against the individual officers. The primary goal of the lawsuit though is for the police "to cease and desist from further suspicionless detention, interrogation, harassment, and intimidation related to the humorous content of bumper stickers."
She has also demanded that she be allowed to put the bumper sticker back on her car without any further harassment.
John Vibes is an author, researcher and investigative journalist who takes a special interest in the counter culture and the drug war. In addition to his writing and activist work he is also the owner of a successful music promotion company. In 2013, he became one of the organizers of the Free Your Mind Conference, which features top caliber speakers and whistle-blowers from all over the world. You can contact him and stay connected to his work at his Facebook page. You can find his 65 chapter Book entitled "Alchemy of the Timeless Renaissance" at bookpatch.com.