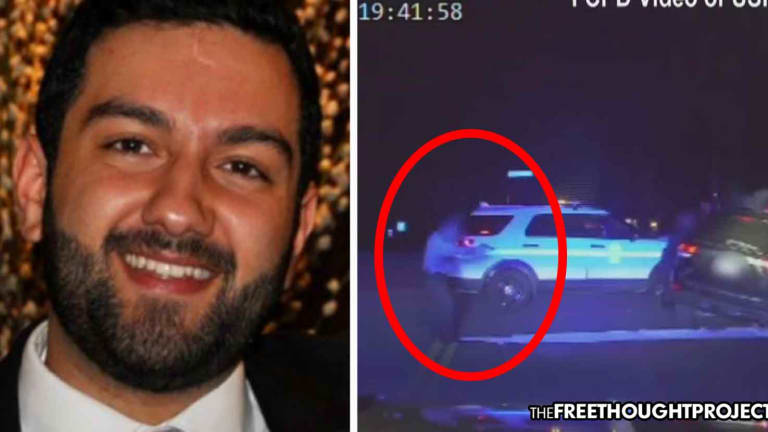 Police Ignore Parents After Video Showed Cops Execute Their Unarmed Son, Shooting Him in the Head
Nearly a year after gruesome video showed police execute their unarmed son, the victim's parents are still begging for answers and their being ignored.
Fairfax County, Virginia – Earlier this year, dash cam footage was released that shows police shooting and killing an unarmed man they claimed was responsible for a hit-and-run. However, the man was actually the victim of a traffic accident and the video shows that he then became the victim of murder by police.
It's been a nearly a year since the shooting death of Bijan Ghaisar and the FBI, the Justice Department and Park Police have not given a single reason for the use of deadly force — a fact the parents of Ghaisar find "maddening," according to FOX 5.
"This is very heartbreaking," said James Ghaisar, Bijan's father. "I cannot tell you how many times a day literally I am crying. At work, I kind of try to focus and distract myself. But in my car, I am only thinking of him – that I cannot see him, and on top of that – this total silence."
James and his wife Kelly Ghaisar have done everything they can to try to get answers as to why their son was killed that night. As TFTP reported last month, they filed a lawsuit and now, the taxpayers could be held liable to the tune of $25 million.
"It's been nothing but stonewalling," said Bijan's mother. "We haven't had anyone who has been actually working on this case, involved on this case, to actually shed any light to us – as if we have no rights."
After being tight lipped for nearly a year on the incident, only the police report has been released, backing up the victim's parents' claims that their son was unarmed when he was gunned down by police.
Ghaisar, 25, died 10 days after he was shot in the head four times by U.S. Park Police, according to the family.
The Free Thought Project reported on the fact that no gun was found in the original investigation, but Ghaisar family's lawyers released police reports Monday provided by Fairfax County, including a report confirming Ghaisar was unarmed. This report did not come out until investigators literally scanned every inch of the scene with metal detectors in an attempt to justify the shooting.
"The release of the tape and the recent documents by the Fairfax County Police Department were very helpful to answer all those questions," said James Ghaisar. "So here we are. This is a unique case as far as I am concerned. Bijan could have been anybody's kid – literally. We raised our kid so proudly."
The incident began on Nov. 17, 2017, when Ghaisar was rear-ended by an Uber driver, and although he was the victim of the accident, he left the scene.
The accident was reported to the Fairfax Country Police and they treated it as a suspected "hit-and-run." The McLean Patch reported that when police located Ghaisar's car, they attempted to pull it over twice and "both times two officers appeared to approach Ghaisar's car with weapons drawn before he drove away."
While police have attempted to paint this situation as one in which officers were chasing a dangerous suspect who was putting their lives at risk by evading their attempts to arrest him, Ghaisar's family told a very different story.
"Bijan Ghaisar was repeatedly threatened by over-aggressive and out-of-control law enforcement officers after he drove away from a minor traffic incident in which he was the victim and in which there was little property damage and no known injuries," the family told NBC Washington in a statement.
While an armed Park Police officer can be seen banging on the window of Ghaisar's car, it is also not clear what directions the officers were giving him at the time.
However, it is clear that the officers were becoming increasingly frustrated with Ghaisar. He continued to drive away and was followed by both Fairfax County and U.S. Park Police officers. When Ghaisar stopped at a stop sign, a police cruiser pulled in front of his car to block it, and two officers approached him with guns drawn.
As Ghaisar's vehicle began to move forward once again, two of the U.S. Park Police officers fired nine shots into his vehicle—four of which struck him in the head. Ghaisar was taken to the hospital where doctors determined that he had suffered severe brain damage, and he was pronounced dead 10 days later.
At the time, Fairfax County Police Chief Ed Roessler released a statement announcing that the FBI is currently investigating the shooting, and the dash cam footage was released to increase transparency.
"As a matter of transparency to all in our community, especially the Ghaisar family, and as the administrative custodian of the video, I am releasing the in-car video of the U.S. Park Police shooting," Roessler said. "The video does not provide all the answers. However, we should all have confidence in the FBI's investigation of this matter as I know it will be thorough, objective and professional."
Once the FBI took over the case, however, no other information was released and authorities have refused to comment.
The McLean Patch noted that "Park Police wouldn't comment on why there was a pursuit for a car that had been rear-ended in the first place," and that after reviewing the evidence, a lawyer told the Ghaisar family that "it is even more clear that the killing of Bijan Ghaisar was completely unnecessary" given the original crash.
Bijan Ghaisar was an accountant, a resident of McLean, and he graduated from Virginia Commonwealth University.
The two U.S. Park Police officers who are responsible for the shooting have since gone back to work after a brief paid vacation and no word of any discipline has been released.
"It's like an everyday nightmare that goes through our head, and of course it is so obvious that this shouldn't have been," said Kelly Ghaisar. "We don't know why they are keeping this going on so long. This is so cruel that the fact this happened to Bijan."
Watch the dash cam footage from the shooting: