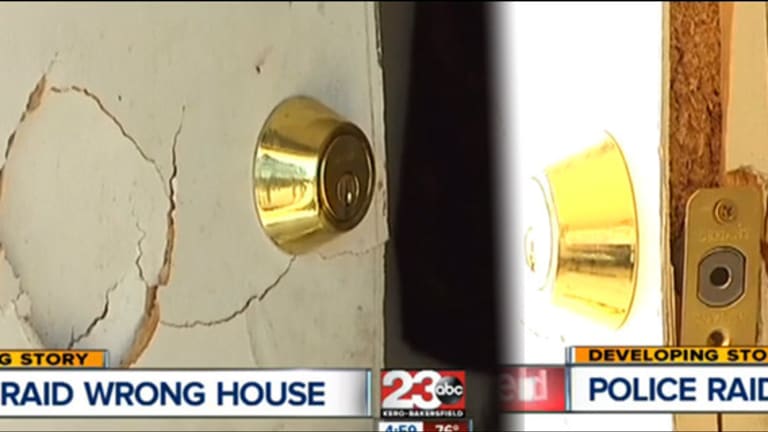 Police Nearly Get Peep Show After No-Knock, Late Night Raid on Wrong House
Young mother says her children are traumatized and have had nightmares since the raid
Adan Salazar
Infowars.com
April 25, 2014
Police in Bakersfield, Cali., terrorized a young mother and her children last week when they busted down the wrong door, almost seeing her naked as she prepared to jump in the shower.
Jessica Walker says her kids are traumatized, have had nightmares and might even need therapy since police mistook their home Saturday night for that of the drug dealer next door.
"They were screaming. They were screaming, 'No, mom, no!' And they were afraid," Walker told ABC affiliate KERO.
Walker says she put her kids to bed and had undressed from the waist up before getting ready to bathe when she heard her dog begin barking. Police next battered down her door, pointed guns in her face and told her to get on the floor.
"They were right there telling me, 'Come down with your hands up, get down!' and I'm like, 'Oh my God, what's going on.' My, uh, area was out," Walker says moving her hands over her chest.
Bakersfield PD had obtained a warrant to carry out a night time raid on Walker's apartment. Around 11 pm, police surrounded the home and then charged the door with a battering ram, leaving it busted and unable to close to this day.
Images provided by KERO show battering ram dent and busted lock.
After searching the home and interrogating Walker, police realized they had the wrong house. They stormed apartment A, but were supposed to have been at B.
"I'm very angry," says Walker, adding, "I mean I know they were trying to do their job but what they should have done is did more investigation into what apartment it was."
The young mother says police did apologize and that someone from the city came out to repair her door, but that it's still busted and doesn't lock. She plans to file a complaint with the city.
Police are puzzled as to what went wrong and for the moment are placing the blame on bad intel.
Despite her menacing scare, Walker is actually lucky no one in her family got hurt or died.
On Wednesday, we reported on a raid in which police tied up an innocent 75-year old grandmother after also getting the apartment mixed up. "I thought it was somebody just breaking in to rob me and kill me," Ruth Hunter told WTVR regarding the Virginia State Police's botched drug raid.
Back in 2012, police in Tennessee killed a man when they attempted to raid the wrong house. John Adams, 61, thought he was being burglarized when someone began pounding on his door. Police say Adams fired a sawed-off shotgun before police gunned him down. "We did the best surveillance we could do, and a mistake was made," Lebanon Police Chief Billy Weeks said, according to ABC News.
And to think, all of these incidents could have been avoided had police simply knocked.