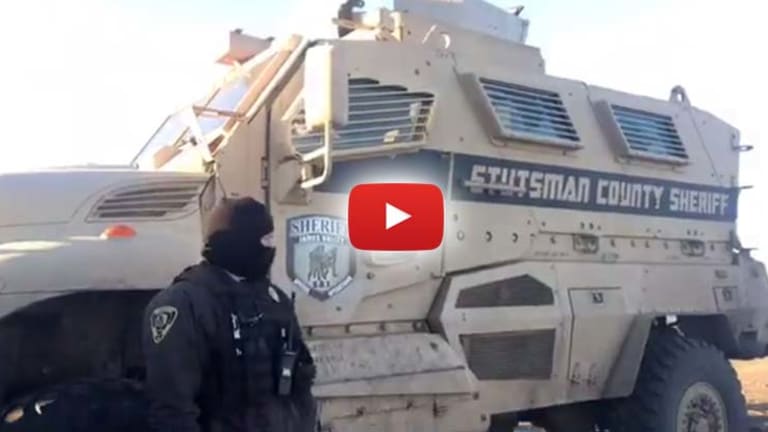 BREAKING: Police Raids for Removal of Water Protectors at Standing Rock Begin
Heavily militarized law enforcement and National Guard troops have now raided one of the remaining camps at Standing Rock, arresting around 50 people — and it appears this is just the first of many to come.
Police and National Guard forces began raiding camps at Standing Rock Wednesday afternoon, not long after reports stated the U.S. Army Corps of Engineers would be granting an easement necessary for completion of the Dakota Access Pipeline.
Reports from the scene suggested law enforcement blocked the road into the camp at both the northern and southern ends — effectively kettling the entire area, which would leave anyone remaining subject to arrest.
"Law enforcement have evicted about 40 Dakota Access pipeline opponents from a camp the demonstrators set up on higher ground near their flood-prone main camp in southern North Dakota," CBC reports. Social media reported the number of arrested had surpassed 50.
Among the detained water protectors, livestreamer Shiyé Bidzííl stated on video, was vocal pipeline opponent and #NoDAPL leader, Chase Ironeyes.
Heavily militarized police advanced across Highway 1806's Backwater Bridge from the north — a boundary not crossed by either law enforcement or water protectors since the barricade was reinforced by authorities in November.
Social media posts indicated Bureau of Indian Affairs police had set up a roadblock to prevent anyone seeking to enter the camps while the raid was performed.
Government forces intend to clear a newly erected camp put in place on ground above the floodplain where Oceti Sakowin, the main camp, and others have been in place since as early as April last year.
But that camp was considered illegal, and as such became the first camp subject to a police raid since last fall.
Energy Transfer Partners, the company responsible for Dakota Access and recently acquired by Sunoco Logistics, halted construction after the U.S. Army Corps of Engineers denied an easement in order to perform a full environmental impact statement.
That order, however, came on the heels of another order from the Corps and one from North Dakota Governor Jack Dalrymple which essentially cut access by emergency services to the camps and deemed anyone present to be subject to arrest for trespassing.
Indeed, over concerns about winter conditions and the spring snow melt flooding the camps, leaders in the Standing Rock Sioux Tribe have repeatedly requested the water protectors who aren't residents to evacuate.
Just yesterday, Senator John Hoeven issued a statement announcing,
"Today, the Acting Secretary of the Army Robert Speer informed us that he has directed the Army Corps of Engineers to proceed with the easement needed to complete the Dakota Access Pipeline. This will enable the company to complete the project, which can and will be built with the necessary safety features to protect the Standing Rock Sioux Tribe and others downstream [...]
"We are also working with the Corps, the Department of Justice, the Department of Interior and the Department of Homeland Security to secure additional federal law enforcement resources to support state and local law enforcement. On Sunday, 20 additional Bureau of Indian Affairs law enforcement officers arrived at Standing Rock to assist local authorities. Also, the Standing Rock Sioux Tribal Council has asked the protesters to leave the campsite on Corps land."
Fraught with contention, Dakota Access has been the subject of a massive opposition campaign since last spring, which began with a couple hundred people camped near the Missouri River's Lake Oahe reservoir, and quickly mushrooming to several thousand in the summer.
Though camp population has declined following the multiple orders from authorities, at least 300 people recently started a new camp above the floodplain in an effort to be partially compliant.
As this article went to publication, militarized riot police and National Guard troops backed by armored vehicles and other equipment stood on the road looking over camps, as if awaiting night for another advancement.
This is a developing story and will be updated as needed.