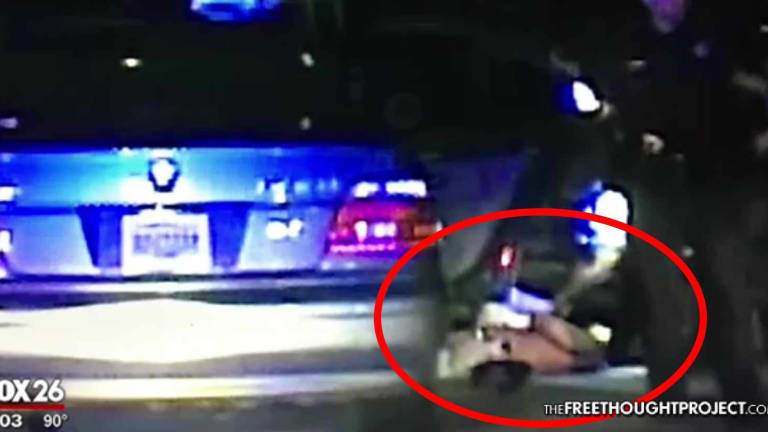 Horrifying Dash Cam Shows Cops Strip Woman Naked & Rape Her on the Roadside
Disturbing images from dash cam footage shows cops strip a college student nude and publicly rape her on the roadside in search of a plant.
Houston, TX -- On Friday, TFTP reported that the officers responsible for the public rape of an innocent woman on the side of the road would not be charged. After hearing the news, the attorney for Charnesia Corley announced that they had dash cam video of this sexual assault and they promised to release it.
"Once the community sees this video, they're going to be outraged, disgusted with what they see and the District Attorney's Office stuck themselves right in the middle of this case," Sam Cammack, Corley's attorney said. Cammack was correct — the video is horrifying and serves as a testament to the immoral and tyrannical devastation the war on drugs leaves in its path.
"A 21-year-old African-American, female, college student, had never had any criminal history never been in trouble," said Cammack. However, these officers couldn't have cared less about Corley's innocence.
As TFTP reported at the time, Corley was on her way to the store to get medicine for her sick mother in June of 2015 when she was detained by police for allegedly running a stop sign. Within minutes, this routine traffic stop turned into a waking nightmare as cops publicly raped her in search of a plant.
The incident was so horrific that the cops involved in the public rape were actually charged with official oppression. However, like most cops who get charged with a crime, this month, those charges were dropped.
As ABC 13 reports, a Harris County grand jury cleared William Strong and Ronaldine Pierre of official oppression last week. It was the second time the case against them had been presented. The first time, under the previous DA administration, a grand jury indicted the officers and former Sheriff Ron Hickman was furious.
Last week, as ABC 13 notes, the District Attorney's Office took the cases to a second grand jury, who dismissed the charges. Court documents note the reason as "grand jury action."
"They were already indicted and set for trial under the old administration and the new administration no bills them, finds a grand jury that will no bill them and they claim it's based on new evidence," Cammack said.
However, that 'new evidence' is nothing more than medical records the state always had, according to Cammack.
Both of the rapist deputies have kept their jobs in spite of the now dropped charges. Since they publicly raped Corley on the side of the road 2015, they've been collecting their paychecks.
As TFTP reported at the time, according to the Harris County Sheriff's Department, Strong, the deputy who pulled Corley over asked her to step out of the vehicle after "smelling what he believed to be marijuana."
"One of the officers on the tape, he was talking to a passenger who was already in custody in the officer's car and you could hear him telling that individual 'Oh we are going to find something, even if we have to put our hands on her'," said Cammack.
"They then took Miss Corley and placed both ankles behind her ears spread eagle position and started to search for something in Miss Corley's cavity in her vaginal area," said Cammack.
The horrifying images show cops strip Corley nude on the side of the road and publicly rape her for over ten minutes — in search of a non-existent plant.
Because Corley didn't immediately prostrate herself to be vaginally raped by a peace officer's appendages in search of an illegal plant, the deputy charged her with resisting arrest.
Corley maintains that at no time did she ever consent to be raped by deputies.
"I felt like they sexually assaulted me. I really do. I felt disgusted, downgraded and humiliated," Corley said.
According to Harris County Sheriff's spokesperson, however, this stop was justified and the department did everything by the book. Also, the county prosecutor says nothing illegal happened either.
"No one in this office stands by the search the way it was conducted. No one condones that. No one thinks it's appropriate. It should not have happened.
"However bad decisions, bad judgment may not rise the level of a criminal offense," Harris County prosecutor Natasha Sinclair.
When viewing the horrific images below, ask yourself what society would think about people — if they didn't wear a uniform and a badge — who did this to a woman. Would anyone in their right mind claim that nothing criminal happened if the perpetrators weren't cops?
Please share this article with your friends and family to help wake them up to this very real American Horror Story.