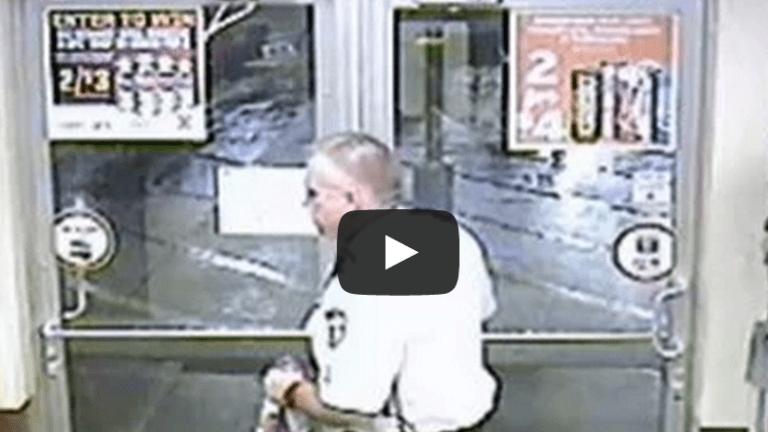 Police Sergeant Caught On Video Shoplifting On Multiple Occasions
Police Sergeant Eric Whitman of Toledo, Ohio was recently found guilty of shoplifting from a Circle K gas station.
Whitman can be seen in surveillance footage on multiple occasions, walking out with more bags of popcorn than he actually paid for. On each occasion, Whitman went through the trouble of paying for one bag of popcorn, while taking a second that he does not pay for.
Whitman was allegedly a regular at the store and became known for his habit of shoplifting cheap snacks.
Employees at the Circle K began to recognize this habit, and went back to collect video footage of the Sergeant from the store's surveillance cameras. The footage clearly showed that on a number of occasions Whitman walked out of the store with more merchandise than he paid for.
It was reported that the price of the stolen snack was $1.98 per bag, which was obviously not out of the veteran police Sergeant's price range. Whitman even received free beverages from the store, but still felt the need to steal a portion of his purchase.
Toledo Police Sgt. Joe Heffernan told KSN3 that officer Whitman is now suspended without pay pending an internal affairs investigation.
"This is somebody with a lot of experience, and a lot of time on, and I'm sure that over the course of his career, he's done hundreds, if not thousands, of good things for people, but he won't be remembered for those, he'll be remembered for these silly incidents,"Heffernan said.
One can only speculate as to the motives behind these acts of thievery, but it would seem that perhaps officer Whitman was simply abusing his power just for the sake of proving to himself that he was above the law.
Whitman has been sentenced to 180 days in jail.
John Vibes is an author, researcher and investigative journalist who takes a special interest in the counter culture and the drug war. In addition to his writing and activist work he is also the owner of a successful music promotion company. In 2013, he became one of the organizers of the Free Your Mind Conference, which features top caliber speakers and whistle-blowers from all over the world. You can contact him and stay connected to his work at his Facebook page. You can find his 65 chapter Book entitled "Alchemy of the Timeless Renaissance" at bookpatch.com.