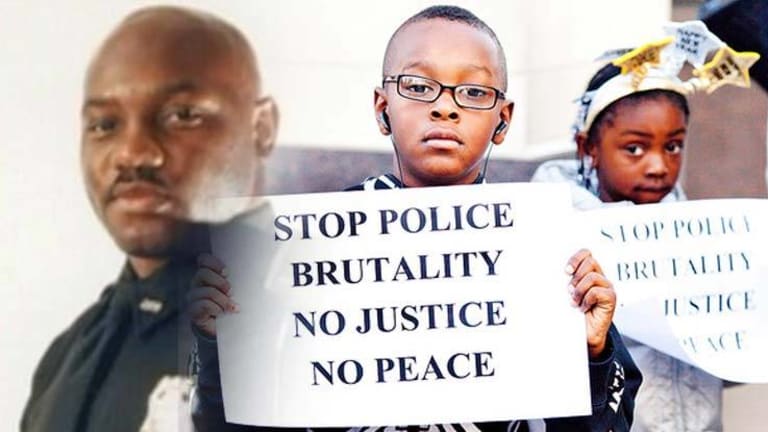 Police Sergeant Found Guilty of Ordering Fellow Cops To Beat Up Handcuffed Children
"We beat him because we were told to beat him by Sgt. Robinson because he was being disrespectful," one officer admitted to investigators.
Dekalb County, GA - Police Sgt. Anthony Robinson was recently found guilty of ordering other officers under his authority to assault underage suspects while they were in handcuffs. Robinson reportedly told officers Blake Norwood and Arthur Parker to beat up four different suspects, on different occasions. Three of the four suspects were reportedly minors at the time of the beatings.
One victim named Travarrius Williams told Channel 2 reporters that he was badly beaten well after his arrest while he was restrained.
"They were punching, kicking, stomping. They broke my teeth on the back of the windshield," Williams said.
"That's why black, young men really run from the police. We ain't running because we did something, we're running because we're scared they're gonna beat us, shoot us. When people get high authority, they feel like they've got power over anybody, so the Police Department's really like another game," Williams said.
"This is the kind of conduct by police officers that, if it goes unchecked, people get killed," Brian Spears, Williams' attorney added.
Surprisingly, another cop witnessed the assault and filed a report.
Williams was allegedly selected for the beating because he accused one of the officers in the department of wrongfully arresting his brother on another occasion. According to court documents, Robinson told Williams that "We don't let people disrespect us like that in our house," before ordering the beating.
After the investigation began, Officer Norwood turned on Robinson and told investigators about other occasions where Robinson had ordered him to beat up underage suspects. In that case, Robinson had ordered Norwood and another officer to beat up three young men, aged 15-16, also while they were handcuffed.
"(Williams) never did anything to us. We beat him because we were told to beat him by Sgt. Robinson because he was being disrespectful,"Norwood told investigators.
Norwood and Parker took a plea deal in exchange for their testimony in Robinson's trial, and both men were given probation, according to wsbtv.
Robinson was convicted on two counts of felony violation of oath of office, three misdemeanor counts of simple assault, and one misdemeanor count of simple battery and is facing up to 14 years in prison.
John Vibes is an author and researcher who organizes a number of large events including the Free Your Mind Conference. He also has a publishing company where he offers a censorship free platform for both fiction and non-fiction writers. You can contact him and stay connected to his work at his Facebook page. You can purchase his books, or get your own book published at his website www.JohnVibes.com.