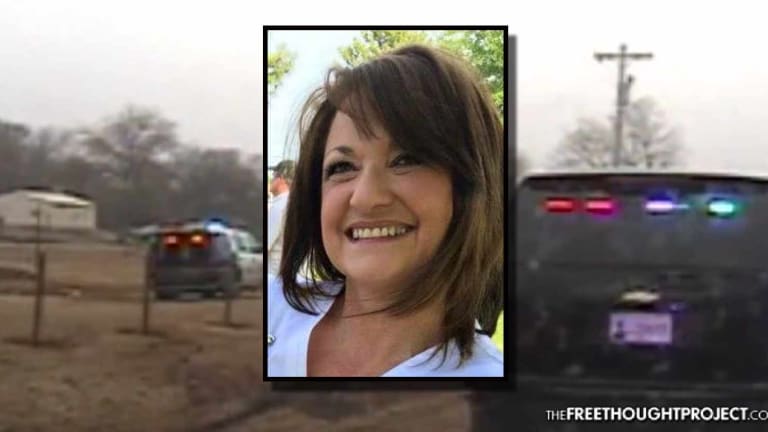 WATCH: Cops Respond to Bank Robber Who Took a Hostage By Shooting Hostage 10 Times
A victim of a bank robbery and hostage situation was filled with police bullet holes as she attempted to make a dramatic escape from her captor.
Eufaula, OK — A woman who was shot 10 times by police while she was being held as a hostage at a bank in Eufaula, Oklahoma, has been seeking compensation for years for the horrific attack that left her disabled and facing an uphill battle the entire way.
This week, she has finally made some headway.
Overturning a lower court judge in Oklahoma, a federal appeals court affirmed the dismissal of two of her claims, but it unanimously found that the trooper may have violated her rights by shooting her as she emerged from the suspect's SUV with her hands in the air.
The Tenth Circuit's ruling started out holding no punches: "January 21, 2016, was a terrible day for Julie Huff."
Julie Huff was a customer at the Bank of Eufaula on Jan. 21, 2016, when a robber entered and took her hostage. Within 63 seconds of entering the building, Cedric Norris shot and killed Randy Peterson the bank's president, and shot and wounded a bank teller who refused to go with him as his hostage.
Norris then turned to Huff and took her as a hostage. He forced her into an SUV, which police pursued in a chase. After police "disabled the vehicle," Huff exited the car and ran into a nearby field, while Norris chased her and exchanged gunfire with officers, according to a report from Chickasha News.
While some police officers are cautious about firing at a suspect who is near an innocent hostage, the Oklahoma officers continued to fire bullets in Norris' direction, even when he caught up to Huff, grabbed her around the neck, and used her as a human shield.
In a statement, Huff's attorneys noted that even though police knew Huff was an innocent hostage, they shot intentionally and shot her numerous times with multiple weapons.
"The Law Enforcement officers knew Ms. Huff was an innocent hostage yet they deliberately shot her nine times. Not one of the nine bullets which hit Ms. Huff came from the kidnapper. All the bullets came from the law enforcement officers—one of whom shot her with an AR-15."
U.S. Circuit Judge Harris Hartz described on Monday just how terrible that day had been for Huff.
She went to a local bank to access her safe-deposit box. Then all hell broke loose. Cedric Norris entered the bank, murdered the bank president, grabbed some money from tellers, and took Ms. Huff hostage, forcing her to drive the getaway vehicle. Police officers pursued the vehicle and were able to force it to crash. At first, Norris fired at the officers and fled in one direction while Ms. Huff fled away from him. She raised her arms and faced the officers. But they fired at her and she fell to the ground. Later, Norris came up behind her and used her body as a shield. Norris was killed in the shootout. Ms. Huff was shot at least 10 times.
The lawsuit also criticized the Bank of Eufaula for failing "to have an armed security guard, which is in violation of proper banking standards." It claimed that the bank "had multiple, unmonitored entrances and exits, which encouraged this armed robbery."
The statement from Huff's attorney's concluded that she "was severely injured and has undergone many surgeries." As a result, "Ms. Huff feels very lucky to be alive, but she has been permanently scarred and injured as a result of the failures of the Bank of Eufaula and the reckless and careless actions of law enforcement."
Not only did law enforcement blatantly choose not to protect Huff during the incident, they also failed to protect the public from the threat posed by Cedric Norris. According to a report from the Associated Press, Norris had an extensive history of carrying out armed robberies, and he "had been released from a Texas prison despite having a 60-year sentence to serve in Oklahoma for robbery convictions in Tulsa and Creek counties."
According to prosecutors in Creek County, Norris' early release was a mistake that resulted from "miscommunication between Texas and Oklahoma." However, his newfound freedom did not stop his robbery streak, and the getaway car he used to kidnap Huff was reportedly one he stole during another "violent robbery in Texas."
While Norris was killed in the shootout with police, the officers were never held accountable for their actions. Huff sued Oklahoma Highway Patrol Trooper Christopher Reeves for use of excessive force, and County Sheriff Kevin Ledbetter for failure to properly train his deputies.
The court originally let Ledbetter and Reeves off the hook, however, this week, the Tenth Circuit said Reeves needs to be held accountable.
"[W]e conclude that Ms. Huff has presented a triable issue on whether Trooper Reeves violated her clearly established Fourth Amendment rights by intentionally shooting her after she exited the SUV with her hands up," the Tenth Circuit found.
"The entire shooting lasted about a minute," the opinion recounts. "Reeves, Torix, and Hall fired 31, 4, and 2 rounds, respectively. Ms. Huff was struck by at least 10 of those rounds. Because many of the bullets passed through Ms. Huff, there is some uncertainty regarding who fired each of the individual bullets that struck her."
Hopefully, this time around Huff sees justice.
This is not the first time police officers in Oklahoma have been featured for their blatant misconduct. In a recent case, officers in Tulsa were caught on video commending each other on their use of force in the arrest of a suspect—even though the person they put in handcuffs was an innocent man they beat to a bloody pulp, after trespassing on his property.
It is also not the first time police have shot an innocent hostage.
As TFTP reported, On Feb 7, 2014, Matthew Serbus led police on a dangerous high-speed chase before crashing his car and taking Dawn Pfister as a hostage. Police would shoot Serbus as he held a knife to Pfister, then, walk up to Pfister and kill her too. The entire incident was recorded on a police dashcam.