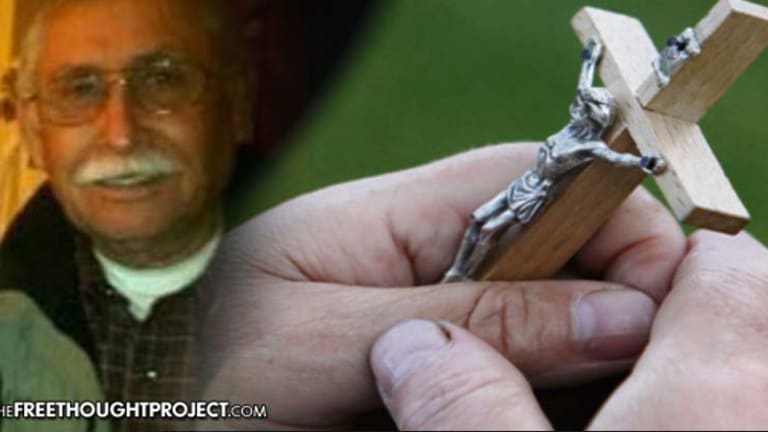 Police Kill Innocent Unarmed Grandpa for Holding a Crucifix in His Own Front Yard
A grandfather, holding a crucifix in his front yard, was apparently enough of a fright to cause a police officer to fear for his life and kill him.
Bakersfield, CA -- New details have emerged regarding the shooting death of an unarmed 73-year-old man by Bakersfield police. It now appears that police are attempting to justify the killing of an innocent unarmed grandpa by claiming he had his hands in his pockets and was also in possession of a crucifix.
At 12:30 am on Monday morning, Bakersfield police shot and killed 73-year-old Francisco Serna as he stood in his driveway. Immediately following the shooting, police released details noting that Serna was killed for 'brandishing a gun.' However, early Tuesday morning, we've now learned that there was never a gun and police fabricated that vital piece of information.
When police arrived on scene, they fired multiple shots at Serna, hitting and killing him. According to police, the time that passed between a neighbor pointing out Mr. Serna as 'suspicious' in his own yard and when the shots were fired was about 30 seconds.
Francisco's daughter, Laura Serna said she was jolted out of bed when she heard the gunshots. "Less than five minutes later, my mom was knocking on the bedroom door, saying 'Something is happening. Something happened to your dad.' I got downstairs and went outside, and my dad was laying in the driveway across the street dead and bloody," she recalled, according to TIME. "There was no explanation."
Laura explained that her parents were watching television when her mother got up to do a load of laundry. When her mother returned, Fransisco was gone and the front door was opened.
"She went outside and she called him, 'Francisco!' And he did not respond. But she did notice that his body was across the street," his daughter said. "He was slumped over and bloodied."
"I said, 'That is my father! Is he injured?' An officer pushed us and said we needed to leave—that we're in a crime scene," she said. "It was horrible. I could not believe it. I could not believe what was going on."
Aside from trying to justify the killing by claiming Serna had his hands in his pockets, police are also noting that he was in possession of a crucifix.
"During a search of Mr. Serna a dark-colored simulated woodgrain crucifix was recovered," read a statement from the Bakersfield Police Department. "Mr. Serna was not armed at the time of the shooting. No firearm has been recovered."
According to Bakersfield assistant police chief Lyle Martin, Serna was acting strangely as he approached a woman in the driveway of her house while she was being dropped off by a friend in a car just after midnight on Monday, as reported by Reuters.
He kept his hand in his jacket pocket and the woman believed he had a gun so she ran into her house, Martin said.
Her boyfriend or husband later called emergency dispatchers to report a man with a gun was outside, Martin said.
When police officers arrived and spoke with the woman outside her home, she pointed out Serna as he exited his own property across the street, Martin said.
She told the officers he was the one who had approached her. Serna was walking toward the officers with his hands in his jacket pocket, Martin said.
The officers, fearing he had a gun, took cover and told Serna to stop and take his hands out of his pockets but he did not obey, Martin said.
One officer opened fire seven times on Serna, shooting him to death within 20 to 30 seconds of the woman pointing him out, Martin said.
On Wednesday, police identified the officer who killed Serna as Reagan Selman who has only been on the Bakersfield police force for a little over one year. He's since been placed on paid leave pending the outcome of the investigation.
Rogelio Serna, Francisco's son has been outspoken about the police killing his dad since that tragic evening.
Rogelio described his dad as a mentor to his grandchildren and noted how he raised a beautiful family.
"He had time for all of us," the younger Serna said. "We're of course angry and upset. We just want answers. We do not tolerate violence. We were not raised that way," he said.
"We're going to miss him dearly," the son added. "He was at the age where he was getting sick. He should have passed away surrounded by family, not surrounded by police and bullets."
[author title="" image="https://tftpstagingstg.wpengine.com/wp-content/uploads/2016/03/magorist-e1456948757204.jpg"]Matt Agorist is an honorably discharged veteran of the USMC and former intelligence operator directly tasked by the NSA. This prior experience gives him unique insight into the world of government corruption and the American police state. Agorist has been an independent journalist for over a decade and has been featured on mainstream networks around the world. Follow @MattAgorist on Twitter and now on Steemit[/author]