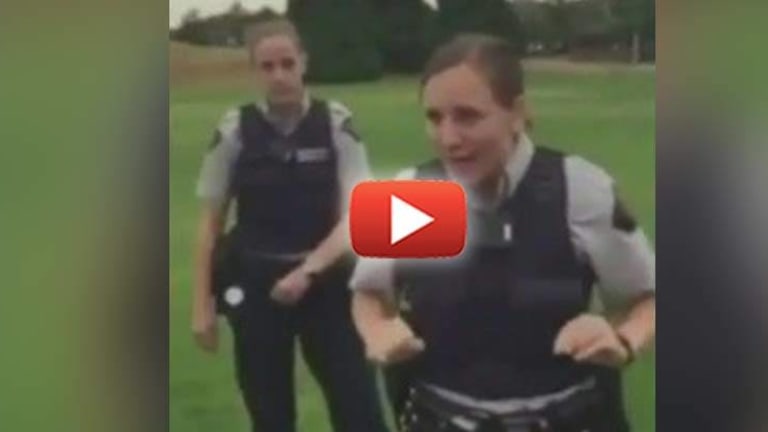 Police Shut Down Family Soccer Game At Public Park Because They Didn't Have A Permit
Nothing says "freedom" quite like cops kicking children and parents out of a public park for failing to obtain a permit to play soccer.
Surrey, B.C. -- A family attempting to play a soccer game with their children were coercively removed from a public park by police simply because they did not have a permit to play their game.
Luckily, some family members were able to quickly grab their cell phones and record the encounter.
Satnam Singh Pawer told CTVNews that his family was kicked off the field for playing soccer, when aggressive police arrived on the scene to enforce an obscure bylaw.
In the video, one officer can be heard yelling at the family saying"Listen to me, I'm in charge here today. So today, you will pick up your cones. You will go home."
After the officer barked out orders, the people who had gathered to play began asking questions about why they were being hassled, and about where else they could play. The officer then told them that they would not be able to play in any of the public parks without a permit.
"It is for all the city parks, sir," the officer rudely told them.
"Why not we can play? We were playing with kids, (Pawer's son) still thinks we're doing something wrong, something illegal," Amandeep Singh Power told reporters.
"The bylaw officer actually followed the letter of the bylaw, however, perhaps a bit more discretion could have been used," Owen Croy, Surrey's manager of parks said in a statement.
John Vibes is an author, researcher and investigative journalist who takes a special interest in the counter culture and the drug war. In addition to his writing and activist work he organizes a number of large events including the Free Your Mind Conference, which features top caliber speakers and whistle-blowers from all over the world. You can contact him and stay connected to his work at his Facebook page. You can find his 65 chapter Book entitled "Alchemy of the Timeless Renaissance" at bookpatch.com.