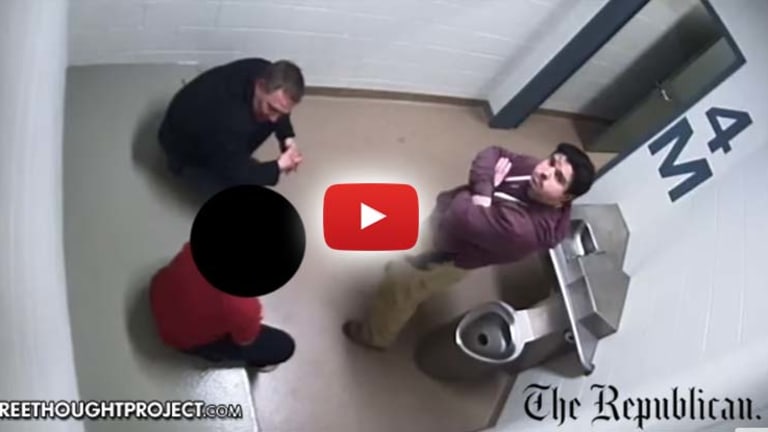 Infuriating Video Shows Cop Threaten to Beat, Torture, Kill, and Plant Drugs on Juvenile Suspects
A deeply disturbing video was just released capturing police threatening to frame, beat, torture, and murder underage boys accused of joyriding.
Springfield, MA -- A deeply disturbing video was just released capturing the interrogation of three juvenile suspects who were accused of stealing a police vehicle in February. The subsequent treatment doled out by the officers who conducted the 'investigation' is nothing short of criminal and should be grounds for their firing, trial, and sentencing.
According to Mass Live, the impromptu interrogations unfolded hours after a group of teens allegedly stole an undercover narcotics SUV left idling outside a Worthington Street pizza shop while a detective was picking up a take-out order after 10 p.m. on Feb. 26, according to police records.
After a short pursuit, officers deployed spike strips and the boys were soon apprehended after a foot chase in which one boy was mauled by a police K-9.
Apparently drooling at the chance to inflict more pain on these kids who'd just made a terrible decision, several officers begged to be a part of the arrest -- in spite of the captain telling them they would not be paid for it. Detective Gregg Bigda and his partner, Luke Cournoyer were two of those cops.
The subsequent video of that arrest shows narcotics detective Gregg Bigda and his partner, Luke Cournoyer, veering between cajoling, prodding, coercing and outright threatening two boys with death, beatings and fictitious criminal charges, including the John F. Kennedy assassination, as reported by Mass Live.
"See that camera up there? It don't fucking exist [at the Springfield Police Station]. So anything happens to you at my place never happened. If I don't write it in my report, it never happened," said Bigda, explaining to the teens how he could do anything he wanted once they were brought to a jail with no accountability.
"You know I'm gonna beat the fuck out of you when you get back to Springfield right now, 'cause you just lied to my face … When we get back, I'm gonna tune you the fuck up, because you just lied to me. And I'm telling you in advance, and I'm being nice to you," he said.
When police bring in the second child to interrogate, they threaten to beat him when he tells them that his face hurts. "You think it hurts now? You know where we're going after this? We're going back to fucking Springfield."
The teens face most likely hurt because he was kicked in it by one of the detectives. Wilbraham police officer Christopher Rogers filed an excessive force complaint alleging that a Springfield detective he could not identify kicked one of the teens in the face.
In what can only be described as a scene from a Nazi prison camp, Bigda then threatens the underage teen with a dog. "I could fucking crush your skull and fucking get away with it. [sic] I could fucking bring the dog back, let him fucking go after ya."
"Don't even fucking speak if you're gonna lie to me, 'cause I'll fucking kill you in the parking lot," this torturous animal barks at the teen.
He then goes on to threaten the teen with framing him by putting cocaine in his pocket and falsely charging him with murder! "I'll charge you with killing Kennedy and fucking make it stick … I'm not hampered by the fucking truth, 'cause I don't give a fuck … I'll stick a fucking kilo of coke in your pocket and put you away for fucking 15 years."
But it gets even worse. Bigda then threatens the teen in the red shirt again, "when we get back to Springfield — I'm not even waiting for Springfield. When we get that fucking lying, I'm gonna bloody your body."
Unsurprisingly, as the officer next to Bigda, Detective Luke Cournoyer, witnesses his fellow cop threaten to beat, torture, frame, and murder these teens -- he chooses to remain silent.
Since this incident, the videos have remained sealed because of the juveniles in them and they've been shrouded in secrecy -- for obvious reasons. According to Mass Live, first, the district attorney's office refused to release the footage to defense lawyers without a signature on an unusual confidentiality agreement — which, some attorneys said, felt like a hold-up. Then, a prosecutor argued in September that widespread release of the footage would constitute a "shooting gallery" of embarrassment for the Police Department, and particularly Bigda.
To the prosecutor in this case, saving the department from embarrassment was more important than exposing a cop who wanted to beat, frame, and kill three underage suspects who made a terrible decision to steal a car.
According to the Republican, "a number of accused drug dealers have walked out of jail or received more generous plea deals in Superior and District court cases in the wake of the videos having been released to defense attorneys."
In spite of his glaring dereliction of duty, terroristic threats of murder and violence, mistreatment of a juvenile suspect, and threatening to falsify police reports, Bigda received only a slap on the wrist -- a 60-day vacation. 
The video below epitomizes the divide in America today between the police and the policed.
" width="640" height="360" frameborder="0" allowfullscreen="allowfullscreen">
[author title="" image="https://tftpstagingstg.wpengine.com/wp-content/uploads/2016/03/magorist-e1456948757204.jpg"]Matt Agorist is an honorably discharged veteran of the USMC and former intelligence operator directly tasked by the NSA. This prior experience gives him unique insight into the world of government corruption and the American police state. Agorist has been an independent journalist for over a decade and has been featured on mainstream networks around the world. Follow @MattAgorist on Twitter and now on Steemit[/author]