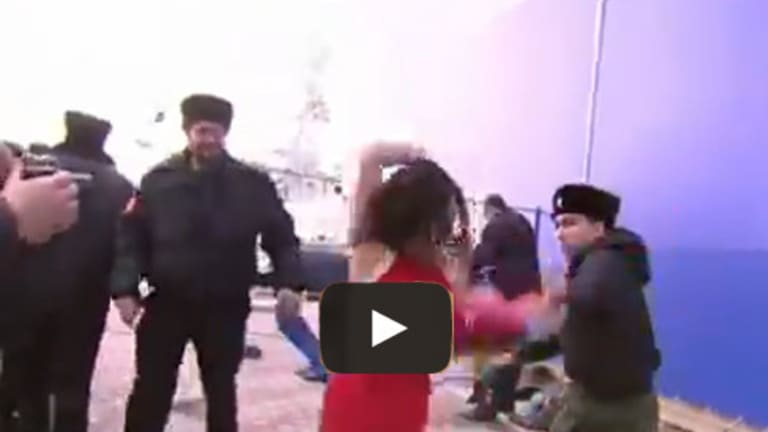 Police Thugs Whip Pussy Riot Members While Patrolling Sochi Winter Olympics
February 19, 2014
"Near the Sochi 2014 banner singing 'Putin will teach you to love fatherland' Pussy Riot were attacked by Cossacks, whipped and thoroughly sprayed by pepper gas," wrote Nadezhda Tolokonnikova, a band member released from a Russian gulag in December.
They were protesting the Orwellian message on the banner.
Cossacks are Slavs primarily from Ukraine and Southern Russia. Formerly allied with the Tsardom of Russia, they are known for their military culture and association with anti-Bolshevik forces following the Russian Revolution.
Members of Pussy Riot were arrested for hooliganism, prosecuted and imprisoned following a performance staged in Moscow's Cathedral of Christ the Savior. The performance was subsequently released as a video, "Punk Prayer – Mother of God, Chase Putin Away!" Pussy Riot said their protest was aimed at the Orthodox Church and its support for Putin during his election campaign.