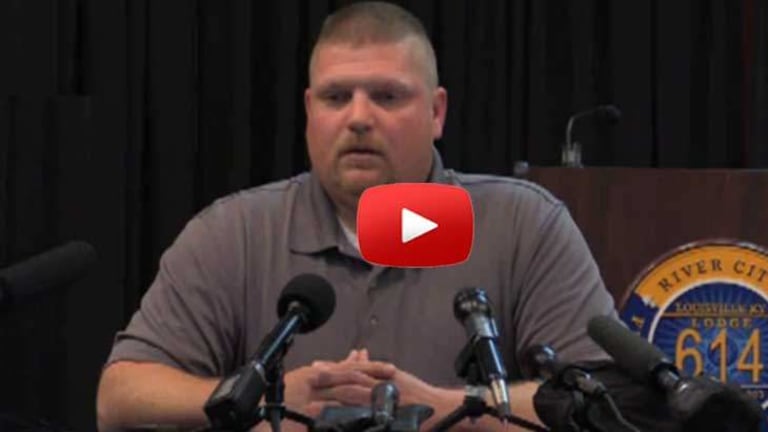 Police Union Chief Bluntly Threatens to Prosecute those Who Question the Cops
Louisville, KY -- In a press conference Friday, Louisville FOP President Dave Mutchler defended a disturbing open letter he wrote Thursday, which has many people up in arms.
Among those who felt that the letter is over the top are the Mayor Greg Fischer and the Police Chief Steve Conrad. The two released a joint statement Friday night saying after listening to the press conference, they "remain very concerned that Mr. Mutchler, with the leadership position he holds, does not understand the impact of the tone of his remarks and original letter."
"The threatening tone is not representative of the vast majority of our officers or our citizens — and many have told us that they have a significantly different view than Mr. Mutchler. His words do absolutely nothing to help build community-police relations and undermine the noble and difficult work our police do every day, from keeping us safe and secure in our homes to protecting our First Amendment right to speak our minds."
Mulcher's letter called on police and their supporters to take a stand against those who assault and "demonize" officers, adding that officers would no longer be a "punching bag" for criminals; as if decrying police violence somehow makes one a "criminal."
In his letter, Mulcher threatened "sensationalists, liars and race-baiters" with local, state or federal prosecution if their claims bring harm to officers or the public.
This threat of prosecution for simply being upset over police killing people is alarming, to say the least. Rev. Al Herring, a Louisville native and deputy director with the PICO Network, agrees.
"This particular letter, I believe, goes further than any statement I've seen recently from any FOP," he said.
"If the president of the FOP says 'We are going to have you prosecuted for questioning us and how we enforce the law,' then that is quite a chilling effect on all of our First Amendment rights," he said.
"If the rank and file of the Louisville Metro Police Department does not repudiate this letter and the sentiments in this letter penned by the President of the FOP and if our police chief does not put this person on administrative leave who indicates that he is not going to follow the policies and procedures of policing people in our community, we have a big problem," said the Rev. Gerome Sutton of the African-American Think Tank.
The letter comes on the heels of last Saturday's controversial shooting of Sudanese immigrant Deng Manyoun, who was shot by Officer Nathan Blanford after swinging a metal flagpole at the officer, video surveillance footage shows.
Many claim that the officer was justified as he protected himself, while others say that he should have tried a less lethal method prior to killing a man.
Regardless of how you feel about this one incident, the fact remains that police have killed and severely injured thousands of people over the last few years alone. If the American people are being threatened by cops, for calling out this violence, then something is incredibly wrong.
In the press conference below, Mulcher calls this threat to the citizens by the police, a "perceived" one. Perhaps he's been living in a fantasy world. Perhaps he hasn't been to The Free Thought Project's website which refuses to be intimidated by the likes of bullies like him. Mulcher would do well to visit our archives and look at the stories of just his department. The LMPD has a brutal and violent recent history.  Just in case Mulcher feels that we are sensationalist cop-haters, we actually cover stories of kind LMPD cops too.