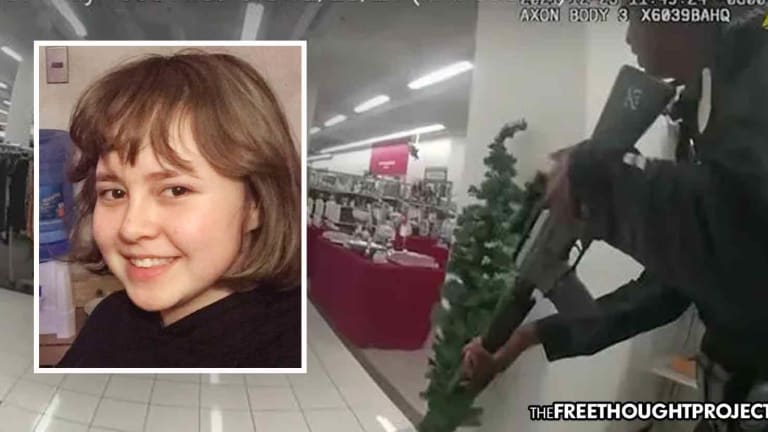 Police Claim Cop who Killed Child in Crowded Store, 'Followed Training' When He Fired on Man Holding a Bike Lock
The police union is defending the officer who killed a 14-year-old girl, when he opened fire on a man holding a bike lock in a crowded store.
Los Angeles, CA — Last week, TFTP reported on the tragic incident in North Hollywood during which police responded to a deranged man attacking people with a bicycle lock. While killing the man from 20 feet away with an AR-15, one of the multiple rounds fired by the officer struck an innocent 14-year-old girl who was in the dressing room with her mother.
Police released the body camera and surveillance footage from the incident and showed that officers had no reason to resort to deadly force and instead of bravely attempting to surround the man — who they had outnumbered at least 6 to 1 — and use tasers or batons, an officer decided to dangerously fire three rounds in a crowded Burlington outlet.
Now, the Los Angeles Police Protective League, a police union in Los Angeles, is claiming that the officer who killed 14-year-old Valentina Orianna-Peralta, was following the proper training when he did so.
LAPPL spokesman Tom Saggau said Officer William Jones was following protocols for what he thought was an active shooter, therefore, opening fire in a crowded shopping center was just and the 14-year-old girl's death, acceptable.
Saggau told the Insider that while Elena-Lopez did not have a gun, some 911 calls suggested he did, and therefore officers responded at the highest threat level. However, as the video below shows, officers were told there was only a bike lock when they arrived — no gun.
As we reported at the time, Orellana-Peralta, 14, was shopping with her mom at the Burlington in North Hollywood last month when 24-year-old Daniel Elena-Lopez of Los Angeles began assaulting people at the store with a bicycle lock.
In the videos released by police last week, Elena-Lopez can be seen grabbing and hitting multiple people on store surveillance, including dragging one person behind a counter.
Instead of engaging Elena-Lopez, attempting to surround him, or otherwise trying anything other than deadly force, Jones immediately opened fire in a crowded store, killing him and Orellana-Peralta.
Though police were told by a 911 caller that there might be a gun, when they arrived on the scene, video shows that witnesses pointed out to officers that it was a bike lock.
"The man is pant-less and he's got a bike lock," one witness is heard saying on the body camera footage.
This is why in the body camera footage, we can see  an officer carrying a lime green "tube" which fires less than lethal rubber bullets.
As the video shows, Jones forced his way to the front of the pack, in spite of his fellow officers telling him to "slow down." Saggau told City News Service that the parts of the footage where officers were telling Jones to "slow down" were being "misinterpreted," adding that the calls to "slow down" were so that Jones could "keep alert," and scan his surroundings.
This defense rings hollow, however, as officers around Jones told him to slow down at least a dozen times and even attempted to grab his belt to get the less lethal "tube" in the lead.
Unfortunately for the little girl, Jones knew he had to be in front, and was apparently unconcerned about the facts and demanded to take the lead with deadly force. Had that decision not been made, Elena-Lopez would be in jail with a bad bruise and Orellana-Peralta would be with her family right now.
Instead, Jones "applied his training" which apparently entails opening fire on individuals holding bicycle equipment in crowded shopping centers.
Activists have since called for Jones' arrest.
As NBC 4 reports, Najee Ali of Operation Hope told City News Service on Sunday that at a minimum, he would like to see Officer William Jones charged with involuntary manslaughter, similar to the charge against former Minnesota police officer Kim Potter, who was convicted in the fatal shooting of Daunte Wright.
A GoFundMe page has been started to help the family with their expenses as they had just moved to the US from Chile.
Below is that video, warning it is graphic.