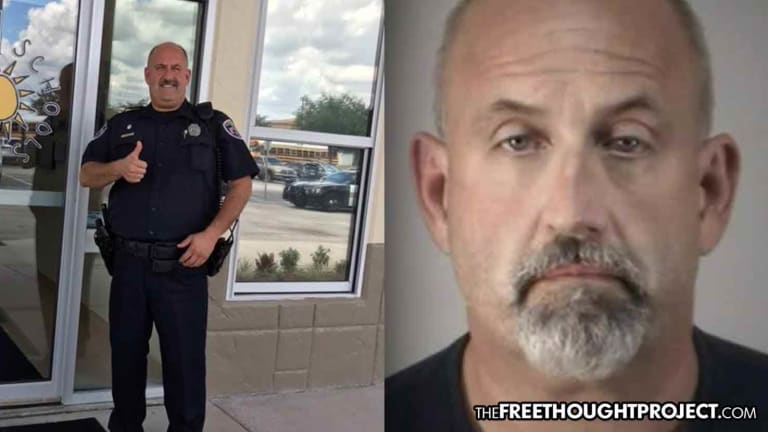 Police Union President Arrested for Stealing $50K from Fellow Cops, Including Funds for Wounded Cop
A cop who was the president of the police union, robbed his fellow cops of $50,000, including $20k from a charity set up for a wounded officer.
Clermont, FL — Clermont officer Jeremy Kevitt wasn't just any old cop — he was the president of the Clermont Police Officers Union with decades of time on the force. His status at the union granted him special access that other officers did not have and in true scumbag fashion, he abused this access and stole from his brothers in blue.
Kevitt was arrested on Labor Day for allegedly stealing $50,000 from his own union, including the theft of money from a fund set up to pay for the medical bills of a wounded cop.
For years, according to the Florida Department of Law Enforcement, Kevitt abused his position as the union president. In 2014, he began the theft by obtaining an ATM card to the police union bank account. No one on the union board approved the measure.
Kevitt's theft spanned the course of several years as he stole $30,000 from an account that is funded by his fellow cops with their union dues. He also stole $20,000 from an account set up to pay medical bills for a wounded cop that was funded with donations and fundraising events.
"Funds from the union account could only be used to benefit CPD officers and local charities, but the investigation shows Kevitt used the account to pay his personal expenses at grocery stores, gas stations, home improvement stores and for personal travel," FDLE spokesperson Gretl Plessinger said in a news release. "After paying the medical expenses [for the injured officer], nearly $20,000 was to be donated. However, investigators believe Kevitt instead spent the money on himself."
According to investigators, the scheme was discovered in November of last year when Kevitt became so addicted to stealing from his fellow cops that he overdrafted the account.
When the overdraft was discovered, cops at the CPD confronted Kevitt who "was defensive and complained that he did not have help managing the account," the FDLE report said.
Once the CPD started looking into the charges, they realized they were for personal expenses at grocery and home improvement stores, gas stations and for personal travel.
The thieving cop reportedly justified a $100 purchase from Publix as Thanksgiving dinners for the "less fortunate" and a $200 cash withdrawal as a food bank donation. When they asked him about the $112 bill at a local Indian restaurant, Kevitt got up and walked out of the meeting.
After that meeting an internal investigation was launched and in March, in an attempt to avoid accountability, Kevitt submitted his resignation notice to the department. He left in April before the investigation was complete.
In August of 2018, the CPD made a Facebook post about Kevitt and his dedication to the community and years of honorable service. The post was saturated with praise for Kevitt as he assumed his new position as a School Resource officer at Imagine South Lake Charter School. Little did they know that he was robbing them blind as they showered him with extolment.
Their tone has since shifted after this criminal cop was arrested this week and charged with felony charges of grand theft and organized fraud.
"Police officers are held to a higher standard, and while employed with the Clermont Police Department, Jeremy Kevitt violated the oath of office he swore to uphold and the trust that was placed in him by his fellow officers, staff and the International Union of Police Associations. I personally thank the union board members and Clermont Police Department personnel for holding those accountable when one errs from our core values and the high standard set for this noble profession," said Clermont Police Chief Charles Broadway in a statement.
So much for that whole "higher standard" thing.