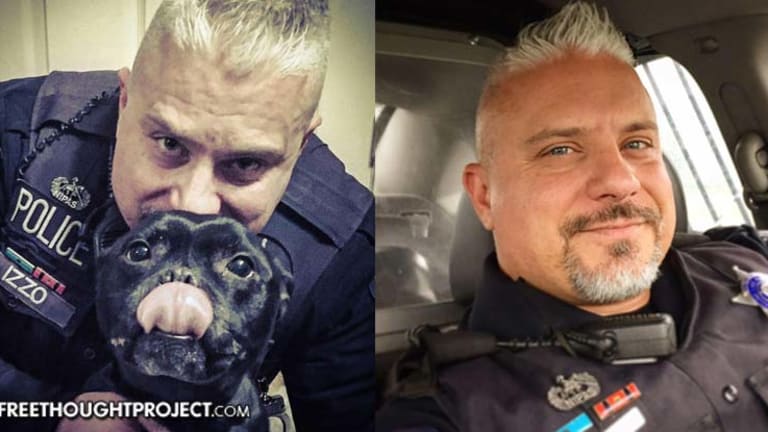 EXCLUSIVE: Good Cop Speaks Out Against Drug War, Blows Whistle on Chief -- So Now He's Being Fired
For blowing the whistle on his corrupt chief, calling out the drug war, speaking out against police violence, officer Dominick Izzo is being snubbed out.
What do a wrongfully convicted baby killer, the mysterious death of a police officer, and the resignation of nearly 20 cops all have in common? Answer: Round Lake Park, Illinois Police Chief George Filenko.
Saturday's airing of CBS' 48 Hours, documented the plight of Melissa Calusinski. She was a daycare worker convicted in 2011 of killing toddler Ben Kingan who died in 2009 after suffering a fatal brain hemorrhage while at the daycare. Filenko interrogated Calusinski for a reported 9 hours before she says she gave up, gave in, and offered a false confession, recanting her previous 70 claims of innocence.
She's been fighting for her freedom ever since. She told 48 Hours she only made up the confession so the whole ordeal would be over and the aggressive man (Filenko) would leave her alone. "They were just continuously not believing me," she said adding, "I was just ready to get away from these men."
Despite the fact that little Ben had fallen a few months prior, that his head began to swell from average size to an encephalic above average size over the course of just a few weeks (indicating brain swelling), and that he had a habit of sleeping irregularly and banging his own head, Calusinski was considered the prime suspect in his death. Three pathologists, including the one whose report helped get Calusinski convicted, all concluded, upon further review, there had indeed been a significant previous brain injury prior to the days leading up to his death. The acknowledgment of a previous injury was overlooked in Calusinski's murder trial. Nonetheless, to date, Calusinski, whom many believe to be an innocent victim of a brutal interrogation leading up to a false confession, sits behind bars, unable to get a new trial. Hers may be yet another instance in Lake County of a wrongful conviction which has led an innocent woman behind bars.
Her attorney Kathleen Zelner addressed the phenomena. "They do not want to admit error and they've got a half-dozen examples that have cost them millions and millions of dollars," she said of Lake County's wrongful conviction cases.
But, what 48 Hours didn't do, The Free Thought Project will do, discuss the qualifications of the police interrogator to conduct Calusinski's interview. Officer Dominick Izzo is a police officer with the Round Lake Park Police Department. He's also the president of the local police officers union. Izzo approached The Free Thought Project with the reason he believes Calusinski is still behind bars. The police union president says her interrogator, Izzo's boss and Chief of Round Lake Park Police Department, George Filenko, is incompetent.
Izzo says Filenko never served as a beat cop before becoming Chief of Police, and should never have been allowed to be in the interview room with Calusinski in the first place. Izzo says Filenko is a bully and operates his police department by threat and intimidation, blackballing, and steamrolling anyone who questions his authority, including Izzo, who used to be a welcomed member of Filenko's inner circle.
Izzo's problems with Chief Filenko were only intensified when he discovered that all of the police-issued body cameras in the department were set to record without stopping, even after the officers believed they had turned off the devices. The body cameras allegedly recorded officers going to the restroom, revealing their genitalia, and in compromising and intimate situations. According to the Chicago Tribune, Izzo "said he discovered while reviewing video from his camera in May that it had continued to record even when it was 'off' or in sleep mode." As a result, on 06/23/16, He and 9 other officers filed a lawsuit against their own police department. "The suit claims that the cameras recorded thousands of 'highly offensive and voyeuristic intrusions,' including video that exposed officers' genitals and showed them engaging in 'private and personal acts,' including using the bathroom and changing their clothes," the Chicago newspaper writes.
"The only two people with full administrative access to the video review system were Filenko and Deputy Chief Daniel Burch, who therefore knew about the unauthorized video, asserts the suit," the Tribune stated.
Knowing the department was facing another potentially embarrassing situation Izzo contended Burch began to delete any and all incriminating evidence. "After the discovery, another officer said he witnessed Burch delete all the unauthorized video, despite a state law that requires body camera recordings be saved for at least 90 days, according to the suit," writes the Tribune. Chief Filenko then began to meet with the plaintiffs one on one, Izzo alleges, and convinced a number of his subordinate officers to withdraw themselves from the lawsuit. Such potentially illegal actions led Izzo to speak out against Chief Filenko on social media. He sent a letter to Round Lake Park Mayor Linda Lucassen and then posted the correspondence on his Facebook page.
The police union president turned whistleblower made his case against Filenko to the mayor. "As I have stated in written documents, there have been illegal activities, unethical and immoral behavior, bullying and threatening behavior within your department," he stated in the opening paragraph of his letter to Lucassen. He then laid out a number of accusations against Chief Filenko;
Hostile work environment including threatening behavior: Izzo said Filenko routinely cusses out his officers in violation of the department's written code of conduct.
Retaliation and Suspension of officers involved in the federal lawsuit: Commander Tony Colon was suspended two days after the lawsuit on allegedly trumped up charges. Officers John Shepard and Walter Rodrigues removed themselves from the lawsuit after meeting with Chief Filenko out of fear that their involvement with the lawsuit would "hinder their lateral hires" as they were attempting to get hired at other police departments. Christopher Valle also "removed his name from the lawsuit after a private meeting with Chief Filenko due to his fear as a probationary officer for losing his job." Commander Hector Lepe also removed himself from the federal lawsuit "after he had been the recipient of threatening behavior and intimidation by Chief George Filenko on an ongoing basis". Izzo also alleges the chief used disciplinary action to go after Lepe, charging him with looking at pornography on his police issued cell phone, but wasn't charged after he dropped out of the lawsuit. Lepe then was supposedly pressured to go after Izzo and get him to drop the lawsuit. Lepe allegedly told Izzo, "its in your best interest to drop out of the lawsuit…I don't know what they (Chief Filenko and Deputy Chief Burch) are going to do to you…I am going to do what I have to do to keep my job."
Implied death threat: Izzo said the chief threatened to have him investigated by the FBI, and threatened him privately by implying an officer could easily be shot through a weak point in the police issued bullet-proof vests. Izzo wrote, "Chief Filenko while at the rear portion of 215 E Main St, placed his left hand on my right shoulder and stated to me, 'you know, it's just a matter of time before a cop gets shot here' as he shook my shoulder and smiled at me. I believe this to have been an indirect threatening statement towards myself or other officers for entering the federal lawsuit."
Evidence tampering: Izzo contended the chief ordered the removal of the body cameras and the server which housed the footage from the body cameras.
Mentally unstable: Izzo claimed the chief has "mental health issues which must be addressed".
Openly discussing sexual conduct and misconduct involving officers: The union president told TFTP that the Deputy Chief and a rookie officer were engaged in an affair which Chief Filenko discussed openly using foul language.
Age discrimination: Izzo stated the department, under the direction of Filenko, went after a senior officer because he was considered too old to be on the force.
National origin discrimination: Izzo stated the chief routinely made fun of another officer's Latino heritage.
Religious persecution: Izzo, a devout Christian, said he the chief once told him, "I agree with your writings (in regard to Facebook political posts) but I don't agree with your Jesus bullshit" and mocked his Christian tattoos, pointing at them and saying, "what the fuck are those?"
History of double dipping: Izzo told the mayor that Chief Filenko was once working for two police departments at the same time. "While working for the Lake County Sheriff's Office, Filenko was also employed as Chief of Police in Hainesville, Illinois," an action Izzo believes reveals his character of being unethical. After fellow Lake County officer E Tjarksen blew the whistle on the double dipping, he too became the subject of increased scrutiny, and disciplinary action, which led to his termination from the force in 2002. Izzo says such retaliatory actions reveal Filenko had a history of going after anyone who dared to question his ethics.
Filenko was appointed as the Chief of Police, even though he had only served as a police dispatcher and administrator, never a patrolman. Izzo wrote, "To date, there is no credible history of Chief Filenko having any direct patrol experience as that of a police officer," and was appointed to chief, "after being only a dispatcher and administrative commander."
That last accusation is especially troublesome to Izzo. Traditionally, a police officer can only become a detective after serving several years on the police force as a patrolman, a beat cop. Many officers work a decade or more, receiving advanced training in police interrogations, and before being given the title of "detective." Filenko's involvement in Calusinski's interrogation deeply concerns Izzo who wrote to the mayor, "I implore the village board to sit and fully review the Calusinski case regardless of the current jury verdict and recognize that an inexperienced Chief Filenko's involvement in her conviction, and future overturning of her conviction, is bringing negative national attention to the village." Critics charge the interrogation lasted way too long and should have concluded after Calusinski's repeated denial of any involvement in Ben Kingan's death.
He further charged the board to look closer into other cases. "I submit to the mayor and the village board to review the involvement of Chief Filenko in both the Melissa Calusinski investigation, the suicide and FBI involvement for the Gliniewicz case and the relationship to Chief Filenko." The "Gliniewicz" case drew national attention after the Fox Lake, Illinois, police Lt. Joe Gliniewicz was found dead on September 1st, 2015. Gliniewicz radioed for backup, saying he was pursuing two white men and one black man. When officers arrived they found the lieutenant dead, apparently shot with his own service pistol. Initially, the coroner could not rule the cause of death as either an accident, a homicide, or a suicide. Finally, after an exhaustive search for the alleged suspects, an investigation into his business dealings, and a review of his personnel records, it was concluded by Filenko that Gliniewicz had killed himself. He did so apparently to spare he and his family the embarrassment of having been found guilty of embezzling thousands of dollars in funds from a teen police officer training program, Fox Lake Police Explorer Post, which was aimed at mentoring youth to become officers.
Gliniewicz' personnel file was found to have included an anonymous letter alleging all sorts of impropriety. Izzo called Filenko's involvement into question and urged the mayor and the village board to dig deeper into Filenko's involvement in the case. Gliniewicz' murder, subsequently ruled a suicide, also led to his wife's arrest, charged with money laundering and using Fox Lake Police Explorer Post funds to pay for personal expenses. She is awaiting trial.
Izzo charges Filenko's leadership habits have led to the firing or resignations of nearly two dozen Lake County police officers, and has now led to an investigation of Izzo himself. The sitting police union president, is currently suspended with pay, while an internal investigation is taking place. Filenko suspended Izzo on trumped up charges he says are a result of the body cam federal civil rights lawsuit against the police department. He wrote, "Since issuing this letter, George Filenko has charged Izzo with FIFITY SIX items of department violations ranging from being visible on facebook in his police uniform to bringing up an affair between the department deputy chief and a female officer. These charges were written as vague and without supporting evidence, as to read to be as damning as possible to ending Izzo's career."
After 48 Hours aired its report on Calusinski's fight for freedom, Izzo posted the following Facebook post:
After watching The Fight for Melissa on 48 Hours last night, I truly hope some of you can now see why I am fighting with all of my heart to expose the corruption in law enforcement and am risking not only my career, but my reputation.

I cried in anger and empathy for her and her family, knowing what being alone in a room with him for hours is like. Only she couldn't stand up for herself. She was his prey.

I have been saddened and sick in my heart since first learning of her story, knowing that the main interrogator, who visibly bullied her into a false confession, was my own chief.

My opinion is of her innocence, my facts are that I have had a long and personal relationship with him and have been subject to his same bullying tactics while in his office, as have so many other officers who have been terrified to come out against him. I have received private support form countless former police who served under him, former and CURRENT village trustees who know the truth but are so fearful for what could happen to them.

I refuse to live in fear.

I was once his bull dog and golden boy. He recognized me publicly with awards and in our department where I was untouchable. It was not until our falling out that I began to be a target, having him now challenging my character and integrity as well as falsely charging me with lies of countless policy violations to terminate me for speaking out against him.

Offering limited knowledge only, what 48 Hours did not touch is astonishing and a huge factor in her confession, is then investigator George Filenko was NEVER a police officer.

He was a dispatcher who was appointed to the position of chief of police after being an administrative commander, all after being involved in a scandal where he was accused of "double dipping" from two full time positions.

It is said that he went to a 2 week police academy in his fifties and was also giving lectures and presentations while he was a student.

He later was appointed to the head of Lake County Major Crimes Task Force and where he was responsible for the vindication of suspected police involved shootings, the G.I. Joe Gliniewicz suicide and more high profile investigations. All, having NO true history or experience as a police officer.

His close and personal relationship with countless subjects in the Lake County State's Attorneys office have made it IMPOSSIBLE for Melissa to have her innocence proven.

I have lived with this burden in my heart for too long. My faith in Christ demands that I must say something since I know something.

The truth must come out and the residents of every town must know who their government is run by.

And if all of that is allowed to go on in one investigation, imagine what is going on in my own department on a daily basis while he commands it.

Police Officers are so unfairly used as fall guys and the true corruption lies behind the desks of titled command.

We as police, involved as a whole in the law enforcement system, failed when Melissa Calusinski was arrested and convicted.

I am saddened, outraged and shamed to see how few, who know this to be true, say nothing.
It's not every day that a police officer blows the whistle on his own police chief, especially when that police officer is the local police union president. We salute officers like Dominick Izzo, who can no longer stand idly by while laws and rules are broken by the very same individuals who are supposed to uphold the law.
But Dominick Izzo is no ordinary cop. Another likely reason he's been targeted by his superiors is that he is outspoken against the war on drugs and revenue generation by cops.
Izzo understands that the war on drugs creates criminals by making their personal choices illegal. According to Izzo, his courageous posts about the truth of the drug war on social media have led to numerous threats against him. Unfortunately, some officers cannot handle the truth.
Izzo is also outspoken against certain police tactics that lead to the unnecessary deaths of so many unarmed people in America. But this cop not only talks the talk, he walks the walk. Last year, Izzo was awarded Round Lake Park's Exceptional Duty medal for the way he handled an extremely dangerous situation.
On April 19, 2015, Izzo was confronted by an aggressive and distraught man armed with a knife -- a situation in which other cops would almost instantly resort to deadly force. But not Izzo.
When Izzo attempted to calm the man down, the man pulled a knife and approached him in a threatening manner. Instead of killing him, Izzo courageously disarmed the man without injury to either of them. A true hero indeed.
Below is one of these videos in which Izzo blows the war on drugs and revenue collection wide open. Please share this story with other so that they can see what an actual good cop looks like.