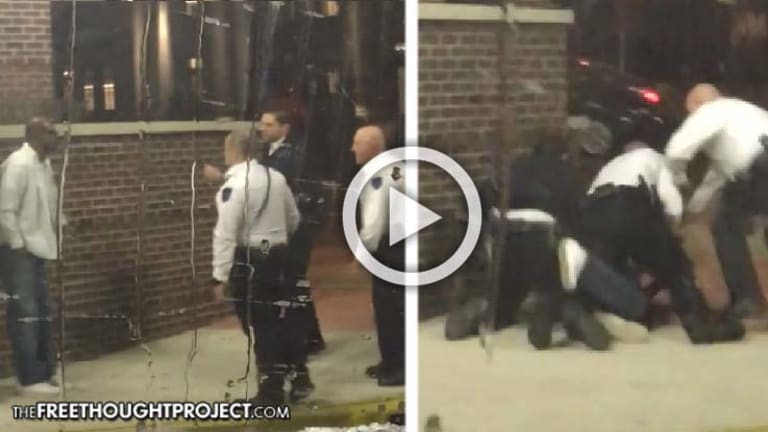 Disturbing Video Catches 3 Cops Jump an Unarmed Man in Gang-Style Beatdown
Several police officers were captured on video brutally attacking an unarmed man who posed no threat whatsoever.
Columbus, OH — A video uploaded to Facebook Monday night is going viral now, after showing three police officers brutally attack an unarmed man who was doing nothing but standing there.
The video, uploaded by Mellena Jackson, has over a half million views and is causing a firestorm of blowback. According to Jackson, the man was upstairs interviewing for a job when he was asked to come back later, but police intervened and things got violent.
"They said he was upstairs for an interview and they asked him if he could come back tomorrow and he started rolling his cigarettes up and the police asked him to leave. Maybe they could have felt threatened by the fact his hands were in his pocket and after watching the video I seen that he threw a cigarette after they assaulted him," Jackson wrote on Facebook.
Jackson, who explained that her 6-year-old son wanted to be a police officer, noted that he saw this unfold as he walked out of the hospital.
"Can't have that as his image of a police officer/ security guard because they aren't all abusing their authority just like all ppl aren't criminals," she wrote.
As the video begins, you can see three cops surrounding the man who's doing nothing but standing there with a hand in his pocket. When he takes a step forward, he is then pushed back by a police officer. Clearly feeling like he's being oppressed, the man appears to flick a cigarette in the direction of the officers — that's when all hell broke loose.
In the video, Jackson says she couldn't believe what was going on as the cops then jumped the man in a gang-style fashion after senselessly spraying him in the face with mace.
When the video was published to her page, many people thought these men were simply security guards. However, the men in the video are OhioHealth Protective Service Officers — a recognized police force able to carry weapons and with arrest powers.
While the reason for the stop is not officially known at this time, one potential cause for the attack could be that the man had his hand in his pocket.
This type of reaction by police for someone having their hand in their pocket is not uncommon. All too often, people with their hands in their pockets cause police officers to "fear for their lives," thus provoking reactions like the one in the video below.
While it is unclear as to what this man had done to warrant police action, in the video, we clearly see that he posed no threat to officers, yet he was still attacked.
On Tuesday,OhioHealth released the following statement:
"We are aware of the incident that happened at OhioHealth Grant Medical Center last night and began investigating the matter immediately.

The three security officers involved have been placed on a fact-finding suspension until the investigation is complete.

When a situation like this occurs we take it very seriously. We anticipate providing more information about the investigation later today."
Below is the video Jackson posted online. It contained the following description:
Dude did not flinch at them and or make them feel threatened in no shape form nor fashion. Then flicked his cigarette at them which made it worse. This shit is getting ridiculous. Sad thing is my son seen this shit!!!! Then seen him laying there not moving... they left him there in the 30 degree weather on the cold concrete without getting him medical attention. Then one cop/security guard had his hand on his gun while talking shit to my father. I swear to God I am sick of this shit! Coward ass bitches with badges. From what I witnessed the police officers involved used excessive force which was not needed. With all that is going on with the police/security officers and citizens, this unfolding in front of my 6 year old is a hard pill to swallow. As you can see he was not violent and or did not pose as a threat! Why do they abuse their authority? When will this stop? Why do I have to explain to my son that all cops don't use excessive force and explain to him why this man was hit repeatedly for no reason at all (He wants to be a police officer). This saddens me. We the people need answers! We fear the police who are supposed to protect and serve yet they talk to use all as if we are criminals and use their badge of law to harm and or kill us!#PoliceThePolice# TopFlightSecurityOfTheWorldCraig Maybe I'm wrong but this could have been handled another way.