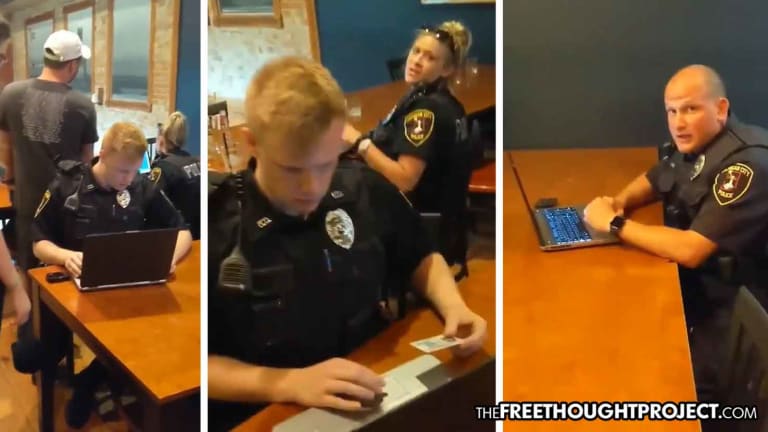 WATCH: Cops Detain Entire Bar, Seal Off All Exits, Force EVERYONE to Submit to Record Check
In one of the largest mass rights violating instances we've ever reported on, an entire bar was detained by police and forced to submit to a background check.
Michigan City, IN — A video detailing the utter disregard for the Constitution that some police departments in the United States have has been shared with the Free Thought Project. The sheer scope of the violation is up there in the most egregious cases on which we've ever reported here at TFTP. An entire bar was unlawfully detained, held against their will, and forced to submit their identification to police officers who ran all of their details through a police database.
The Free Thought Project has reported on multiple instances in which entire groups of people were detained and forced to show ID or submit to a search. However, during these questionable situations, police were able to reasonably articulate suspicion that a crime had been committed or was about to be committed. Over the weekend, at a popular Michigan City bar, there was no crime and no one had been suspected of committing a crime. 
Despite these facts, more than a dozen officers raided this peaceful establishment in which patrons were enjoying their Saturday night. Police officers with the Michigan City Police Department blocked all the exits and the rights violating process began.
After police trapped them inside, every person in the bar was forced to line up and submit their identification to one of the many police officers who had setup laptops. Only after they submitted to the background checks were the patrons allowed to leave.
In the state of Indiana, a person only has to show their identification to law enforcement only if they have been stopped for an infraction or ordinance violation. Obviously, every single person inside this bar was not suspected of a crime, which made this process unconstitutional.
However, as the video shows, police didn't accuse anyone of committing an infraction and detained them anyway.
What's more, according to our sources at the bar that night, not a single arrest was even made.
As the video shows, the police officers running everyone's IDs, couldn't have cared about due process. Indeed, when Manna Carter, the woman who took the video, asks one of the officers why they are doing this, his response was, "because we can."
As Carter questions them, the police attempted to justify this raid by claiming to be a part of some excise enforcement operation for the Alcohol & Tobacco Commission. However, the state of Indiana has an its own department for this known as the Indiana State Excise Police (ISEP).
More over, this was not some attempt to catch underage drinkers or a bar selling unlicensed booze. This was a sweeping raid and subsequent mass detainment of dozens of innocent people who were all forced to submit their information to police — probable cause be damned.
Even more damning is the fact that in an interview with TFTP, Carter said that no police officers from the ISEP were there that night and all the officers involved were from MCPD.
TFTP also reached out to the ISEP and the MCPD to inquire about which statute gave them the authority to carry out such rights-stomping exercise, however our calls and emails have yet to be returned.
Thankfully, however, the entire scene was captured on video by Carter who described the situation in a Facebook post as follows:
Many people have said it's no big deal, Excise checks IDs all the time. Allow me to be perfectly clear in saying THAT IS NOT AT ALL WHAT HAPPENED HERE. Read that again if you're one of those in the back. Excise can do their thing. Check the licenses. Check the liquor. Check IDs for age and validity. Please, do your job. Bring the police with you if you feel so inclined. However, there is absolutely no need for 11 cops inside the bar. Or an entire block's worth of cruisers outside containing *surprise* still more cops. And, now pay close attention here guys, IT IS NEVER OKAY TO LINE UP EVERYONE IN THE ESTABLISHMENT AND DEMAND IDENTIFICATION FOR THE PURPOSES OF WARRANT CHECKING. Period.

Here is where I would insert the 4th Amendment, but I'm certain I would lose quite a few of you and I know you all have Google. Search it, learn it, and then learn the rest of them. For your own good. This raid, or sweep, or whatever other name you want to assign it entirely violated that right for everyone there. Along those same lines, Indiana law states that an officer must have probable cause to demand identification. Probable. Cause. Not suspicion of a crime. Not what these cops had, which was a whole lot of nothing whatsoever. Probable cause. Yeah, I could have refused to provide my ID. I honestly wish I would have. I would have been absolutely within my rights to do so.
When police can claim the authority to seize control over an entire private establishment and violate the rights of every person inside, the idea of constitutional rights is but a fleeting thought. Instances like this are not okay. They are not acceptable. And, departments whose officers carry them out are in complete violation of the the oaths they swore to uphold what little is left to the constitution.