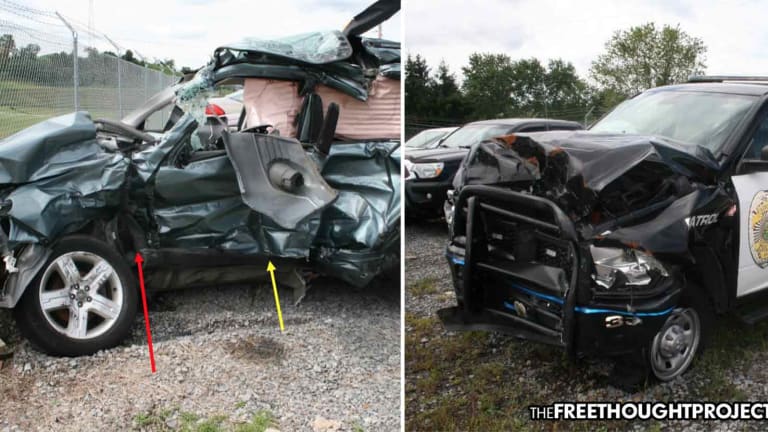 Cop Drives Twice Legal Limit, Kills Man, Covers It Up and Is NOT Charged—He's In With the Prosecutor
Prior to killing the man, the officer was not on a call, driving twice the speed limit, did not have his lights on, and fellow cops helped cover it all up.
Fairmont, WV — Police officer Jakob Streyle was traveling at roughly twice the speed limit when he crashed into an elderly man's SUV at an intersection in July of 2019. Steven Gene Santini, 72, was killed in the crash, and he was ultimately blamed for the incident as well -- despite clear and overwhelming evidence against the officer. Now, after the state failed to hold officer Streyle accountable, the taxpayers were held liable instead — to the tune of $1.8 million.
According to court documents, Santini's wife, the City of Fairmont and the two officers involved in the crash reached a $1.8 million settlement.
As TFTP reported at the time, officer Streyle insisted that Santini passed through the stop sign without stopping, and was eventually able to gather at least one witness who would confirm his side of the story, but in the lawsuit, Santini's wife says that police did not take statements from two people who were traveling directly behind him. The people traveling behind him say that he did stop at the intersection, and there is also reportedly video evidence from a nearby surveillance camera that confirms this version of events as well.
The police report claims that "multiple witnesses" saw Santini pass through the stop sign, but only one witness's testimony was listed. The claims of the witness cited in the police report are disputed by video evidence and other witnesses at the scene, but their testimony was never taken and the video was never considered as evidence.
"When our officers investigate an accident, that's all we do, is investigate it," Marion County Sheriff Jimmy Riffle said in April. "We don't draw conclusions. We just write down what our investigation has revealed. Any criminal charges or fault or things of that nature are assigned, usually, through the prosecutor's office. Fault and amounts of fault are usually determined through a civil process."
However, the did draw conclusions and what they did was hardly an investigation, especially considering the fact that the video and testimonies were never entered as evidence.
Nevertheless, due to the disputed testimony of the sole witness, officer Streyle has been able to avoid any consequences for his reckless behavior. It may have helped that Streyle seems to have a friendly relationship with Marion County Prosecuting Attorney Jeff Freeman, who was ultimately responsible for deciding whether or not Streyle would face criminal charges.
In a letter absolving Streyle of any charges, Freeman pointed to the disputed witness testimony, and also suggested that emergency vehicles are allowed to break certain traffic laws. However, this only applies if the vehicle is actively on their way to an emergency with their sirens on, neither of which was the case in this incident.
On the day that the crash happened, Fairmont police posted an update on their Facebook page, reporting that a police truck crashed into a man who ran a stop sign, but also said that the truck "was not being operated at an extensive rate of speed."
They were deceiving the family from the beginning.
Eight months later, the Santini family learned that this claim was a lie, when their insurance company hired an independent crash reconstructionist, who determined that Streyle was driving at least 73 mph when the crash happened.
The family's lawyer Tony O'Dell, believes that the police department intentionally kept this information from the family and the public.
"The family was led to believe ... that the Fairmont police officer was driving the speed limit. That is very troubling that the police department allowed this family to go for months not knowing what actually happened to their husband and dad," O'Dell said, according to the Charlestown Gazette.
Freeman sought and won reelection in November, and unsurprisingly, he was endorsed by officer Streyle. In fact, Streyle comes from a law enforcement family, and his brother was hired just a few months after the crash.
Freeman has said that he appreciates the support he has gotten from the Streyle family, but denies any type of personal relationship that may have impacted his decision in the case.
"They're all involved in law enforcement, so anytime you get that as a prosecutor — that kind of support, certainly it means a great deal, but we don't have a personal relationship between myself and any of the Streyle family," Freeman said,
After being accused of giving Streyle special privilege, Freeman took to Facebook to go on the defensive and claimed people who made such claims were "cowards and trolls." He was subsequently demolished in the comments.
Sadly, as TFTP exclusively reported last year, this sort of thing happens all the time.
In September 2015, on a rainy Saturday night, Georgia state trooper Anthony Scott was flexing his above the law privilege and driving at dangerously high speeds for no reason. He was doing 91 mph in a 55 mph zone. Scott was not on his way to a call, nor did he have any official reason for driving fast. While travelling at such a high rate of speed, he slammed into a Nissan Sentra carrying four kids. Kylie Hope Lindsey, 17, and Isabella Alise Chinchilla, 16, who were in the back seat of the Nissan, were killed.
For four years, Kylie's family fought for justice for their daughter. However, thanks to a corrupt system, not only has this cop avoided any and all accountability, but he's been rewarded in the form of two elected positions. As TFTP reported at the time, Scott was elected to city council only three months after killing young Kylie and Isabella. It was also reported that he can even return to law enforcement.
But that's not all.
In November, as the city of Buchanan held their elections, Scott ran uncontested and after serving as a member of the city council, and he was elected mayor. Not surprisingly, the media coverage of who won mayor is completely non-existent.