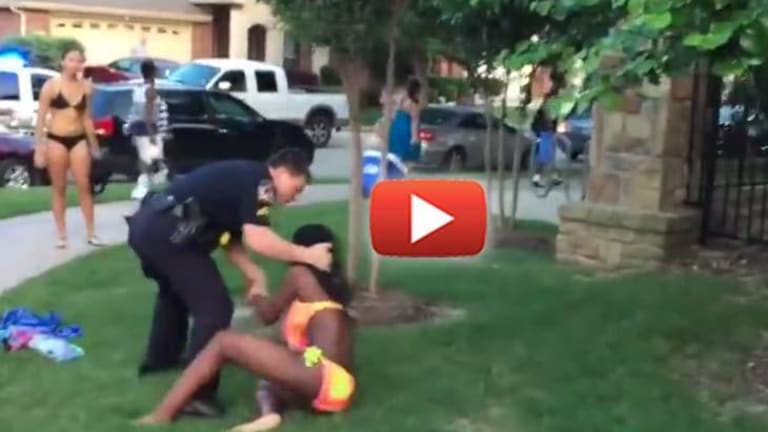 Pool Party Turns Violent When Police Show Up and Assault and Nearly Shoot Multiple Teens
A weekend pool party in Texas turned violent after a police officer on a power trip began brutalizing a young woman in a bikini.
McKinney, TX -- A weekend pool party in Texas turned violent after a McKinney police officer on a power trip began brutalizing a young woman.
According to video post on Facebook, the police were called to a McKinney residence because of the large number of people attending a pool party.
The police officers were in some sort of feeding frenzy as they were rounding up young teens, armed only with their swimsuits and forcing them to a patch of grass on the roadside.
As the video begins, one officer is seen doing a barrel roll as if he's in a war zone.
Once the officers seemed to have calmed down, one of them began to attack a young woman who was doing absolutely nothing wrong. As he was assaulting the young woman, several bystanders tried to intervene. At this point, things almost got deadly.
The officer then pulled his gun to ward off the good Samaritans who attempted to stop his brutal attack on a young woman. Luckily for all those involved, two of the crazed officer's co-workers stopped him from shooting people. As he had his gun drawn on multiple teenagers, the two officers patted him on his back in an apparent attempt to calm him down.
"On your face!" screams the abusive officer as he slams a young girl's head into the ground.
At the end of the video, the officer attempts to justify his brutal actions by telling the teens that the entire situation was their fault because they failed to prostrate themselves fast enough.
"I told you to sit!" the officer exclaims as if the teenagers were dogs who disobeyed his commands.
Below is this incredibly disturbing video.

Sunday the McKinney Police Department issued a statement about the incident.
Pool Party Incident:

On June 5, 2015 at approximately 7:15 p.m., officers from the McKinney Police Department responded to a disturbance at the Craig Ranch North Community Pool. The initial call came in as a disturbance involving multiple juveniles at the location, who do not live in the area or have permission to be there, refusing to leave. McKinney Police received several additional calls related to this incident advising that juveniles were now actively fighting.

First responding officers encountered a large crowd that refused to comply with police commands. Nine additional units responded to the scene. Officers were eventually able to gain control of the situation.
McKinney Police later learned of a video that was taken at the scene by an unknown party. This video has raised concerns that are being investigated by the McKinney Police Department. At this time, one of the responding officers has been placed on administrative leave pending the outcome of this investigation.