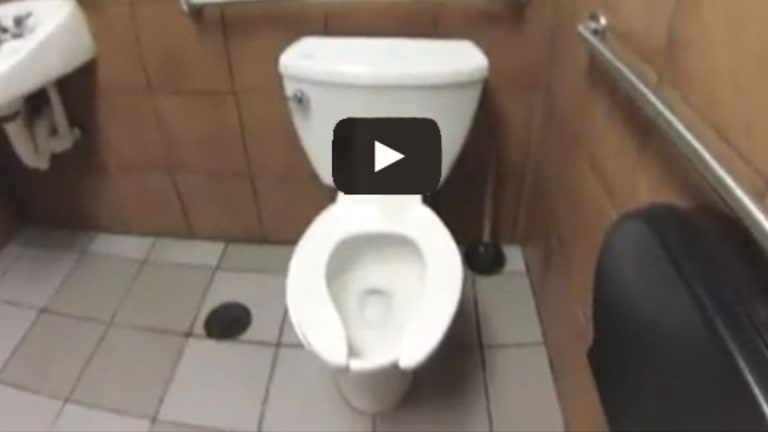 Pooper Trooper: Cop Arrested for Hiding Cameras in Bathrooms and Uploading Video To Porn Site
"When I saw myself pooping, I was just like you've gotta be kidding me."
Matt Agorist
June 7, 2014
It could have been you or worse, your child, whose compromising bathroom video was uploaded to a porn site by an unscrupulous cop.
33-year-old David Cerna of the Chesterfield police department was recording men using the bathroom with a hidden camera that he placed in a Mobile on the Run gas station, among other things.
He would then upload the videos to a porn site online.
This despicable violation happened to be caught because of a man who said he clicked on a banner that took him to the offensive porn web site. He noticed many victims wearing company shirts.
That's how Fox 2 Now found victim Rob Cheney who told them, "When I saw myself pooping, I was just like you've gotta be kidding me."
According to Fox 2 News,
We asked Cheney for a list of places where he used the bathroom. He explained, "I had to think because you don't document everywhere you go to the bathroom, so it took me awhile to pinpoint where it was."

Fox 2 checked his list of rest rooms, comparing the online video to each bathroom. Then we found a perfect match, from the floor tiles to the drain by the toilet. Cheney just moved to the area and laughed, "Three weeks and I'm already on a poop cam pretty much. So three weeks and everybody's seen me poop? That's terrible. Hahaha."

But we found no camera when we first discovered the bathroom. We took our investigative research to Chesterfield Police. Chief Ray Johnson held a news conference and said, "The Chesterfield Police Department has arrested one of our own officers, working from a tip from an investigative reporter Chris Hayes from Fox 2 News."

The web site unexpectedly shut down during the investigation, but Fox 2 had already gathered intelligence needed to break the case. A key break involved a web posting of a St. Charles County man visiting the house of the possible suspect. The St. Charles County man went to the house for anonymous sex.

According to police, the suspect later admitted luring about 50 men to his Wentzville home, offering oral sex through what he called a gloryhole. He reportedly lured the men through a Craigslist ad, then secretly videotaped them entering his home and using his gloryhole.
This incident somehow 'shocked' Chesterfield police when they found out that it was one of their own.
However, as we have documented in the past, police officers are all too often the perpetrators of some of the most offensive crimes imaginable.
Cerna faces charges in St. Louis County for the bathroom hidden camera and charges in St. Charles County for videotaping men he reportedly lured to the gloryhole. He is no longer a Chesterfield Police Officer.