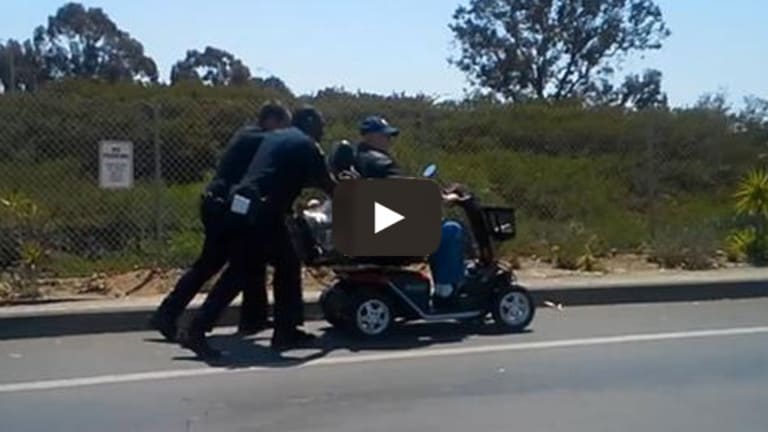 An Example of the Positive Change Being Incited By Filming Cops
May 29, 2014
This act of kindness by these two San Diego Police officers is obviously an attempt to improve public relations. But that is a good thing, public relations need some serious improvement.
Videos of the police have become disturbingly graphic and numerous over the last couple of decades while good deeds like this have become more and more sparse.
If the police would focus their time on helping people, like this man, instead of harassing, caging, and killing people for victimless crime America would be in much better shape right now.
Unfortunately these are the rare instances of police interaction with veterans. While police in Michigan train to kill disgruntled veterans, former service men across the US are increasingly being harassed, detained, and killed. 
Seeing stories like the one below are encouraging, however. It is because of all of us cop watchers out there, with cell phone cameras in hand, that police are being forced to actually 'serve and protect' again. Bravo, peaceful resistance, bravo.
From the SDPD Facebook post:
On May 25th 2014, over the Memorial Day weekend, Officers Eric Cooper and Milo Shields were on patrol when they spotted an elderly male in a motorized scooter which had broken down on the south sidewalk of 7500 Clairemont Mesa Boulevard.

The Officers contacted the male, a 67 year old Vietnam veteran who was dependent on his power scooter as a result of wounds received in combat. Officers Cooper and Shields determined that the wheelchair was having battery issues and was completely inoperative.

Rather than leave the wheelchair and drive the male home, Officers Cooper and Shields decided to push him home in his wheelchair on which he depends. Officers Cooper and Shields pushed the man all the way to his home at the north end of the Hickman Field Trailer Park, a distance of about a mile.

The male was extremely grateful that these officers were willing to go above and beyond the call of duty, pushing him and his power scooter all the way home.