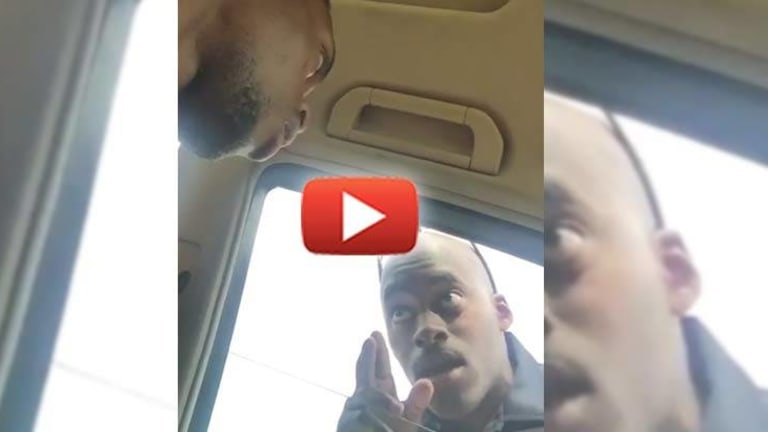 "I Can Pull Your A** Out of the F**kin Car" Power-Tripping Cop Didn't Know He Was on Video
This short video epitomizes the reason there is so much divide between police and citizens.
South Holland, IL -- A south suburban cop is being "investigated" after a video was uploaded to Facebook showing him seething with his authoritarian power.
The officer, whose name was not released, was caught on camera during a traffic stop in which police were looking for allegedly suspect.
NBC Chicago reports:
Harvey resident Rodney Wilson, 19, was dropping some friends off in South Holland when he was pulled over by police and approached by two officers, he told NBC Chicago. When Wilson and the other passengers asked the officers why they were pulled over, one of them responded, "Because you're you," according to Wilson.

The officer then asked Wilson for his ID. When Wilson asked for it back, the officer allegedly told him to step out of the car and he would give it to him. That's when Wilson said he started recording the encounter on his cellphone. The 30-second video, which shows the officer using foul language, went viral.

"He had no right to do so because I wasn't under arrest," Wilson said. "I wasn't resisting anything. I was in complete compliance with the officer. I felt very threatened. As of now, I'm very afraid to go through South Holland."
Wilson asserted his rights as an innocent man and was subsequently threatened and intimidated by the unnamed officer.
"If I wanted you out of the car, I could command you to get out of the car," the officer says. "And if you didn't get out of the car, I could pull you out of the f**kin car," said the officer who was seemingly high on power.
Police claim the video does not show the entire situation, which is obvious since it is only 31 seconds long and the stop lasted 37 minutes. However, in a statement released on Monday, Police Chief Greg Baker stated his officer was in violation of the law.
"The behavior of the officer is in violation of the Village of South Holland's code of conduct and goes against the organization's foundational values of professionalism, respect and customer care," the statement read.
Despite having video evidence of this officer breaking the code of conduct, he has yet to be suspended.
A week prior to his run-in with these officers, Wilson was arrested for trespassing -- at a school, where he is a student, on his way to class.