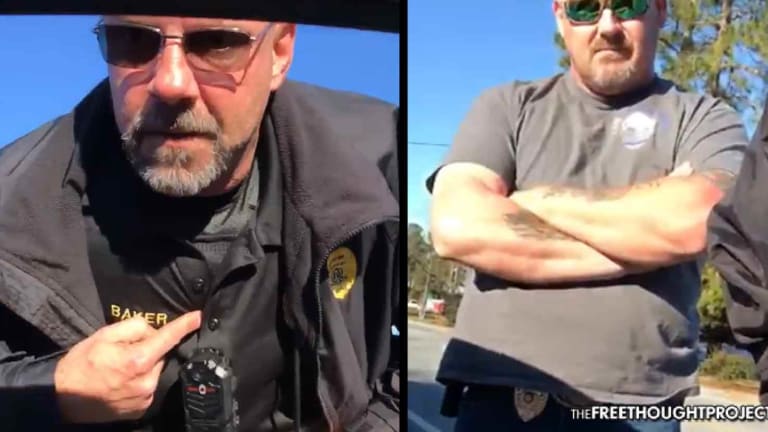 WATCH: Power-Tripping Cops Illegally Pull Woman Over to Harass Her for Her "Attitude"
An innocent woman was threatened by two officers when they pulled her over to harass her over her "attitude." when she went to file a complaint, the chief threatened her too!
Leefield, GA — Cindy Bodaford Lee claims various police officers from the Brooklet Police Department have engaged in a pattern of harassment which has crossed several lines of ethics and legality and she has the video to back it up. Lee is now seeking an attorney to file a lawsuit against the police for illegally stopping her, and making various unspecified threats of arrest.
Lee says it all started when off-duty Brooklet Police Officer, Charles Dutton accused her of transporting children without proper child seats and boosters. According to AllOnGeorgia:
Charles Dutton, approached the vehicle about the children not being restrained in the other vehicle. Lee said she agreed that the children should be restrained, but that it was not her vehicle in question. Lee said one of the children giggled and Dutton looked at him and said, "You think this sh*t is f*ing funny?" Lee left the gas station and proceeded to go home, with the children properly buckled in, when she was pulled over by the on-duty officer and an off-duty.
The children aren't hers and neither was the car in question, but Lee was accused nonetheless. In fact, the children were properly restrained when she says Dutton and another on-duty Brooklet officer pulled her over to harass her for getting an "attitude" with Dutton. And she has video proof.
"Because you were copping an attitude with one of my officers," one of the cops plainly stated on video. "Is he on duty," Lee asked. The officer responded he has a badge and a gun and is "on duty 24/7" which was likely an admission the other police officer (standing in the background) was off-the-clock.
Lee then asked the all important question TFTP has encouraged everyone to ask, "Is there a reason you pulled me over?"
"Because you were having an attitude," the officer stated before being interrupted by Lee.
"If you're not pulling me over for some reason, then I'm leaving. I'm not going to sit here and be harassed," the strong woman asserted.
Lee then had to set the record straight after the officer told Lee her two children were improperly restrained in the other vehicle. "First of all, they're not my two children," she stated.
"Then why are they in your car," asked the officer.
"Because I am taking them to their parents because their parents don't have a vehicle. Because the bus didn't drop them off at their house," she stated.
Lee seemed to have been behaving respectfully but the officer took offense at the way she responded. He said:
Don't cop an attitude with me!
Lee then fired back with her own contention:
You're asking me questions and you're accusing me of stuff that you don't even know...They're not my two kids...so am I getting a ticket...Am I pulled over for some certain reason or am I free to go.
After telling Lee she should get car seats for the car which doesn't belong to her, he allowed her to leave.
Lee should have been commended for having the children properly restrained and the issue could have been deescalated, but with modern-day policing methods at work, the situation only got worse for her. So she decided to file a claim of police harassment with the Chief of Police.
As TFTP has reported on numerous occasions, filing an official complaint on an officer can be a dangerous situation, and Lee's attempt to file a complaint against Brooklet's finest was no exception.
Attempting to file a formal complaint against the two officers, Lee met with Brooklet PD Chief of Police Doug Meyer at police headquarters. Meyer wanted to make it clear to Lee he was video recording the entire conversation because Lee had been outspoken in the community with her criticisms of the alleged illegal traffic stop.
We're on video right now and I'm going to record anything that ever happens with you ever again because what you decide to put out on the streets.
The apparently hostile tone with which Meyer spoke with her prompted Lee to ask to speak with Councilman William Griffith. That request angered Meyer who then ordered Lee to leave the public property or be charged with "criminal trespassing." He then communicated what could be construed as veiled threats against the woman if she continued to speak out supposedly.
In the future, we will not have any mercy or toleration for y'alls constant breaking of the law and blaming it on the police department. Leave the building.
Lee was not only disallowed from filing an official complaint against the two harassing officers but she was ordered out of police headquarters without being able to speak with the councilman. She did, however, secure the official complaint form and met with Griffith off-site to voice her objections to the unconscionable behavior of the chief and his officers.
As she was leaving, Lee promised, "I have a meeting with the news. This is more I can just add to it." Meyer responded with the type of threat usually reserved for a fist fight, "Knock your lights out, lady."
Lee's case serves to illustrate how even casual contacts with police officers can lead to conflict. Not only does it seem the officers were abusing their badges by pulling over someone because they were "copping an attitude" with police but when citizens feel they have a justifiable complaint, they're often unable to hold those officers accountable through official chains of command. Once again, Lee's recordings show just how important it is to video every interaction with police.
Here is the video of the illegal traffic stop:

Here is the video of the raging chief: