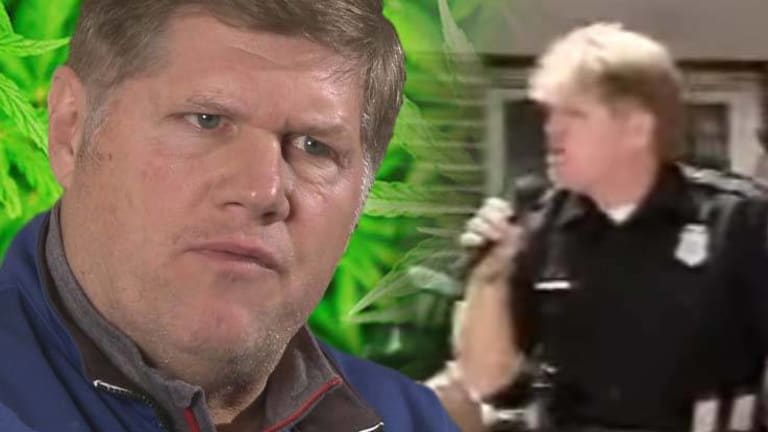 The Power of Truth -- Famous D.A.R.E. Cop Now Lobbies to Legalize Pot -- After it Saved His Life
After breaking free from his opioid suffering by using marijuana, this former drug prohibitionist has a completely different view.
Albuquerque, NM -- Doing business with former drug war enforces might make the average cannabis enthusiast a bit concerned, but many of them "describe dramatic conversions borne from seeing the benefits of marijuana for the sickest of patients, including children with epilepsy or cancer-stricken relatives."
"I've done a total about-face on my views," said Ben Percy, who worked as an Illinois State Police officer for 27 years and says they "took quite a bit of money, drugs and criminals off the road." Percy is now general manager of Trinity Compassionate Care Center in Peoria.
While it certainly is noteworthy to see former cops do an about face on the drug war, when a top figure -- who devoted their life to telling kids marijuana will kill them -- is now lobbying to legalize that same plant, something must be said.
Officer Darren White of the Albuquerque police department spent the better part of the 90's traveling around the state and singing to kids in the 'hottest DARE band' out there about the dangers of Marijuana. Even into the new millennium, White remained obstinate and refused to change his mind on the harms, or lack thereof, of this plant.
"I've never supported medical marijuana," White said in a 2007 interview with the newspaper the Albuquerque Tribune. "I'm very sympathetic to the patients. I watched my father die of cancer, and it's the most difficult thing in the world, but I don't think you have to smoke marijuana to gain the comfort and relief that's provided by the THC."
However, White's mind would soon be opened when he was prescribed a regimen of painkillers to treat two major surgeries.
"I have had my leg reconstructed, I have had back surgery and I know firsthand the struggle that patients face dealing with chronic pain," White said. "Consuming a steady diet of painkillers doesn't equal a quality of life."
Opioid deaths in America are increasing at an alarming rate thanks to Big Pharma's push to create a nation of addicts.
However, as the Free Thought Project previously reported, 80% of Americans are dropping their pills and picking up their pipes. Medical marijuana is proving to be far safer and effective for long-term treatment of pain.
"I know that medical cannabis works, and it's also the reason why I'm a cardholder."
The truth shall set you free.
Coming out from under the blanket of tyrannical and hypocritical deceit, which is the epitome of the war on drugs, is no easy task. Admitting guilt or wrongdoing is one of the hardest things a person can do -- especially when your bosses, your co-workers, and the rest of society, in general, believe in the same lies. However, White is finally breaking through.
"I had reasons for why I believed what I did," White said. "I'm not ashamed to sit here and tell you I was wrong."
Now, this former drug warrior is still a drug warrior, but instead of locking people in cages for this amazing plant, he is lobbying for it to be legalized -- for medicine.
Old habits are hard to break, and while White has seen the benefits of medicinal use, he's yet to realize that all cannabis use is medicinal and isn't for full legalization.
"I think we can all agree that day is gonna come," White said in regards to full legalization. "That day for New Mexico is not now."