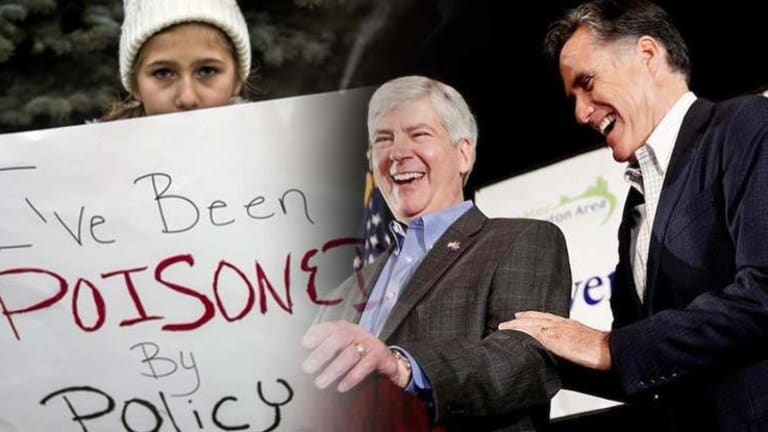 Precedent Set -- Govt Can Poison Thousands, Keep Jobs -- But Citizens Having Oral Sex Leads to Jail
A dangerous precedent is being set in Michigan and other states across the country.
Flint, MI -- For the rest of their lives, the residents of Flint will watch their health deteriorate over time, and they will know exactly who is responsible — but will have no course of action to right their wrongs.
No politicians will be punished, no public employees fired, and no one will pay for the lifetime of suffering caused by the negligent incompetence of the state of Michigan.
As the water crisis in Flint deepens, it is becoming apparent that the effects of the lead-infested water are not just a health hazard, but the situation has the potential of ruining many more lives outside of the poison issue.
As the Free Thought Project reported last month, the city's government continues to charge people for the poison water and then threatening to foreclose their home or take their children if they refuse to pay. Michigan law states that parents are neglectful if they do not have running water in their home, and if they chose not to pay for the water they can't drink anyway, then they could be guilty of child endangerment.
Last month, the Free Thought Project reported on the series of emails released under the Freedom of Information Act which showed that not only did officials know the water was tainted, but they took action and began trucking in water to state buildings so they would no longer have to drink it.
Instead of preventing tens of thousands of residents from drinking dangerously poison water, the Michigan government used taxpayer funds to give themselves clean water -- peasants be damned.
Public enemy number one in Michigan right now is Governor Rick Snyder as he has knowingly allowed children, the elderly and other vulnerable people to face potential lifelong effects of being poisoned by lead in his refusal to investigate contamination claims by Flint residents months ago. He's not facing a single consequence.
The double standard in Michigan is a startling example of state privilege versus citizen oppression.
As Claire Bernish points out, while the state refuses to go after the man responsible for ruining thousands of lives by allowing Flint residents to consume dangerous water, they still heartlessly kidnap and cage people for possessing a plant.
In spite of Michigan having medical marijuana laws on the books, arrests for its possession and use are skyrocketing — up 17% between 2008 and 2014, according to state police data, reportedMLive.
But attacking people for using a plant is not the only way the political iron fist in Michigan attempts to legislate its perverted version of morality. They also want to throw people in jail for their consensual sexual acts.
During their last session in January, the Michigan Senate passed a bill that effectively bans all forms of sodomy, anal, oral, gay and non-gay -- making the acts punishable by up to 15 years in prison.
This scathing constitutional violation could have been prevented by merely removing the phrase "either with mankind" from the bill, along with the other words struck in the citation above. However, politicians are too concerned with what you do in the privacy of your own home than preventing Draconian and archaic legislation from oppressing the entire state.
The precedent being set in Michigan and in other states throughout the country is horrific. Politicians can cause deliberate physical harm to the citizens through negligence or the enforcement of immoral legislation, and they continue to receive their exorbitant taxpayer-funded salaries and golden parachute retirement packages. However, if a couple smokes a plant and then has consensual sex, they can and will be kidnapped, caged, or even killed.
And this is what we call The Land of the Free.
Matt Agorist is an honorably discharged veteran of the USMC and former intelligence operator directly tasked by the NSA. This prior experience gives him unique insight into the world of government corruption and the American police state. Agorist has been an independent journalist for over a decade and has been featured on mainstream networks around the world.