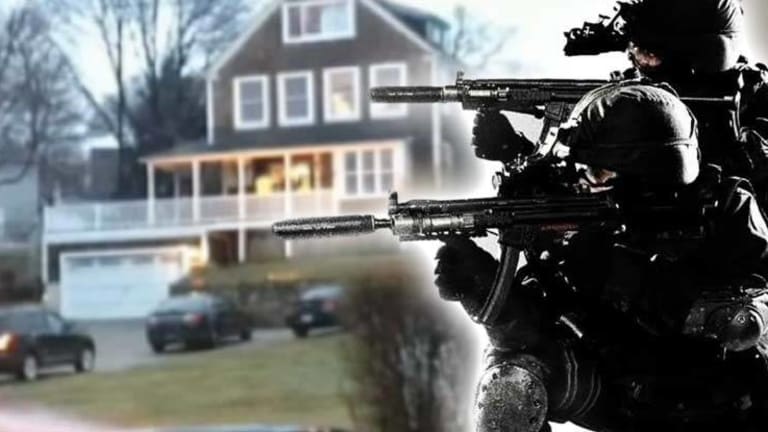 Pregnant Couple Raided by SWAT, Charged with Reckless Endangerment of a Fetus -- For Pot
Hull, MA -- David Maglio, 35, and Erika Zerkel, 38, had their home invaded by heavily armed militarized agents of the state this week. They were both arrested and thrown in jail for, according to police, "operating a sophisticated marijuana growing operation" in their home.
The language used by police in this incident is carefully chosen to mask the reality of the situation and to present themselves as heroes. If we look at the facts from an objective point of view, however, the police and the government become the villains and this couple the unwitting victims of a violent and brutal larceny scheme.
Maglio and Zerkel were not robbing people at gunpoint, they were not running a child sex-trafficking ring, nor were they presenting a danger to anyone around them whatsoever. No, they were merely gardeners, growing plants on their own property -- plants which happen to cure and treat a plethora of diseases and conditions.
For being good gardeners, they were targeted by the state as a means of boosting government income. Once law enforcement realized the potential income associated with launching a militarized home invasion, kidnapping and subsequent theft of private property, a warrant was issued, and the couple was victimized.
According to NECN, investigators posed as utility workers so as not to tip off the couple when they raided the home. The SWAT team was brought in because Maglio was considered armed and dangerous.
Because they had firearms in their home, the militarized gear was justified as police were worried that this couple may attempt to thwart their home-invading robbers' attack by fighting back. However, the couple clearly showed that they were not at all violent and were kidnapped without a round being fired.
To make matters worse, after the couple was arrested and charged with cultivating marijuana (oh the horror!), the police found out that Zerkel is pregnant and also charged them with reckless endangerment of a fetus.
Maglio is currently being held in the Hull Jail on an $80,000 bail amount. Zerkel was released on personal recognizance bail.
The irony here is that this couple never endangered their unborn child. The only threat to this fetus -- were the officers who kidnapped her parents for growing a plant that is already legal in some form in 23 states, including Massachusetts.
Raids like this one are carried out every hour of every day, all across America. The war on drugs lays waste to families, ruins lives, and fills corporatist prisons with otherwise entirely innocent people.
When will Americans wake up to reality? The only thing dangerous about cannabis is the fact that armed agents of the state will kick in your door, kidnap, cage, or kill you for possessing it.
Slowly, but surely, those who continue to enforce this prohibition are either realizing the error of their ways -- or are being exposed as the repugnant criminals that they are for blindly following such immoral orders.
Sadly, however, none of the neighbors interviewed in the video below see this war from the right side. All of them infuriatingly side with the establishment and don't see this couple as the victims.
[author title="" image="https://tftpstagingstg.wpengine.com/wp-content/uploads/2016/03/magorist-e1456948757204.jpg"]Matt Agorist is an honorably discharged veteran of the USMC and former intelligence operator directly tasked by the NSA. This prior experience gives him unique insight into the world of government corruption and the American police state. Agorist has been an independent journalist for over a decade and has been featured on mainstream networks around the world. Follow @MattAgorist[/author]