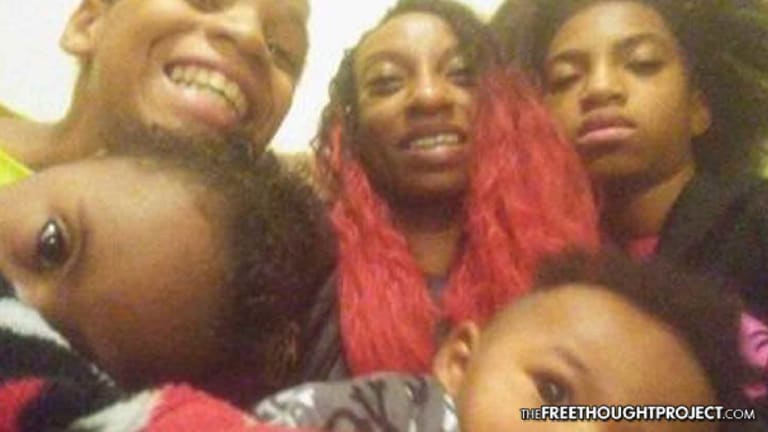 Pregnant Mom Calls 911 for Help, Police Show Up, Kill Her in Front of Her Kids
On Sunday, a pregnant mother's 911 call to police ended tragically after cops showed up to her home and killed her.
Seattle, WA — On Sunday, a pregnant mother's 911 call to police ended tragically after cops showed up to her home and killed her. A community is now mourning the loss of Charleena Lyles whose three children will now grow up without their mom.
Earlier this month, Lyles, 30, called police because she feared her ex-boyfriend may try to harm her. Lyles, who reportedly suffers from mental health issues, was arrested during that call for allegedly arming herself with a pair of scissors. After the arrest, she was released under the condition that she get some help with her mental health issues.
On Sunday, Lyles called the police again — this time, to report an attempted burglary. The officers who responded to the mother's 911 call this time, however, were apparently less accommodating when it came to dealing with a mentally ill woman. When officers saw Lyles, armed with a knife, two of them opened fire and killed her.
Why Lyles had a knife is unclear. However, if she was suffering from delusions, she could have simply feared the police after they showed up. How or why police shot is still unclear, with the department only stating that officers were 'confronted' by a woman with a knife.
"Officers were confronted by a 30-year-old woman armed with a knife," the department wrote on its web blotter. "Both officers fired their duty weapons, striking the woman.
On their website, police noted that both officers had less lethal options available, however, they did not use them.
"Both officers were equipped with less lethal force options, per department policy. All Seattle police officers receive Crisis Intervention Training," the statement read.
On Monday, police released the audio file from the officer's dashcam. From listening to the audio, it appears officers only took a few seconds after seeing Lyles with a knife, before killing her.
The audio file depicts the conversation between the officers just prior to contacting the caller as they discuss the history of the residence and their concerns. The audio also captured some of the interaction with the caller prior to the rapid development of the use of force incident. Please note that all names as well as the caller's address and telephone number have been redacted.
"There were several children inside the apartment at the time of the shooting, but they were not injured," the department said. "They are being cared for by other family members at this time."
"Why couldn't they have Tased her? They could have taken her down. I could have taken her down," said Monika Williams, Lyles' sister.
According to Lyles family, she was a small and harmless woman who did not need to be shot.
"She was not a person you would fear or feel intimidated by," Domico Jones, Lyles brother said.
"There's no reason for her to be shot in front of her babies," Williams yelled at reporters. "The Seattle police shot the wrong one today."
According to the Seattle Times, King County Jail records indicate Lyles was arrested and booked into jail June 5 for obstruction of a public official and two counts of harassment filed in Seattle Municipal Court. She was released conditionally June 14. Details of the June 5 incident were not immediately available.
According to Lyles family, the 30-year-old mother of three had been suffering from her mental illness for approximately a year. Her family told reporters they had tried to get her help.
For now, Lyles' family is trying to keep her children, one of whom has down syndrome and requires round-the-clock care, from going to the state. Sadly, her children being taken by the state was one of Lyles' biggest fears, according to her family.
Dozens of family members and friends gathered at her apartment complex Sunday evening to hold a vigil for Lyle. They chalked her name on the pavement while still in disbelief that something like this could happen.
"Each time she called, it cost her something," said Wanda Cockerhern, a cousin. "This time it cost her her life."
As the Seattle Times reports, among those assembled at Lyles home was Andrè Taylor, an activist whose brother, Che Taylor, was fatally shot last year after a confrontation with police. He said a family member of Lyles had contacted him for advice. "They haven't gone through this," he said. "I have."
Taylor, 46, was gunned down last year, also on a Sunday. He was suspected of buying and selling substances deemed illegal by the state.
When police attempted to kidnap him for selling these substances, they killed him in the process. The entire ordeal was captured on police dashcam.
After they killed him, police quickly took to the local news to smear and shame their victim, posting photos of the illegal substances and releasing Taylor's criminal history in a futile attempt at justifying his death.
Because Lyles never had a history of drug abuse, this same victim shaming option was not available for their most recent kill.