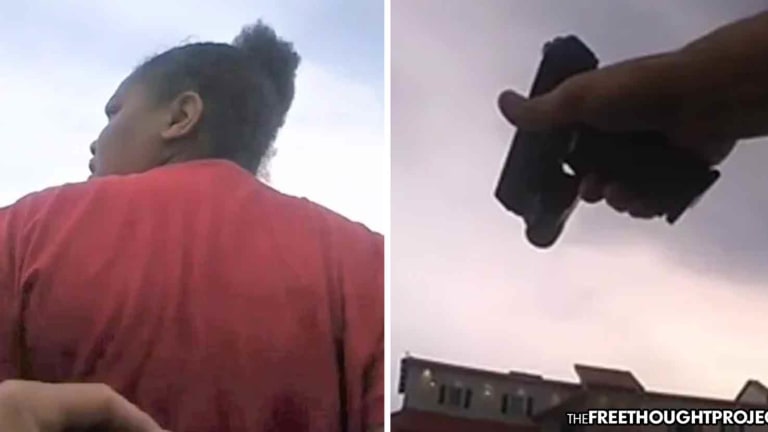 WATCH: Cops Hold Innocent Pregnant Mom at Gunpoint as She Eats Ice Cream in Her Car
Multiple police officer surrounded an innocent pregnant woman with guns as she sat in her car and ate an ice cream cone.
Evansville, IN -- Calls to 911 -- regardless of intent -- often can and do end in bloodshed. When those calls are based on lies, the chances of someone getting hurt go up exponentially. Latasha Tyler, who is 7 months pregnant learned this the hard way recently as she sat in her car and ate ice cream.
Tyler had done nothing wrong, committed no crime, and was simply enjoying an ice cream cone in her car when she was surrounded by cops, forced out of her vehicle and nearly killed. The entire near-death experience for Tyler began over a 911 call in which everything was made up.
"Apparently this lady called and told them I had a gun and was shooting at her so they treated me like dirt and made me get on my knees in a puddle to handcuff me for NO REASON!" she wrote in the post.
"Every time I tried to talk they acted like they were going to shoot me!" she wrote.
After Tyler's post -- which is no longer public -- went viral, police held a news conference on Facebook Live. EPD spokesman Sgt. Nick Winsett said police were called to the parking lot of the G.D. Ritzy's location.
"She has a gun in her car," an anonymous caller said in a 911 call provided by police. "She's out there fighting with another girl, and she's pulling a gun on her."
But this was not true.
He confirmed the woman called 911 and told police Tyler had a gun. Despite confirming everything in the conference, the department went on to make a series of posts calling Tyler's description inaccurate.
"This is part one of a four part post about an incident that happened last night. The below is a screenshot that has been shared over 1700 times and has inaccurate information," the post said.
But her post was accurate and the video shows at least one officer did indeed hold her and her unborn child at gunpoint.
The woman asked what she was doing wrong as police placed her in handcuffs. One of them explained the 911 call to her.
Even one of the officers knew the way they were treating this pregnant woman was wrong.
"I think this is going to be complete bullsh*t," an officer can be heard saying.
As the Courier and Press reports, Winsett said the woman allowed officers to search the vehicle after she was "secured" and checked for weapons. No weapons were recovered, and police couldn't find the anonymous caller.
"I'm going to say that someone's probably pissed off at this little girl," a police offer said after rummaging through her belongings. Two brown paper bags, one with the Ritzy's logo, were sitting on the console.
"We're not doubting your words," one officer said, as Tyler pleaded with them.
"That's the reason these came off as quick as they went on, and I'm about to send you on your way because I believe you," another officer said, holding the handcuffs that were just removed from her wrists.
"We know it's embarrassing to you, and we're sorry," the first officer said. "I want you to understand that. I truly do...but we've got to approach our job as we do."
Officers then deemed the report "unfounded," Winsett said, adding that a detective found the anonymous caller later and determined she had some mental health issues unknown to dispatchers.
According to police, however, they did everything by the book.
"Due to the report of a firearm being pointed at someone, the arriving officers conducted a high-risk traffic stop," Winsett said.
"This is policing 101," Winsett later told the Courier & Press. "What those officers did was textbook."
While Tyler escaped with her life, other folks who have been on the receiving end of false 911 calls haven't been so lucky. The Free Thought Project originally reported on a cellphone video of a police killing in Austin, Texas in April which was so disturbing witnesses reported it as if it were a murder. In the video, a man is seen trying to surrender to police with his hands in the air, moments later, he'd be killed by a police officer firing his AR-15. The following month, police admitted 42-year-old Michael Ramos had no gun and that the entire reason for such a response was over a false 911 call.