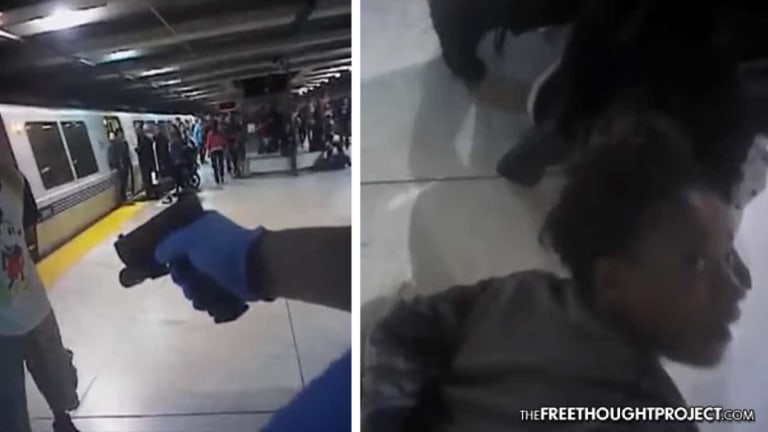 WATCH: Cops Assault Pregnant Woman During False Arrest—Causing Miscarriage—Lawsuit
A woman who suffered a miscarriage is now suing police for violently arrested her the day before, and ignoring warnings that she was pregnant.
San Francisco, CA – Body Cam footage has been released that shows Bay Area Transit Police pinning a woman down on the ground as they arrest her, as she warns them that she is pregnant. One day after the arrest, the woman claims she miscarried, and she is now suing police for the loss of her baby.
Andrea Appleton and Michael Smith were arrested by BART Police on July 29, 2016, after another individual on the train called police and claimed that Smith was armed with a gun and attempted to rob him.
According to a report from SFGate, the original complaint turned out to be a lie. However, after Smith's attempts to get away from police included him spitting at one of them, he was charged with resisting arrest, and battery on an officer, among other charges. At trial, Smith's jury was hopelessly deadlocked, which exonerated him of the remaining charges. Prosecutors refused to retry Smith. But the damage was already done—Appleton miscarried as a result of the violent way in which officers arrested her.
Body camera footage of the takedown and violent arrest of the pregnant woman was made available to the public and shows Appleton quickly announce to the officers she was pregnant. Ignoring her pleas, they proceeded to keep her in the face down, belly down position in the concrete.
When Smith tried to object to the position in which police were keeping his girlfriend, they quickly pounced on him to restrain him. Now the couple is suing. According to SFGate:
"In a lawsuit filed Sept. 1 at the U.S. District Court in San Francisco, Michael Smith and Andrea Appleton accused the arresting officers — Bryan Trabanino, Wilson Velasquez-Ochoa, Jimmy Chung and Antwinette Turner — of using excessive force when they approached the couple with their guns drawn on July 29, 2016, and forced them onto their stomachs at Embarcadero Station."
Appleton is suing for an undisclosed amount of money for damages as a result of pain, suffering, fear, anxiety, humiliation and emotional distress. While riding on the train, a man, "told them to move away because they smelled, sparking an argument. The man, who was white, then called police and falsely reported that Smith, who is black, had threatened to rob him, telling dispatchers that Smith may have had a gun, though he did not," according to SFGate.
The entire incident serves to illustrate modern policing methods do not take into consideration that the one-size-fits-all method of arresting suspects may, in fact, be dangerous to citizens' health.
In June, The Free Thought Project reported on the story of a Syracuse man who was already badly disabled before he made contact with police on a city bus. Police arrived and then tased the man, and threw him off the bus, breaking his hip in the process.
In August, TFTP reported on the account of a 72-year-old New York man who was so mistreated by police he nearly had his wrists severed from the tight-fitting handcuffs placed on him. When he arrived at the police station for booking on "resisting arrest" charges, he was a bloody mess, even though he posed no threat to the officers and offered no resistance to police whatsoever. He is also suing.
The story of Andrea Appleton's miscarriage serves as a reminder that pregnant, elderly, young, disabled and handicapped citizens should not be manhandled or violently arrested, especially when they pose no threat to the public. After all, many police officers are more than capable of using psychological skills to get citizens to comply. Violence should always be a last resort.
Watch the full video of the Body Cam footage from the arrest below: