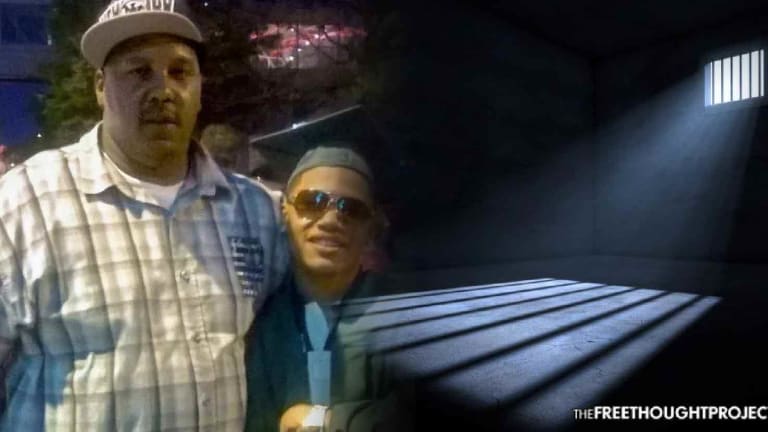 Officers Deprive Man Water in Solitary for 7 Days — Dehydrate Him to Death
A Milwaukee man is dead, two hours into his eighth day deprived of water while being locked up in the county jail's solitary confinement.
Milwaukee, WI — There's very little doubt among critics as to whether or not solitary confinement is torture. Nevertheless, the practice continues throughout many of the nation's prisons. But when solitary confinement is combined with deprivation of the basic necessities of life, like water, a murder can take place. That's what many people are calling what happened at the Milwaukee County Jail to Terrill Thomas.
Thomas was forced into solitary confinement and then his water was cut off — for over 7 days.
According to the Journal Sentinel, "Thomas started the weeklong stretch at the Milwaukee County Jail belligerent and loud, the result of an untreated mental illness, prosecutors said. But as the days wore on, he grew weak and dehydrated. He lost nearly 35 pounds and turned quiet, never asking for or receiving medical attention."
After entering his eighth day without water, Thomas succumbed to his dehydration and passed away in his jail cell where personnel found him unresponsive. The incident took place in April of 2016, but today decisions are being made regarding who was culpable in his death.
Milwaukee prosecutors are conducting an inquest into whether or not charges should be filed against those government employees who were supposed to keep him safe, as well as healthy.
The Sentinel described the inquest and what it entails as "a rarely used legal process that allows prosecutors to question witnesses under oath and in front of a jury before they file any criminal charges. The jury then returns a unanimous verdict as to whether there's probable cause to charge anybody, and what those charges should be."
In essence, the prosecution is afforded the opportunity to conduct the kind of inquisitive work police detectives are accustomed to doing. Prosecutors don't have to follow the jury's verdict. However, so the ultimate determination of whether or not to file charges, and against whom those charges should be filed, is a decision they'll ultimately make.
According to the Sentinel, other inmates had complained about their access to water while incarcerated. But Thomas, according to his family, was really too sick to complain about his need for hydration.
Before dying on his jail cell floor, he suffered severely from bipolar disorder. His family said he was suffering through the throes of a manic episode which led him to allegedly shoot a man and fire into Potawatomi Casino.
Milwaukee County Deputy Chief Medical Examiner Wieslawa Tlomak, who performed the autopsy following Thomas' death, testified in court she could not determine he'd had any access to water during his time in solitary confinement. Prosecutors also interviewed
Prosecutors also interviewed Decorie Smith, an officer who worked three overnight shifts on Thomas' wing in the county jail. He told prosecutors when he testified on Monday that he was never informed Thomas' water was off and Thomas never asked for water during his eight days locked up.
It's also believed Thomas never left his jail cell during his last days on earth, even though it's customary to allow inmates in solitary at least one hour outside of their cells daily.
While Thomas' story is tragic, it's, unfortunately, reflective of the inhumane practices taking place in the United States. As TFTP has reported on numerous occasions, jails and prisons in America can hardly be considered a safe place to pay one's debts to society.
Prison guards are often abusive with impunity, inmates are sometimes murdered intentionally, and now comes this story which seems to indicate even life-sustaining water is being withheld, possibly even used to punish inmates for some perceived misbehavior. Not even animal shelters do that to dogs destined for euthanasia.