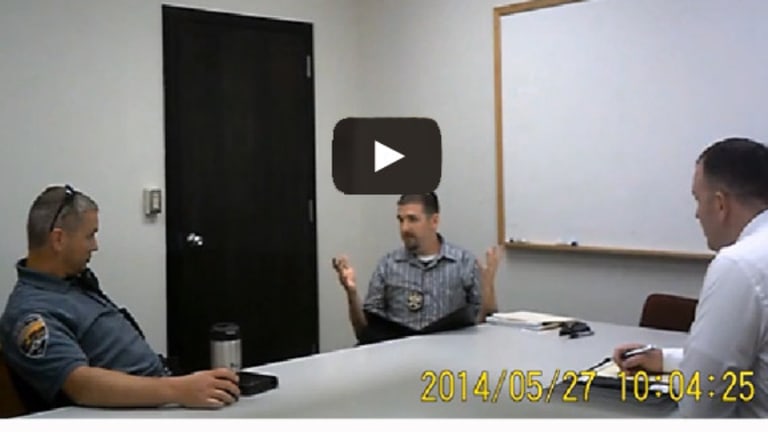 Need Proof that Cops are Above the Law? Watch this 4 Minute Video.
Matt Agorist
June 8, 2104
Greg Luce is an activist who was exercising his 1st Amendment right in Wisconsin, back in October of 2013.
A town ordinance in Campbell, Wisconsin, where Luce was protesting, prohibits the use or display of "signs, flags, banners, pennants, streamers, balloons" within 100 feet of an interstate overpass.
Luce and some friends decided to try a different approach to the law by wearing t-shirts that together spelled "IMPEACH" on one side and "OBAMA" on the other while standing on the interstate overpass.
On October 24, 2013, Campbell police threatened Luce with a ticket for this demonstration. Luce filed a federal suit in February, stating that the law violates his rights to free speech and assembly.
The lawsuit rubbed police chief Tim Kelemen the wrong way.
The department also began receiving threats via email from others who were upset with the alleged civil rights violation against Luce.
None of these threats have been linked back to Luce.
In January of this year Luce discovered someone had used his name and email address to register him on pornography and dating websites and on healthcare.gov.
The town of La Crosse police launched an investigation into the incident.
Through the investigation La Crosse police found that the internet addresses used to register Luce on these sites were from the town of Campbell and chief Kelemen's home computer.
When La Crosse police realized the potential conflict of interest they sent the investigation to Monroe County Sheriff's Department.
During a May 27th interview between Kelemen and investigators, Kelemen initially lied and said he had no idea about the solicitations made on Luce's behalf.
Once he was told that police already new that he was involved he recanted his denial and confessed to the activity.
Below is the video of the investigation which shows chief Keleman lie to investigators and then confess.
When watching the above video, the nonchalant attitude of the investigating officer in response to the chief lying tends to confirm the 'protect your own' mentality of police and the subsequent special treatment that goes along with it.
Had Kelemen been your average Joe, he'd likely be facing charges for impeding an official investigation or obstruction of justice.
Instead, the lying is dismissed and the discussion immediately changes to how they will be able to beat these charges.
It is disheartening, to say the least, to witness such brazen special privilege.
Ironically Kelemen uses an excuse that he would have likely laughed at if it were given to him, by stating that he "didn't know (his actions) were illegal."
The investigation is currently underway and judging from this video, we can predict that Kelemen will receive little more than a slap on the wrist.
"I have never experienced when a police chief or a police department, even though they were being harassed, turned around and violated the law themselves," Luce's attorney, Richard Thompson said. "This impacts our federal suit. It is intimidating to Luce that the chief of police is taking these kinds of bizarre actions because he doesn't like the fact that Luce filed a lawsuit."