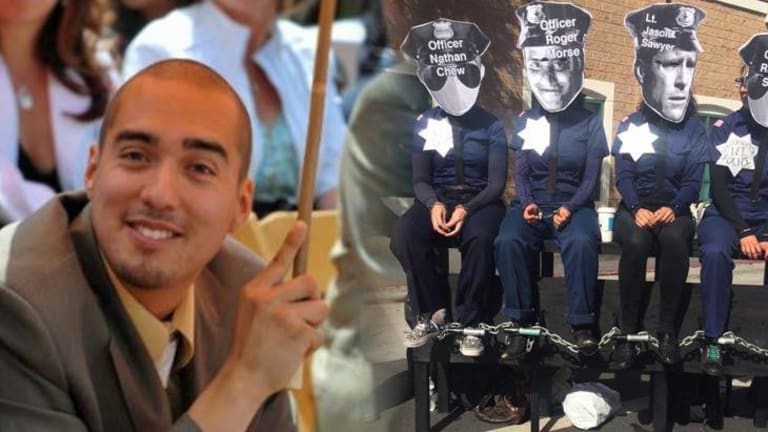 SFPD Shut Down by Protesters Chained to the Gates After Police Murder Innocent Man
The protest for the one-year anniversary of #AlexNieto remained entirely peaceful and no arrests made.
San Francisco, CA-- Over 200 protesters took to the streets and shut down the San Francisco Mission Police Department for four hours and fifteen minutes on Monday.
They did so by handcuffing and shackling themselves while holding a mock trial as others chained themselves to the building's gate and benches. The demonstration took place to mark the one year anniversary of officers fatally shooting Alex Nieto, 28. Nieto was shot 15 times after police mistook the taser from his security job for a pistol.
Last month, Lt. Jason Sawyer and Officers Roger Morse, Richard Schiff and Nathan Chew were cleared of any wrongdoing, despite the excessive amount of shots fired at this innocent man who posed no threat. Before being brutally executed, Nieto was a practicing pacifist and Buddhist. He was particularly active in trying to make his community a better place for everyone, as a member of the Mission Peace Collaborative. He was attending college on a full scholarship while studying criminal justice and worked security at a night club to provide for his family. His goal was to become a probation officer to help guide troubled youth in a positive direction. On March 21, 2014, Nieto was having dinner in a park in his security uniform which included a licensed taser. A man who was in the park walking his dog called 9-1-1 to report Nieto as suspicious and described him in the call as eating sunflower seeds or chips with his taser "at his hip." He never reported that the man was brandishing the weapon or posing any threat. Another person called 9-1-1 and reported Alex as having a black gun on his hip. Other witnesses stated that there was nothing threatening about him and that he was just a guy eating a burrito. It is important to note that despite being holstered, the taser was marked with the bright yellow markings which are meant to make it distinguishable from hand guns. As Nieto went to exit the park, he was confronted by police and reportedly given no chance to respond. The police fired a first wave of shots taking him down to the ground, and a second wave to ensure he never lived to tell the tale. Police hit Nieto 15 times. Police claim that they "feared for their lives" after Nieto had drawn his taser from 75 feet away. However, witnesses argue that the young man never pointed it at anyone. The Officers' bullets struck Alex in his forehead and at least nine other places leaving his body grossly disfigured and mortally wounded, according to Justice4AlexNieto.org. They also report that eleven out of the fifteen shots caused downward trajectory wounds. That is, eleven shots were fired from above Alex into his face, temple, chest, shoulders, and back. Seven of those shots are in a head to toe downward trajectory indicating that Alex was in a completely defenseless position when officers fatally wounded him. After executing Nieto, the officers searched his vehicle without a warrant using the keys obtained from their victims body. They searched his family's home, and immediately took to the media to begin the character assassination. His parent's first heard of Nieto's death from relatives in Mexico who had seen his name printed in the press. It seemed to many that the department was investigating Nieto instead of the shooting. For six months the department withheld his autopsy report. The family had to wait nine long months for the Department to release the names of the four shooters. They were released only after a federal judge ordered transparency in the matter. Protests and demonstrations have continuously taken place to demand justice for Nieto. Unfortunately, SFPD officers have continued the killing and have taken the lives of Amilcar Perez-Lopez, O'Shaine Evans, Matthew Hoffman, and Alice Brown in the last year since Nieto's death. Since 2000, there have been 97 officer-involved shootings resulting in 33 deaths at the hands of San Francisco police officers.

"I, Refugio, think that we have met so many very beautiful people at those marches. It was a pleasure to feel so much love for Alex. I would even put my hand on my chest to feel my heart flutter. I thought maybe I would die and would tell Elvira, "If I die, you have to carry on." I would even feel embarrassed by so many people wanting to greet me. Those hugs would reach so deep inside me that sometimes tears would flow. It was and continues to be so lovely to see the people who are still accompanying us." Refugio Nieto wrote of the protests for his son.
On Monday, the parents of Nieto joined the protest to symbolically remove the badges of activists, dressed as the officers, who were found guilty in a "people's" trial outside the station.

The demonstration shut down Valencia Blvd in front of the PD. Activists also blocked a bus transporting eBay employees- as tech companies have been largely blamed for the gentrification happening in the city. Many believe that gentrification has lead to targeting and profiling of people of color and thus an increase in police harassment.
The protest remained entirely peaceful throughout and ended without any arrests.
A petition has been created to urge the Department of Justice to conduct an independent investigation into the killing. Because District Attorney George Gascón is a career police officer and the former Chief of Police of San Francisco, the petition calls into question Gascón's impartiality.
Sign the petition and learn more about the case here.