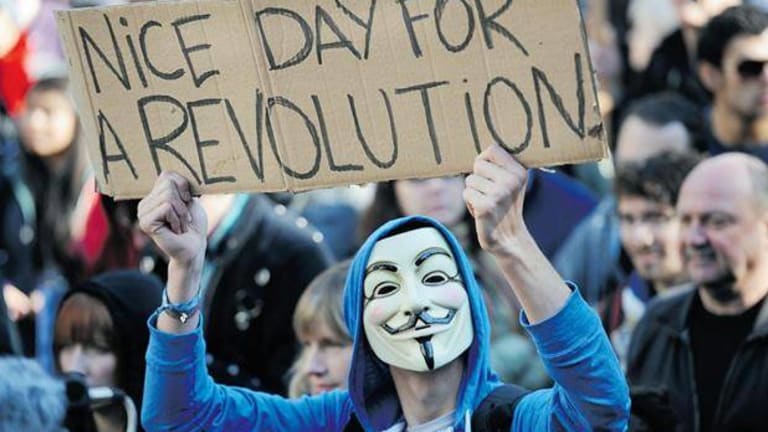 Protesters Occupy Police Station, Demand Justice For Man Shot By Police, Holding a BB-Gun In Wal-Mart
Beavercreek, Ohio - A group of John Crawford supporters are demanding that Beavercreek, Ohio, police chief Dennis Evers meet with them and are now occupying the local police station. The group of young people is affiliated with Ohio Students Association and Freedom Side, an economic and racial justice network.
The students have decided to escalate protest tactics in the wake of the grand jury failing to indict the officers involved in the killing of John Crawford III.
The group wants officer Sean Williams, who shot and killed Crawford while he was holding a toy pellet gun in a Walmart, removed from the police force. In addition they want a complete overhaul of the training officers receive, which they blame for the militaristic and overly aggressive response by Williams and Sgt. David Darkow to the incident.
Organizer Malaya Davis told Salon,
"We want to really start a conversation around how we fundamentally shift the power dynamics and relationship between law enforcement and community. Law enforcement ranging from police officers to sheriff to county prosecutor."

"An occupation is the way that we're going to try to force these demands to at least be heard and be taken into consideration," Davis continues.
A rally was held on Friday and the organizers spent the weekend holding meetings in the community. The group then returned to the police station at 8 AM Monday morning, with the intent of remaining at the station until the chief agrees to meet with them.
https://twitter.com/ohiostudents/status/519232549353046017
Another protest organizer, Darsheel Kaur, who grew up in Beavercreek, noted that the group wanted to have a specific focus with actions that are effective. One thing that the organizers are keenly aware of is that it often takes outside pressure and attention to force action.
Kaur stated,
"As a community organizer it's hard for me, I want to do something with community support but at the same time I think we have to broaden the sense of community in this point. We've been calling ourselves the Concerned Citizens because there's people from all around, different ages, cultures, backgrounds, races. A lot of people have been supporting us. I think people are ready to start working together in a new way. I think it's a very hopeful situation in terms of community transformation."
It's heartening to see groups coming together for direct action with an intention of changing the status quo.
Davis made an excellent point in stating,
"People were looking to our leadership to really make sure that justice is being served–and what the community deems is justice, not what the justice system has deemed as justice."
That point is key, it isn't what the system tells us is justice that matters, but rather whether or not just outcomes are being had by those involved with the system itself.
It is truly up to the citizenry to organize and effectively force change, if we continually wait for someone else to change things, we most likely will never see the system change.
Jay Syrmopoulos is an investigative journalist, freethinker, researcher, and ardent opponent of authoritarianism. He is currently a graduate student at University of Denver pursuing a masters in Global Affairs. Jay's work has previously been published on BenSwann.com and WeAreChange.org. You can follow him on Twitter @sirmetropolis and on Facebook at Sir Metropolis.