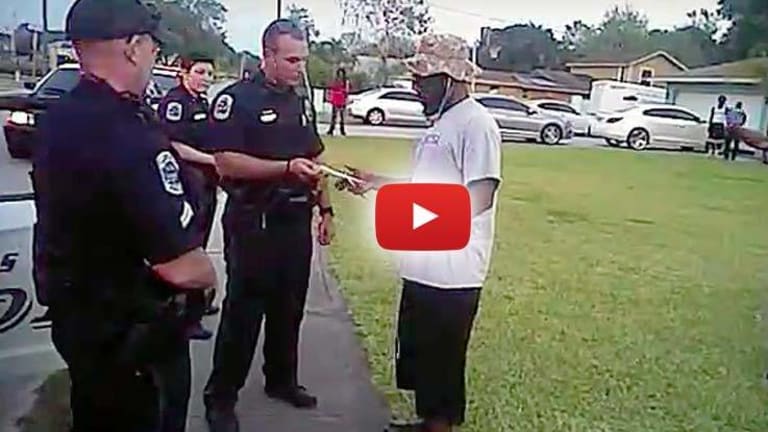 This is 'Public Service' -- Cops Swarm Man to Ticket Him for Walking Around Debris on a Sidewalk
For briefly stepping into a quiet neighborhood road to avoid a pile of debris, a Florida man surrounded by cops and ticketed.
Fort Myers, FL -- An infuriating video uploaded to YouTube this week highlights the ridiculous nature of arbitrary and predatory policing that does nothing to keep society safe, and, in fact, is designed solely to extract revenue from a victim.
In the video, the victim, who can also be referred to as the host, is a local police accountability activist, Joshua McKnight. McKnight was doing nothing wrong and had harmed no one when two Fort Myers cops targetted him for revenue extraction. Officers Vasquez and Zarillo bravely protected society from the likes of a hardened criminal mastermind who'd dare step into the street for a brief second to walk around debris that was blocking the sidewalk.
"What's the problem?" McKnight asked as the officers moved in.
"Uh, you were walking back there in the middle of the road where there's a sidewalk," said officer Zarillo.
"I didn't walk in the middle of the road," McKnight responded. "If you look on the sidewalk, there's an obstacle with debris on the sidewalk."
Officer Zarillo then asked McKnight for his identification.
"For what?" McKnight asks.
"Because I'm asking you for your license," says the cop, asserting his authority.
"I don't have a reason to show you my ID," responds McKnight.
"This is a lawful stop," said Zarillo.
"A lawful stop for what?" the perplexed McKnight asks.
"For walking in the road where there's a sidewalk provided," answers the officer.
"There's debris on the sidewalk, and I walked around the debris. C'mon, I'll show you," said McKnight.
"No, no. That's great. I can see it from here," said Zarillo.
First off, this stop should have never happened, but, at this point, the stop should have ended once the officers acknowledged that the sidewalk was blocked. But that is not what happened.
"So what are you stopping me for then?" asked McKnight
"For walking on the street where there's a sidewalk," claims the officer, in spite of admitting that the sidewalk was blocked.
McKnight felt the stop was unlawful and, therefore, protested handing over his ID to the officers. He then asks for a supervisor to come to the scene, thinking that one of these cops has to be a rational thinker.
When the supervisor arrived, Vasquez told him exactly what McKnight said happened.
"He was walking west down Dale street on the sidewalk, he walked off the sidewalk, he walked in the middle of the road, kept walking down the road, and then he came back onto the sidewalk."
Vasquez continued to tattle on McKnight by claiming that he was "obstructing our traffic stop" for refusing to hand over his ID.
In spite of originally claiming that they did not know McKnight's name, when supervisor Petaccio asked Vasquez if he knows his name, he responded, "Joshua McKnight."
"I do . . . he knows who I am," Vasquez said.
It quickly became apparent that this traffic stop was no ordinary one and was more than likely retaliatory.
The supervisor then claimed that they had video of McKnight walking down the middle of the road.
Petaccio asked, "were you walking in the street?"
"No, I was walking on the sidewalk," answered McKnight.
"Well, they have video," Petaccio responded.
"No, they don't," McKnight retorted.
"Well, they do," continued Petaccio.
"I'm going to be requesting that video. I hope they do have it," responded McKnight.
Since this incident, which happened on April 28, McKnight has obtained both the dash and body cam footage -- it does not show him walking in the street.
In spite of the officers admitting they saw McKnight walk around the debris, the cops stood their irrational ground and cited the otherwise entirely innocent man.
"He's going to give me a ticket?" asks McKnight.
"Yes, he is," responds the officer.
"Oh, wow. And you know he doesn't have video evidence," says McKnight.
"Oh, I don't know," said Petaccio. "If that car doesn't have it, it doesn't have it."
After catching them in an inconsistency, McKnight calls their bluff, "So he says he has video evidence. You said he said he had video evidence. And we're gonna go to court and I'm going to request that video evidence. And it's not going to come up. I think you guys are out here hounding me because I'm on the scene recording you guys and recording footage for the community in regards to things that happen here. I do freelance journalism."
"In my opinion, I think this incident clearly reveals the internal woes concerning the training and supervision of the officers on the force to include the lack of accountability that plagues the Fort Myers Police Department," McKnight said in a statement to Photography is Not a Crime.
"You have veteran officer Vasquez out training a somewhat inexperienced fellow officer Zarillo on how to violate the rights of citizens by way of abusing powers of authority. "
Now, this rookie cop, Zarillo has been trained in the art of retaliatory extortion -- and so the vicious and violent cycle continues.
[author title="" image="https://tftpstagingstg.wpengine.com/wp-content/uploads/2016/03/magorist-e1456948757204.jpg"]Matt Agorist is an honorably discharged veteran of the USMC and former intelligence operator directly tasked by the NSA. This prior experience gives him unique insight into the world of government corruption and the American police state. Agorist has been an independent journalist for over a decade and has been featured on mainstream networks around the world. Follow @MattAgorist[/author]